'We will have to wait till the snows melt in June/July before we get a clearer idea of whether Pakistan is serious about ending support for terrorism,' says G Parthasarathy, India's former high commissioner to Pakistan.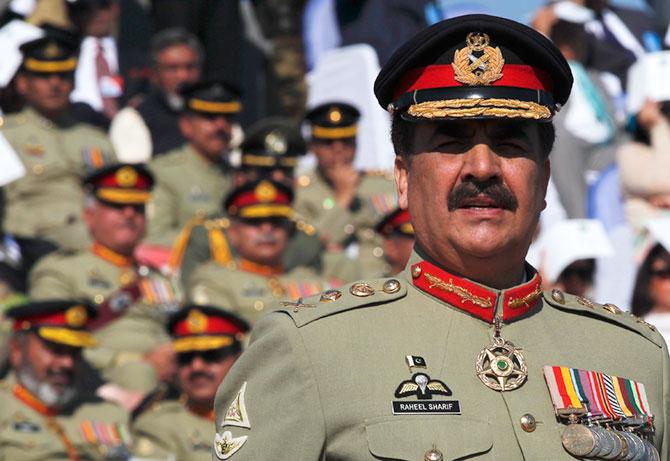 IMAGE: General Raheel Sharif on taking charge as Pakistan's army chief at the army headquarters in Rawalpindi, November 29, 2013.
General Sharif's elder brother Major Rana Shabbir Sharif died in the 1971 War with India and is the only Pakistani soldier to be awarded Pakistan's Nishan-e-Haider and Sitara-e-Jurat for bravery. Photograph: Mian Khursheed/Reuters
When the Lashkar-e-Tayiba unleashed havoc and bloodshed during its murderous 26/1 terrorist attacks in Mumbai, an outraged Salman Khurshid, then minister of state for external affairs, averred that there would be no talks with Pakistan until India's demands on Pakistani-sponsored terrorism were met. The nation then expected that those responsible for the carnage were brought to book.
Not surprisingly, no action was taken by Pakistan against the main culprits who masterminded the attack -- the ISI officials involved and Mohamad Saeed, the head of the Lashkar-e-Tayiba. Even the Lashkar's operations chief, Zaki-ur Rehman Lakhvi, was treated with kid gloves when in jail, being given facilities for regular conjugal visits by his wife and even a friendly chat with then ISI chief, Lieutenant General Shuja Pasha!!
Salman Khurshid had to eat his words. In July 2009, his boss Prime Minister Manmohan Singh held extensive talks with his then Pakistani counterpart, Yusuf Raza Gilani, in Sharm el Sheikh. Not only did Dr Manmohan Singh agree to the resumption of a 'Composite Dialogue' with Pakistan, but also virtually endorsed Pakistani allegations about Indian interference in Balochistan.
Barely 18 months later, Prime Minster Singh and Congress party President Sonia Gandhi were merrily sitting together with Prime Minster Gilani, watching a cricket match between India and Pakistan!! Is it any wonder that the Pakistani establishment concluded that India would do nothing if they quietly buried all talk of bringing the perpetrators of 26/11 to justice?
This was not the first instance when such developments had taken place. The blood shed by our martyrs in Kargil was soon forgotten and Mr Vajpayee invited President Pervez Musharraf for a high voltage, highly publicised, State visit. This ill-prepared visit took place barely six months after the Lashkar attacked the Red Fort in Delhi, with Mohamad Saeed proudly proclaiming that he had unfurled the 'green flag of Islam' over the historic monument.
The Agra Summit was followed by the attack on India's Parliament by the Jaish-e-Mohammed, led by Maulana Masood Azhar, whom we had generously released during the IC-814 hijacking in Kandahar.
Do these developments suggest that there should be no dialogue between the two countries if Pakistan-sponsored terrorism continues?
We do not live in an ideal world. Realism dictates an acknowledgement that terrorism sponsored by a country like Pakistan will not end, unless the country finds the national costs of sponsoring terrorism are unacceptably high.
At the same time, we need to have regular channels of communications and engagement with Pakistan to see whether ways can be found to promote cooperation and reduce tensions. Such channels of communication are imperative when tensions from cross-border terrorism appear to be getting out of hand.
Thus, while as an expression of our anger and concern we have cancelled dialogue after serious terrorist threats, they have resumed after the terms of the resumed dialogue have been agreed upon.
Prime Minister Narendra Modi's government has endeavored to stay within this framework, despite the fact that the Lashkar attacked our consulate office in Herat, Afghanistan, and almost succeeded in killing our diplomats there on the day he assumed office.
Cross border infiltration has continued and the two countries could have gone to war if the Lashkar attempt to derail a train near Gurdaspur in Punjab had succeeded earlier this year. It is primarily to avoid escalation that India insisted in according primacy to terrorism in the dialogue.
Recognising this, Prime Minister Nawaz Sharif agreed in Ufa, Russia, to a dialogue spearheaded by the National Security Advisers, the Directors General of Military Operations and the heads of Paramilitary Border Security forces, aimed at promoting peace and tranquility along the borders.
While these talks did not materialise, ostensibly over differences on the Pakistanis meeting Hurriyat leaders in Delhi, the real reason was somewhat different.
The real problem in dealing with Pakistan today is the fact that while we negotiate with the country's elected prime minister, we are unfortunately dealing with a leader who has given the army led by General Raheel Sharif, a veto and primacy in decision-making on all important issues of national security and foreign policy.
The army was obviously not happy with a terrorism-focused dialogue as this would compromise its support for terrorism in both India and Afghanistan. Hence, it torpedoed the entire dialogue process the two prime ministers had agreed upon. The army inevitably wishes unfettered use of terrorism as an instrument of State policy.
These factors, combined with activist American diplomacy, led to both countries seeking to agree on a revised framework for dialogue, which met India's concerns, by agreeing to a framework, for the road ahead.
IMAGE: US Secretary of State John F Kerry, right, with Pakistan army chief General Raheel Sharif in Washington, DC. Photograph: The US State Department.
Washington has made it clear that in discussions held during General Raheel Sharif's visit to the US that Pakistan should pursue and deal with anti-Indian terrorist groups like the Lashkar-e-Tayiba and the Jaish-e- Mohammad in the same manner that it had dealt with the Pakistani Taliban.
In order to avoid the glare of the media and bypass Indian objections to official contacts of visiting Pakistani delegations with Kashmiri separatists, talks between the national security advisers and foreign secretaries of the two countries were held in Bangkok on December 6. The two sides announced that they held discussions described as a 'constructive engagement,' covering peace and security, terrorism, Jammu and Kashmir and other issues including tranquility along the Line of Control in Jammu and Kashmir.
What has thus transpired is an agreement in principle between India and Pakistan to undertake a dialogue, which is heavily focused on security issues. One redeeming feature is that the chief negotiator and National Security Adviser Lieutenant General Nasser Khan Janjua is from the Pakistan army and represents the only institution that matters in Pakistan on the conduct of relations with India.
More importantly, General Janjua represents the only State institution in Pakistan that controls the activities, including the arming, training and infiltration into India, of terrorist groups like the Lashkar and Jaish. We also need to bear in mind that it is the army that has vetoed efforts by Nawaz Sharif to promote trade, economic and energy cooperation with India.
External Affairs Minister Sushma Swaraj's visit to participate in the Heart of Asia Conference on Afghanistan has also provided a good opportunity to size up Pakistani intentions.
Much is now going to depend on how General Raheel Sharif decides to deal with jihadi terrorism directed against India.
With the advent of winter, infiltration across the Line of Control in Jammu and Kashmir is likely to fall. We will have to wait till the snows melt in June/July 2016 before we can get a clearer idea of whether Pakistan intends to get serious about ending support for cross-border terrorism.
Given General Raheel Sharif's track record in backing jihadi outfits in Afghanistan and India, one has to be cautious and patient.
In the meantime, we can move ahead for exploring the possibilities of increased cooperation in areas like trade, energy and people to people contacts.