Flexible, maneuverable, mobile and swift, the M-777A2 Ultra-Light Howitzers are just what India needed to replace its ageing battle-tested Bofors guns, says Debalina Ghoshal.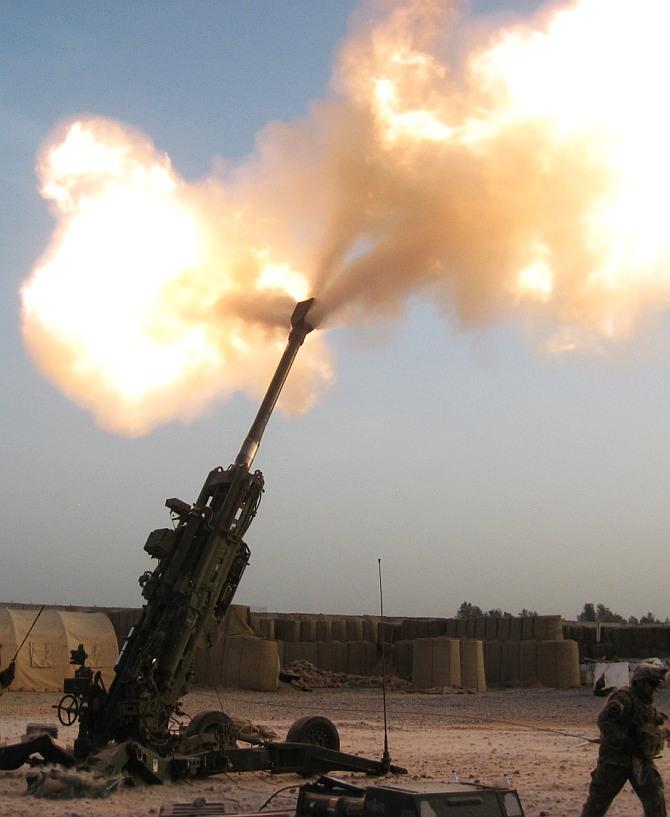 In mid-November 2016, the Defence Acquisition Council approved for purchase the much-delayed M-777A2 Ultra-Light Howitzers -- also known as the "Triple Seven".
India will now buy 145 of such 155mm 39-calibre towed guns for its Mountain Strike Corps, which was raised in 2013. This gun would be acquired from the United States through the Foreign Military Sales authorised by the Arms Control Export Act.
However, the delay in decision by the Indian government to acquire these guns has increased the cost from $647 million (over Rs 4,407 crore) in 2010 to $750 million (over Rs 5,107 crore) in 2016.
Even in August 2016, there was a delay by the government to acquire the gun and India had requested the United States to freeze the deal for three months.
The M-777A2 is the upgraded version of the M-777A1 ULHs with software enhancements.
These guns are reported to replace the obsolete BAE Systems' Bofors FH-77B 155mm 39 caliber gun which was a battle-winning weapon for the Indian Army during the Kargil conflict.
India has already received the US Letter of Acceptance and before long the guns will be delivered to India.
Towed guns are best suited for mountain warfare and these guns also have an advantage that they could be airlifted and therefore, transported via helicopters. Therefore, the need to pull them through rough terrain is not required.
However, their light weight helps the guns to be easily towed on road. The guns have higher survivability and greater mobility achieved by the use of titanium and aluminium alloys that make the guns lighter and easy to be airlifted and capable of 'shoot and scoot'.
Such weapons are, therefore, ideally suited for mountain warfare. Even in extreme temperatures, the gun has proved its reliability, maintainability and safety.
According to Keith Gooding, programme manager for towed artillery systems, the guns have already undergone several tests near the Western plains close to the Pakistan border as well as close to the Himalayan border.
The M-777A2 has a digital fire control system from BAE Systems that allows the gun to programme and fire long range accurately. The gun can fire up to five rounds per minute.
All these features are very crucial as artillery needs to be flexible, maneuverable, mobile and swift to support infantry and armoured divisions.
The gun can be turned around in less than two minutes by the crew. This would enable the gun to react to sudden changes in target location.
The gun would also possess Laser Inertial Artillery Pointing Systems. For direct and indirect firing, the low-rate initial production systems employ an optical sighting system.
Full production systems will be fitted with the General Dynamics Armament Systems Towed Artillery Digitisation system, while the LRIP systems will be retrofitted with TAD.
Today raw firepower is crucial to coercive diplomacy vis-à-vis enemy States. Coercive diplomacy can only be achieved when weapon systems are survivable and capable of inflicting catastrophic damage to the enemy's counter-force capabilities.
BAE Systems, which produces these guns, will in future collaborate with Mahindra Defence Systems to co-produce these guns to strengthen India's thrust on its 'Make in India' policy.
However, as reports suggest, there are several technological barriers to overcome for a joint production of this weapons system.
For one, the use of titanium as mentioned above to make the guns lighter is not an easy technology and secondly, the gun barrel cannot be made in India as this is prohibited under the US Berry Amendment.
India's artillery modernisation process has been stalled for a while with India not involved in procurement of any modern artillery weapon systems since the past two decades.
But in recent times, India has given a green signal to not only the M-777A2 guns but also to India's indigenously-produced Dhanush guns.
Post the Bofors scandal, the Indian government has avoided taking any undue risks involved in acquiring of weapons system that has resulted in even backlisting of companies.
Companies like Denel, Soltam and Rheinmetall Defence have not been able to strike a chord with the Indian government yet on grounds of corruption.
As far as longer range weapons are concerned, the Indian Army's artillery is well equipped with missiles like Prahar, BrahMos, Prithvi and Agni. At shorter ranges, there is a need for credible weapons systems to complement the long-range weapon systems.
The author is a research fellow at the Centre for Human Security Studies in Hyderabad