Even as the United States snuggles closer to India with the thinly veiled objective of containing China, the Indian strategy is to avoid alienating either nation.
This may prove wise, since normalising relations with the neighbour is beneficial to India's long term success, says Ambassador M K Bhadrakumar, concluding his two-part analysis of the US defence secretary's visit to India.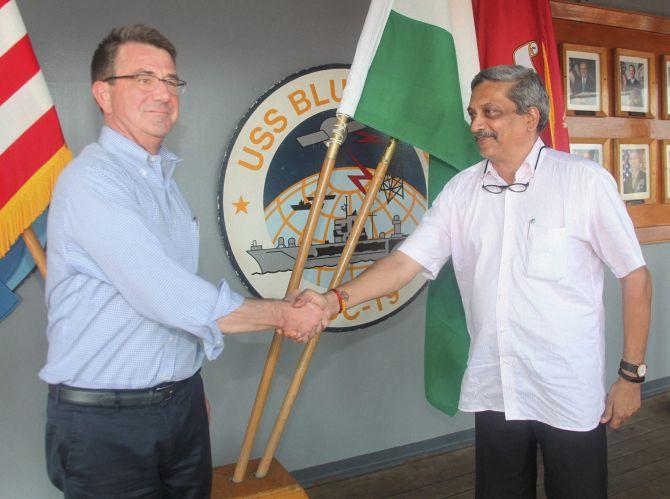 IMAGE: US Defence Secretary Ashton Carter with Minister of Defence Manohar Parrikar. Photograph: PTI Photo.
Read the first part: The geopolitics of Ashton Carter's visit
The scheduling of diplomatic engagements and the sequencing carries much symbolism.
The week begins in New Delhi with the visit by the US Defence Secretary Ashton Carter.
It is a reiteration of the deepening and steady expansion of India-US strategic partnership, with a dynamic military-to-military dimension to it, which is poised for a historic leap.
However, it at once strikes the eye that India has also firmed up three high-level exchanges with China in rapid succession.
India's National Security Advisor Ajit Doval will be travelling to Beijing for the India-China strategic dialogue, followed by a 4-day visit by Defence Minister Manohar Parrikar to China.
Alongside, External Affairs Minister Sushma Swaraj is due to participate in the Russia-India-China trilateral meeting at foreign minister level in Moscow, where she plans to hold a bilateral with her Chinese counterpart Wang Yi.
Can it be mere coincidence that India puts on display its multi-vector foreign policy?
India is signalling that it gives the highest priority to its normalisation process with China.
On the flip side, India remains cautious about identifying with the US's re-balance in Asia, whose barely-hidden agenda is the 'containment' of China.
Put differently, while India and the US may have common concerns with regard to China's rise, New Delhi prefers to retain its strategic autonomy in addressing its concerns and to keep working on the normalisation process with its big Asian neighbour so as to build a new type of relationship based on equality, mutual interests and mutual respect.
The Indian reticence over the US's re-balance strategy is not surprising.
Tensions are rising in the South China Sea.
China's game plan is one of non-lethal military coercion (supplemented by full-spectrum diplomacy and geo-economic initiatives) that aim at creating through a process of slow accretion changes engendering new realities, which may not per se amount to a casus belli but would add up incrementally to a substantial transformation of the overall strategic picture.
Washington is yet to finesse a flexible response. CNN reported over the weekend that there are differences between the defence department and the National Security Council, and the White House sought to cut down on any airing of such differences (external link here).
The evolving situation may seem to be fraught with the risk of an open confrontation between the US and China but the good part is that both Washington and Beijing are cognisant of the risk and hope to avoid it.
A confrontation or conflict will harm both countries' vital interests and is something their high level of interdependency doesn't allow.
Also, a conflict is almost certain to bring the roof crashing down on the fragile world economy and the international system in a manner that is simply unthinkable.
Indeed, there is often a tendency to overestimate the South China Sea tensions as the major US interest in the Asia-Pacific.
The fact of the matter is that Washington needs Beijing's cooperation today to tackle global and regional challenges and the convergence is steadily accruing -- be it over Iran and North Korea, terrorism, climate change, G20, or nuclear security.
India understands this as do the countries of the Association of Southeast Asian Nations.
For the ASEAN countries, China has also become a unique driver of growth in their region. The engagement reaches such a level today that the regional grouping views with horror the prospect of a Sino-American conflict.
Suffice it to say, the ASEAN has mixed feelings about the US' rebalance strategy (with the possible exception of the Philippines which has always been an American military base.)
China is a virtual superpower and a huge landmass and conquering, subjugating and holding it seems nigh impossible; while the Allies did manage to do so with imperial Japan and Nazi Germany, it is a historical feat that cannot be repeated.
If nothing else, the US lacks the financial capability to bankroll such a Herculean effort.
The name of the game behind the bluster of the US' rebalance rhetoric is about negotiating the rule book; about ensuring that the US remains embedded in the region, about tapping into the huge potentials of trade (civil and military), investment and other economic linkages with the fastest growing region on the planet, and, ultimately, all about negotiating with China from a position of advantage.
All things considered, therefore, the Indian strategy is realistic in that it insulates itself from the regional tensions involving China and the US by cautiously navigating its way through and by prioritising the normalisation process with China.
Thus, by optimally using the 'defining partnership of the 21st century' with the US to augment and strengthen its comprehensive national power, India can negotiate with China more effectively.
Becoming part of a US-led alliance system or 'network' in the Asia-Pacific remains the trump card whose real utility is in the option to exercise it not in actually doing so.
Does this smart policy of strategic restraint and patience have a future?
Of course, China will not be dissuaded from pursuing One Belt, One Road initiatives in India's neighbourhood.
But there are incipient signs that it doesn't mean China intends to trample upon India's core concerns.
A careful reading of the Sino-Lankan joint statement issued in Beijing following the visit by Prime Minister Ranil Wickremesinghe last week bears this out (external link here).
Again, isn't it extraordinary that a senior Chinese diplomat annotated Beijing's last-minute move ten days ago to block India's attempt to put Maulana Masood Azhar of the Jaish-e-Mohammed in the UN's rogue list of terrorists?
After suggesting that India and Pakistan address their differences directly since they can't change their neighbours as if one would have a 'new boyfriend or a girlfriend', Liu Jinsong, China's deputy chief of mission in New Delhi remarked last week: 'China can't be judge (to decide) 'who is right and who is wrong' when it comes to India and Pakistan's views on Azhar. We can't stick to one side. We can't veto, we can't (be) absent. Only thing we can do is (to put it on a) technical hold'.
The Chinese reasoning may appear small comfort at this point but, equally, such a body language and symbolism (with a dose of thoughtful content sprinkled on it) would have been inconceivable in an earlier era, even a recent past.
The ground beneath the feet seems to be shifting.
Indeed, the US cannot but be wary of a Sino-Indian entente cordiale, which would profoundly affect the strategic balance in the Asia-Pacific.
In such periods of fluidity, creating ambiguities becomes often the thankless task of diplomacy.
Ashton Carter's speech at the Council of Foreign Relations in New York last Friday can be seen in perspective.
The speech can be heard in its entirety here (external link).
Concluded
Ambassador M K Bhadrakumar is a retired diplomat, who is widely acknowledged as one of the most authoritative experts on Afghanistan. Mr Bhadrakumar blogs at http://blogs.rediff.com/mkbhadrakumar/