Maharashtra's beef ban has led to heated arguments on social media, but when a protest against the ban was held in Mumbai, only a few thousand people turned up.
Perhaps it is easier to outrage online than join an actual protest, says Syed Firdaus Ashraf, who was at the morcha.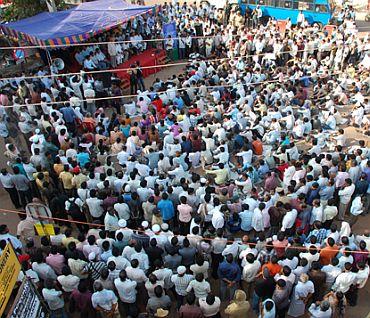 When I read that a morcha in Mumbai would protest against the Maharashtra government's decision to ban the slaughter of bulls and oxen (cow slaughter was banned in the state in 1976), I felt I had to join the rally.
As a beef lover, I felt Chief Minister Devendra Fadnavis's Bharatiya Janata Party government has no business to tell me what I should eat or not eat.
#Beefban was trending on social media where people were passionately -- sometimes a little too passionately -- debating the issue. It is all right to vent on social media, but the real action would be on the ground.
The morcha against the beef ban was scheduled to commence at 2 pm from the Jijamata Udyan, Byculla, south-central Mumbai, and end at Azad Maidan near the city's famed Chhatrapati Shivaji Terminus.
It was not only about one's favourite meat missing from the dining table, the ban had serious economic ramifications as well. Thousands of Indians employed in the slaughter trade and the leather industry, to name just two businesses, would be unemployed.
The Fadnavis government gave no warning, but got the pending-for-19-years bill okayed by the President of India without a thought for the thousands of Indians who would be financially affected by the ban.
There were more than 100 policemen outside the small ground near the Jijamata Udyan which houses the city's zoo. Some of the policemen were in riot gear. I didn't see any protestors.
Was I at the wrong venue? I asked a policeman if the morcha was to commence from the spot. The policeman confirmed it was, but added helpfully that no protester had turned up as yet.
Where were the Twitterati raging against the beef ban decision, I wondered. Where were the butchers and others severely affected by the ban?
I waited for some 10 minutes, hoping someone would turn up. A bearded gentleman, whose name I later learnt was Mohammad Hashim, came up to me and asked, "Where is the morcha?" "Even I am waiting for the protestors," I replied.
"For more than two weeks," Hashim complained, "I have not eaten beef. One fine day the government tells me I will be sent to jail for five years if I am found eating beef. Is this justice? Is this a law or a joke?"
Some minutes later I learnt that the venue of the protest had been shifted to the Azad Maidan; there would be no march against the ban, only a public meeting.
I took a taxi and arrived at Azad Maidan.
There were only a thousand or so people gathered at the famous Mumbai maidan. Everyone was given a black ribbon to wear and there were many speakers on the dais.
'Comrade' Vasudevan came up to the mike and started rousing the crowd with "Hamari rozi roti chali gayi, humein insaaf chahiye (we have lost our livelihood, we want justice)."
The crowd had started growing in size and and I felt at least 100,000 people would turn up.
To my disappointment, not more than 5,000 people gathered to protest the ban. Predominantly, butchers from all over Maharashtra and a sprinkling of Dalit workers who had lost their jobs when the abattoirs shut down. There were no beef lovers like me.
"The issue is of the bull, not the cow," Zakir Qureshi declared. "We don't slaughter cows because we know Hindu sentiments and we respect them. The BJP government is deliberately misleading people by making this a Muslim issue."
"This is not a Muslim issue at all," he added. "This is a Marwari, Gujarati and farmers issue because everyone is involved in the business of bulls."
Mahendra Late, a Dalit worker at the abattoir in Deonar, north Mumbai, confessed he had "no idea what to do. For the last 10 years I have been working at the abattoir as a helper. I have no other job skills."
Asked if he expected the ban to be withdrawn, Late said, "Not anymore. I hoped that many people would come here to support us and the ban would be lifted. Unfortunately, nobody cares for us. Hardly anyone has come to support us."
Afsar Qureshi, a butcher, pitched in: "In the last two weeks I tried to sell fruits. I sold water melons, but made a loss because I didn't know which melons were good and which were bad."
Asked why he did not shift to mutton, or for that matter buffalo meat which is permitted, he said, "Buffalo meat is full of fat, you won't be able to eat it. People will not buy it. As far as entering the goat or chicken trade is concerned, there are established players in the business who will not allow us to come in."
"If chicken, egg and goat sellers had joined our rally," added Imtiyaz Qureshi, "we would have succeeded. Maharashtra would have been forced to go vegetarian and there would have been a public backlash. Those people are happy with the ban because they are doing better business now."
"We face a very uncertain future," pointed out Afsar Qureshi. "I don't know who will pay my children's school fees. The least the government could have done was to give us six months notice before the ban. This BJP government is heartless."
"What are we going to achieve by this protest? Nothing!" says Shahid Qureshi, another butcher. "The beef ban is a reality in Maharashtra and only Allah knows what the future holds for us."
BJP leader Madhav Bhandari said he would lead a delegation of protestors to meet Chief Minister Fadnavis.
"There is no point in meeting the chief minister," felt Afsar Qureshi. "They have made the law and they will not change it. This morcha is a waste of time. It is better to search for some new employment."
"I had told my wife that something good would happen after this morcha, but I don't see anything. What will I tell my wife when I go home?"
There was only a small mention of the protest in a few newspapers the next morning. Even the Urdu newspapers, which were vocal about the issue, have ceased giving it importance.
An interesting report (external link) in the tabloid Mid-Day caught my eye. Devendra Fadnavis's banker wife Amrita Fadanvis has hired a public relations firm to help with her image and media relations, the report said.
The chief minister's missus needs PR?
With such priorities for our rulers and their spouses, I felt our leaders have no concern for people like Afsar Qureshi, except to accept their memorandums and likely throw it into the dustbin.