Sheikh Hasina's government has launched a relentless war against terrorism since the Dhaka cafe carnage in July 2016, but as Bangladesh's terror networks exploit new technologies and new tactics, the challenge to eliminate jihad gets tougher, points out Binodkumar Singh.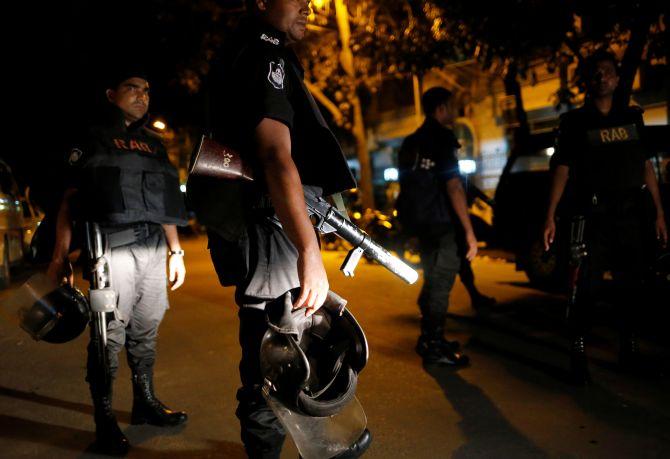 IMAGE: Security personnel prepare to storm the Holey Artisan restaurant in Dhaka after five terrorists attacked the popular cafe in July 2016, killing 22 hostages and 2 policemen. Photograph: Mohammad Ponir Hossain/Reuters
In Bangladesh, the radicalisation of a segment of Bangladesh expatriates is a key concern.
Hundreds of Bangladeshi workers living in the West and South East Asia have come under the influence of jihadi ideologies and programmes.
Between November 16 and December 1, 2015, the Singapore police arrested 27 Bangladeshi construction workers for connections with al-Qaeda and Islamic State (IS, formerly, Islamic State of Iraq and al Sham, also Da'esh) and deported 26 of them.
On August 19, 2016, Peyar Ahmed Akash, a Bangladeshi expatriate, was arrested by the Malaysian police for his suspected involvement in terrorist activities.
On January 19, 2017, two Bangladeshis working as salesmen were arrested in Kuala Lumpur for suspected links with Da'esh.
On July 4, 2017, a 25-year-old Bangladeshi linked to Jama'atul Mujahideen Bangladesh was arrested by the Malaysian police.
On September 22, 2017, a 34-year-old Bangladeshi national was arrested in Merida, Spain, and charged with involvement with IS' technological machine.
Terror financing by Bangladeshi expatriates is another area of urgent concern.
It is estimated that about $7 billion comes to Bangladesh every year via the hundi system, an alternative transfer method akin to the hawala network that persists in West and South Asia.
Investigations into the financial operations of terrorist groups like Jama'atul Mujahideen Bangladesh (JMB) and Harkat-ul-Jihad-al Islami Bangladesh (HuJI-B) demonstrate that a sizeable proportion of its funding comes through this hundi route.
In July 2016, four Bangladeshi workers were convicted in Singapore for financing terrorism back home.
Calling themselves Islamic State in Bangladesh (ISB), the four men had been planning attacks in Bangladesh to topple the Awami League government. Their objective was to form an Islamic State in Bangladesh and make it part of the so-called IS Caliphate.
The expatriates' exposure to radical ideology emanating from the Arab world has brought a qualitative change in their approach, lifestyle and operational strategy.
As a result, IS-style terror operations have been engineered or plotted in the country as well.
The most daring incident was the Holey Artisan cafe attack in Dhaka on July 1, 2016, in which 29 people were killed, including 20 hostages (18 foreigners and two locals), five gunmen, two police officers and two cafe staff.
According to the US-based SITE Intelligence Group, IS claimed responsibility for the Holey Artisan cafe attack.
Bangladesh Home Minister Asaduzzaman Khan denied that IS was involved, saying the jihadis who slaughtered the hostages at the Dhaka restaurant were members of the home-grown JMB terror group and not followers of Islamic State.
Separately, A K M Shahidul Hoque, inspector general of police, Dhaka city, said members of JMB and the Ansarullah Bangla Team jointly carried out the Holey Artisan cafe terror attack.
Bangladesh has taken giant strides against terrorism and Islamist extremism. In its unremitting effort against terrorist formations in Bangladesh since the Holey Artisan cafe attack, 106 Islamist terrorists have been killed and another 1,404 arrested across the country.
Prominent among those killed are Tamim Ahmed Chowdhury, the Neo JMB's mastermind behind the Dhaka cafe attack; the JMB's 'military commander' for the northern region Khaled Hasan; the Neo-JMB 'military commander' Jahangir Alam; the JMB's 'regional commander' Tulu Mollah; the JMB 'regional coordinator' Abu Musa; the Neo-JMB's 'military chief' Aminur Islam; the HuJI-B 'chief' Mufti Abdul Hannan; HUJI-B's 'regional commander' Tajul Islam Mahmud (data updated till December 18, 2017).
To expand anti-terror operations to hunt down suspected extremists, Sheikh Hasina's government approved an anti-terrorism unit with nation-wide jurisdiction to combat militancy and terrorism on September 20, 2017.
The 581-member ATU will be headed by an additional inspector general of police. The unit will work solely on terrorism-related issues.
The new unit will have one deputy inspector general, two additional deputy inspectors general), five superintendents of police, 10 additional superintendents of police, 12 assistant superintendents of police, 75 inspectors, 125 sub-inspectors, 140 assistant sub-inspectors, 200 constables, and 10 office staff.
The ATU will have 16 jeeps, two SWAT vans, eight double cabin pickups, one ambulance, one truck, an armored personnel carrier, one water canon van, one prison van and 10 motorcycles.
On October 25, 2017, to curb the controversy regarding the madrasa education system, the government directed the Bangladesh madrasa education board to remove the chapters on jihad.
The new textbooks will not contain any chapters with lessons on jihad, for the first time in nearly four decades.
Since the inception of the board in 1979, chapters on jihad were included in madrasa textbooks from Class 8 to the degree level. Jihad has been defined in madrasa textbooks as a 'struggle or fight against the enemies of Islam.'
On November 7, 2017, the government also shut down the Lakehead grammar school for patronising militancy.
The education ministry observed that the school was inspiring religious extremism, building extremist organisations, and carrying out activities against the nation and its independence.
In a startling revelation at the meeting of the national committee on militancy resistance and prevention in Dhaka on September 4, 2017, operatives from Bangladesh's security agencies disclosed that 440 individuals accused in 331 terrorism-related cases had fled the country after securing bail.
According to the law enforcement agencies, more than 200 suspected terrorists are out on bail since January 2017.
Most of these are members of the Neo-JMB, the old JMB, Ansar al-Islam, HuJI-B and Hizb-ut Tahrir. The delay in investigation and legal proceedings allow the terrorists to take advantage of the system.
In another revelation, on October 1, 2017, ATU officials disclosed that the terrorist outfits have apparently smartened up and become tech-savvy.
The terrorists are increasingly using encrypted communications apps to maintain communication online, making it harder for law enforcement agencies to trace them.
The terrorists initially used Facebook Messenger and Google Hangouts to communicate, but recently shifted to encrypted messaging apps like Threema, Telegram and Wickr to maintain secrecy.
The terrorists also use WhatsApp, Viber, Tango and similar apps as most of them have the encryption facility, but rapidly switch platforms to avoid detection.
The terrorists, security agencies fear, may move to Silent Circle, Signal, Chat Secure, OS Tel or Red Phone, highly advanced and more privacy-conscious messaging apps. If they do this, tracing their online networks will prove even more challenging.
Sheikh Hasina's government has hardened its resolve to eradicate terrorism from Bangladesh after the Holey Artisan cafe attack. It has demonstrated the efficacy of determined and relentless action against terrorist formations over the past year and more.
However, as the terrorists adapt and exploit new technologies and new tactics, the challenge to eliminate terrorism is kept alive.
Bangladesh's War on Terror may not end any time soon.
Dr Binodkumar Singh is at the Institute for Conflict Management where he is involved in research and documentation of conflicts in Bangladesh.