In an age when the electorate is increasingly impatient and changes governments every five years, how did the Tamil Nadu chief minister beat anti-incumbency?
A Ganesh Nadar, who travelled through the state during the elections, offers a checklist.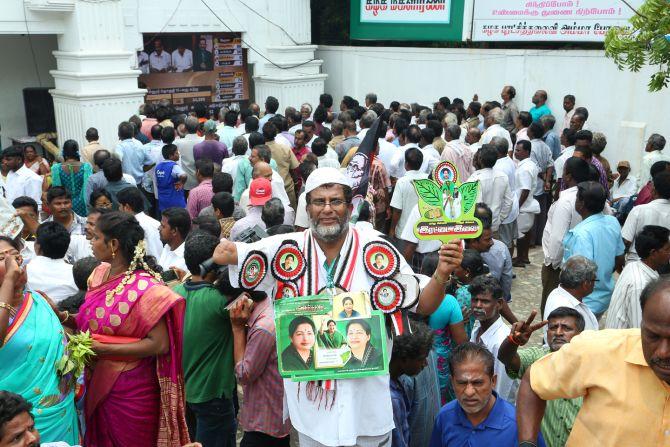 Everyone was sure that Tamil Nadu Chief Minister J Jayalalithaa would lose this election.
The main reason for this belief was past voter behaviour. The last time a government was re-elected in Tamil Nadu was in 1984.
The second reason was her absence during the devastating floods in Chennai last December. Not just her, even her ministers were not to be seen.
However, she astounded pollsters and pundit alike by being re-elected by a convincing margin.
10 reasons why I think she bucked the trend.
1. Barring her AIADMK, all other political parties had promised total prohibition in the state.
Jayalalithaa alone said that she would introduce prohibition in a phased manner.
Tamil Nadu's alcohol problem may not rank on the same scale as its western neighbour, but Tamils by and large like to down a drink. Or two. Especially during election time.
So for those drawn to the bottle, she represented their only chance to continue having a peg every evening for the next few years. They made sure to come to the polling booth and vote for her.
2. Those who liked her government voted for her. But what about those who did not like her rule?
Oh, they had an easy choice -- of voting for the Dravida Munnetra Kazhagam, or the Peoples Welfare Front, or the Pattali Makkal Katchi, or the Naam Thamizhar Katchi, or even the Bharatiya Janata Party or any of the others in the fray.
Jayalalithaa's own constituency, Dr Radhakrishnan Nagar in Chennai, had 45 candidates in the fray. So the Opposition vote was split.
3. Various schemes Jayalalithaa initiated appealed to the poor. Plus, the DMK has a reputation of halting all her schemes irrespective of merit, on being elected.
The Amma Unavagams, where you get an idli for one rupee, are a big hit, while you can buy cheap medicines at Amma Pharmacies. Then there is Amma cement, Amma water and so on.
She also gave 20 kilos of free rice to every family, four goats plus Rs 2,000 to help look after them. Calves were also given. School-going children get uniforms, books, stationery, slippers and even spectacles free.
In Tamil Nadu, thanks to Jayalalithaa, you don't have to worry about your child's education till Class 12. They also get free lunch at school.
Then there is marriage assistance for the poor and old age pensions. And Mediclaim cards you can use in private hospitals. Yes, they are called Amma cards.
Most -- if not all -- schemes are named after Amma, and while the Opposition made it a point to laugh at the nomenclature she went laughing all the way to the vote-bank.
4. Her rival Muthuvel Karunanidhi will be 92 years old on June 3. Had he been elected CM -- and he told NDTV that he, not his son M K Stalin, would be chief minister -- at the end of his term he would be 97. Plus, he was not exactly in the pink of health.
This put off many voters who remember a time when their chief minister -- Jayalalithaa's mentor MGR -- was bed-ridden and the state administration was on auto-pilot.
5. M K Azhagiri, Karunanidhi's sulking elder son and the former uncrowned king of Madurai, appears to have initiated a lot of work to ensure that the DMK would lose.
His supporters told us that Jayalalithaa would win although with a smaller margin. They also said that we would know Azhagiri's plans after May 20.
The results for the DMK in Madurai and southern Tamil Nadu reveal that Azhagiri's penchant for political mischief is undiminished.
6. A day before the results many predicted a DMK win. Sun TV's stock price rose 5% on Wednesday, May 18.
Folks know that the Maran brothers -- Karunanidhi's grandnephews who own Sun TV, the television network -- like flexing their muscle when the DMK is in power.
Moviemakers are apparently told that the Marans will distribute their movies. If you don't agree, it is said, you'd be hard pressed to find a theatre to release the film.
Kodambakkaam -- where the Tamil movie industry is located -- won't forget that phase in a hurry.
And as if to remind them of what lay in store, Dayanidhi Maran -- who served as a minister in Dr Manmohan Singh's Cabinet -- was very visible by his granduncle's side whenever the senior citizen went campaigning.
7. The DMK's district presidents have not changed for the last 40 years.
Take Periasamy in Tuticorin, for example. Periasamy has been an MLA, his daughter has been an MLA and a minister. His son stood for parliamentary elections, but lost. His daughter was a candidate this election as well. This is not an isolated incident, but happens in every district.
Heartburn among other DMK party workers is a natural consequence. "If Periasamy and his family are going to stand in every election, why should we work for them?" one young DMK party worker asked me.
These district party presidents have extinguished the aspirations of other party workers who are an unhappy lot and don't work whole-heartedly for the DMK at election time.
8. Telling the Congress that it would not share power if it won was another DMK error.
The Congress may be a long way from regaining its lost glory in the state, but at 6.4% of vote share, it still polled more votes than the PMK, DMDK and MDMK.
With such arrogance, I believe the DMK made sure that Congress supporters did not vote for the party.
9. There was no coordination between DMK and Congress cadres. One saw this first-hand.
On the campaign trail with a Congress candidate in Tirunelveli, not a single DMK worker was present the whole day.
In Madurai, while the DMK candidate went campaigning one way, Congress workers went the other way.
Doesn't an electoral alliance work better when respective party cadres work together?
10. In the DMK, one hears a portion of the cash meant for voters was retained by the distributors.
One admirable DMK candidate refused to give money to the voters, saying it was unethical, but his rivals apparently had no such qualms.
And in Tamil Nadu, everyone knows, money speaks loudest. Eespecially at election time.
IMAGE: An AIADMK supporter at the party headquarters in Chennai celebrates Amma's victory. Photograph: Sreeram Selvaraj for Rediff.com