Why 'anti-Romeo'? Why not 'anti-loafer' squad? Or 'anti-Majnu' squad?' wonders Syed Firdaus Ashraf.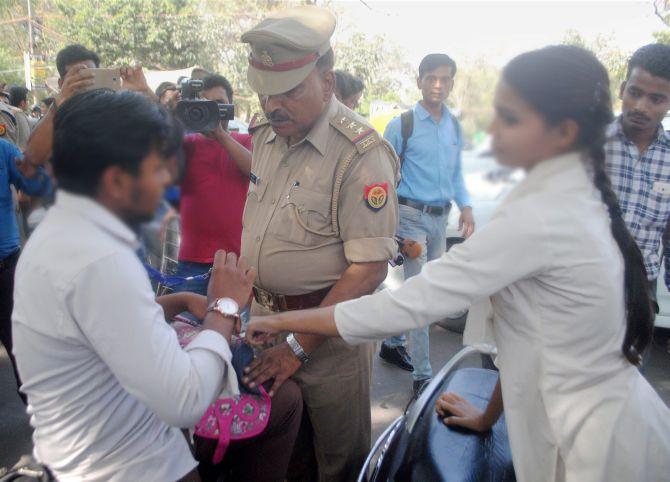 Ever since Yogi Adityanath was elected Uttar Pradesh chief minister, sections of the media have been busy projecting his 'clean', 'secular' image.
When I read about what Yogi likes to eat at breakfast, I wonder if all those years ago I made the right decision to become a journalist.
Of course, what took the laddoo -- sorry, no cake, folks -- was one veteran journalist's tweet over the weekend: 'More than 350 cows at the Gorakhnath temple Gaushala. Several calves ran to Yogi Adityanath as he reached & gave them Gur & their feed.'
For me, Yogi visiting his Lok Sabha constituency and karmabhoomi Gorakhpur and feeding the cows there was not the big news coming out of UP this past week.
Or for that matter the ban on 'illegal' slaughterhouses. I have tired of this subject. I know the Bharatiya Janata Party, under Narendra Modi's leadership, is obsessed with all creatures bovian.
For me, the big news out of the Republic's most populous province was the setting up of 'anti-Romeo' squads to nab young men loitering around UP's women's colleges.
Television footage showed young men forced to do sit-ups by these squads without apparently first finding out why they were in the area.
Like Mohammad Akhlaq's killers in Dadri believed he must have slaughtered a cow since he was a Muslim, never mind the truth, these young men were assumed to be 'Romeos' because they were found around women's colleges.
It did not matter to anyone -- including the media -- to ask a few questions: Were these young men waiting to pick up their girlfriends or sisters? Could they have stopped to buy, say, cigarettes? Or maybe they were on an innocent errand?
But no, since the enemy had already been identified, there were no scope for questions.
What intrigued me was why these squads are called anti-Romeo squads?
Why 'anti-Romeo'? Why not 'anti-loafer' squad? Or 'anti-Majnu' squad?
We know that the romantic Romeo in Shakespeare's Romeo and Juliet was in a consensual relationship with Juliet.
Romeo and Juliet, the Bard tells us, both died for love. Maybe Yogi and the BJP's bachelors are not familiar with such love stories.
Was Romeo's name used because he hailed from Verona in Italy, a country the BJP dislikes for reasons well known?
By the way, the love-hate relationship between the saffron fold and the Italians goes back a long way, to around the Second World War when B S Moonje, the Hindu Mahasabha leader, visited Italy to meet its fascist leader Benito Mussolini.
About five decades later, the BJP's focus was another Italian, Ottavio Quattrocchi, accused in the infamous Bofors case. The businessman vamoosed before action could be initiated against him.
Quattrocchi died in Milan, Italy, in 2013, a year before Modi became prime minister.
Had Quattrocchi been alive, do you think the Modi government would have extradited him to India?
Think again.
After all, it has done nothing to punish Salvatore Girone and Massimiliano Latorre, the Italian marines accused of shooting two Indian fishermen in 2012 off the Kerala coast after mistaking them for pirates.
The marines, who were detained in India to face trial, was granted permission to go home for Christmas in 2012, a decision the BJP was not happy with.
During his 2014 Lok Sabha election campaign, Modi asked several times in that typical Modi style: 'Who was it in Delhi who allowed them (the Italian marines) to flee? On whose direction was the government acting?' Hinting in that Modiesque manner, to Congress President Sonia Gandhi's Italian origins.
After two years, 10 months and one day in power, his government has done nothing to bring the Italian marines back to India.
The deaths of two Indians goes unpunished as the police in a state ruled by the BJP chases Romeos, real and imagined.
IMAGE: The Uttar Pradesh's anti-Romeo squad hauls up a young man in Lucknow. Photograph: PTI Photo