'The two NSAs, who have been mandated to address mutual concerns on terrorism, will need to devise credible and irreversible measures to see that the likes of Hafiz Saeed and Masood Azhar do not ever get a free hand to run riot again,' says Ambassador G Parthasarathy, India's former high commissioner in Pakistan.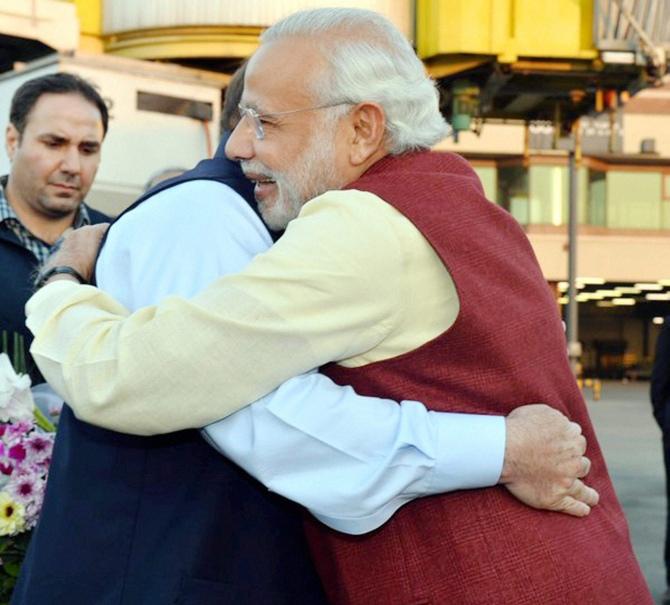 While traditionalists hold that diplomacy with neighbours and adversaries should be consistent and predictable, it often pays to be unpredictable and inconsistent.
This is more so when the past history of relations has been adversarial. Speaking to the Afghan parliament on December 24, Prime Minister Narendra Modi spared no punches about India's feelings on the sufferings the people of Afghanistan had faced from Pakistan-sponsored terrorism.
Mr Modi asserted: 'Brave and tireless as the Afghans are in defending their nation, Afghanistan will succeed only when terrorism no longer flows across the border; when nurseries and sanctuaries of terrorism are shut; and, their patrons are no longer in business.'
'Terror and violence cannot be the instrument to shape Afghanistan's future or dictate the choices Afghans make. For, the fire that is lit in Afghanistan can never be contained.'
There was also a blunt message for Mr Modi's host, President Ashraf Ghani, who had, in his early days, together with the US, Pakistan and China, endeavored to exclude India from efforts to promote 'reconciliation' with the Taliban.
Proclaiming: 'Our ties are ancient as History,' Mr Modi pointedly told Afghan parliamentarians: 'There are some who did not want us to be here. There were those who saw sinister designs in our presence here. There are others who were uneasy at the strength of our partnership. Some even tried to discourage us. But we are here because you have faith in us.'
'You never doubted the sincerity of our commitment and the strength of our friendship. And you have seen the fruits of our partnership. You have judged us by what you see, not what others tell you, including about the mysterious Indian consulates.'
For good measure, these comments were made in the wake of the arrival in Kabul, of three MI-25 attack helicopters, supplied by India, for the hard-pressed Afghan security forces.
Having made his views clear to the parties who have tried to exclude India from playing its due role in Afghanistan, Mr Modi chose to reach out to Prime Minister Nawaz Sharif, with whom relations had been steadily improving.
Only a few days earlier, Mr Sharif had publicly advised his ministers that personal criticism of his Indian counterpart should be eschewed. Mr Modi has been particularly careful in avoiding personal remarks directed at his Pakistani counterpart, though the same cannot be said of some of his overzealous aides.
Even at the height of the Kargil conflict, Mr Vajpayee responded positively to Mr Sharif's request that they should not criticise each other personally.
From the day he assumed office, Mr Modi has made it clear that while he is prepared to reach out to his Pakistani counterpart, he will respond very differently, from his predecessors, to terrorist attacks.
There would be little chance of combining routine diplomacy, with the promotion of separatists on Indian soil. How he will proceed with the latter requirement remains to be seen.
There is little doubt that on the ground, India's response to Pakistani transgressions on the International Border and Line of Control has been more than proportionate.
Mr Modi has also saved Mr Sharif from continuing domestic criticism, by not insisting on what the two prime ministers agreed to in Ufa, about undertaking an almost exclusively terrorism-centric dialogue.
While the exact modalities for the new 'Comprehensive Dialogue Process' agreed to by External Affairs Minister Sushma Swaraj are to be finalised soon by the two foreign secretaries, one hopes that this process is crafted in a more imaginative and realistic manner that the old 'Composite Dialogue Process,' which was formulated by then prime minister Inder Gujral.
It is not clear, whether the two sides will agree to take forward what was agreed to in 'Back Channel' talks on Jammu and Kashmir between the special envoys of Dr Manmohan Singh and President pervez Musharraf.
A start could, however, be made by formulating and promoting new confidence building measures on trade, travel and tourism across the Line of Control. This can obviously not be promoted if cross-border terrorism continues. There should be no lowering of guard on responding more than proportionally to cross-border terrorism.
For a long time now, India and Pakistan have made pious declarations about promoting travel and tourism. But agreements on these issues have seldom been implemented or observed in letter and spirit. Pakistan spares no effort to incite and provoke Indian Sikh pilgrims during their visits to holy sites like the Nankana Sahib and Panja Sahib gurdwaras. New Delhi and indeed even the Punjab government and the Shiromani Gurdwara Parbhandak Committee should insist that this should end.
It remains to be seen if 2016 will herald a return to the period after the Vajpayee-Musharraf Declaration in 2004, when General Musharraf agreed that 'territory under Pakistan's control will not be used for terrorism against India.'
While Pakistan could well be unwilling to reiterate this commitment, the two NSAs, who have been mandated to address mutual concerns on terrorism, will need to devise credible and irreversible measures to see that the likes of Hafiz Muhammed Saeed and Maulana Masood Azhar do not ever get a free hand to run riot again.
Navigating the minefield of terrorism that endangers India-Pakistan relations and makes relations unpredictable and fragile is not an easy task.
Drawing a right balance between unwarranted expectations and desirable realism is essential if we are to avoid falling flat on our faces yet again when the unexpected happens.
Those given to fostering terrorism should be left in no doubt that terrorism and dialogue cannot indefinitely go hand in hand. Pakistan should be left in no doubt that on this score. It is nonsensical to talk of an 'uninterrupted and uninterruptable dialogue.'
One has been amused by expressions of outrage that business houses and industrialists are being used to facilitate diplomatic efforts in India-Pakistan relations. Through the 1970s and 1980s, well-heeled non-resident Indian millionaire businessmen, some holding exalted positions in the House of Lords, were used for scores of chores in countries ranging from Iran to the UK and US.
At the height of the Kargil conflict an 'academic' with close ties to a business house shuttled between New Delhi and Islamabad. Ittefaq Industries owned by Nawaz Sharif is one of Pakistan's largest industrial groups. One can surely not find fault with using business intermediaries to promote contacts with a Pakistani leader who is humorously referred to as the 'Man of Steel' in his own country!! Please do spare us from such hypocrisy.
Happy New Year!!