Does Uddhav (and indeed the Sena) have the pizzazz and staying power to continue to be an actor in Maharashtra politics as a paler version of the NCP and an orange rather than saffron version of the BJP, asks Aditi Phadnis.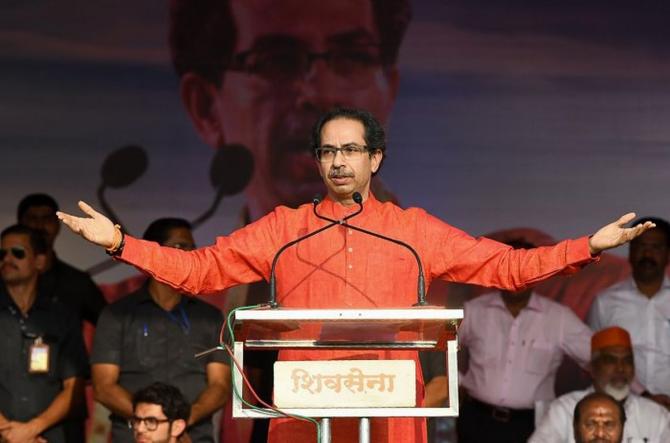 Governing Mumbai since 1985, the Shiv Sena was founded in 1966.
It began with the 'Maharashtra for Maharashtrians' slogan and rooted its mobilisation strategy in seeking to define such an animal -- the Maharashtrian.
But there was a problem with this strategy -- it excluded linguistic groups that might have been Shiv Sena-minded but found themselves left out, such as the migrants from Gujarat, Uttar Pradesh and coastal Karnataka.
To tweak this was easy for the Shiv Sena. It retained its USP -- direct action, militant vision and aggressive rhetoric -- and merely expanded the constituency to which it was addressed.
By the early 1980s, Hindu nationalism overtook the Sena's regional plank. Added to this was the cult built around its supreme leader, Balasaheb Thackeray.
This yielded the desired results. The Shiv Sainik was now an identifiable political figure.
He stood between the citizen and corruption, made things work and offered protection in a variety of ways.
Nothing is free, so petty criminalisation and extortion lubricated the vast and complex shakha machinery.
But by the mid-1980s, the collections of the Brihanmumbai Municipal Corporation were beginning to swell.
At the same time, privatisation of development meant the state had to be bypassed in providing many services, in a practical manner. The Shiv Sena filled this breach.
The problem was leadership. The organisation succeeded so long as there was Balasaheb Thackeray -- larger than life, loved, feared, revered.
But he chose his son Uddhav, rather than his nephew Raj, as his formal successor.
In this Thackeray acted predictably and conventionally. He also disappointed many followers.
Before he came to politics, Uddhav was just a mild mannered, wildlife photographer.
But he found himself inexorably pushed to the political centre-stage and by 1995, was contributing to the party's propaganda machinery.
How did one Thackeray brand the Sena with new-ness? Not just in terms of leadership and political strategies but also alliance partners? Radheshyam Yadav's book Trail of the Tiger, Uddhav Balasaheb Thackeray: A Journey (Bloomsbury) answers some of these questions but leaves you wanting more.
For instance, it explains that Uddhav's 'gentlemanly traits' led him to institutionalise a political culture that was completely different from Balasaheb's.
But, Jadhav says, the recognition that Sena itself had changed helped Uddhav's brand of leadership to succeed: he realised that the Sena had to adapt itself to new political realities.
No longer could it be the party that overran cricket fields to prevent India-Pakistan cricket matches -- because who knows, it might be Shiv Sainiks controlling the political economy of cricket! Part of this effort to reinvent the Sena is possibly also the action against a television channel and its owners and promoters: A channel that many would argue is trying to do to TV screens what Sena did to cricket pitches.
Though this characterisation helps us understand Uddhav's leadership, it does not explain the new trajectory of the Sena in Maharashtra.
We know who Balasaheb's Shiv Sainik was.
But who is Uddhav's Shiv Sainik? From which geographical area of Maharashtra does he come? What does he believe in? Is he from the towns? Or from the villages? Or maybe both? And most important, why does he believe in Uddhav, and not Nitin Gadkari or Devendra Fadnavis? No doubt the author, who has studied Maharashtra in its breadth and depth, will write a sequel answering these questions.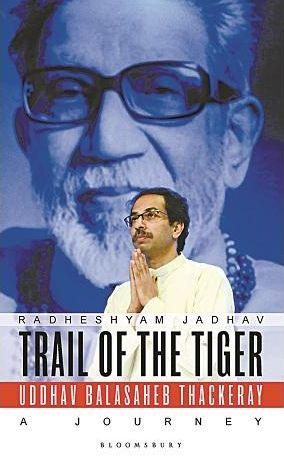 But the issues the book does address are interesting.
It covers Uddhav's formative years, his relationship with his family (which had its ups and downs, especially when it came to his marriage) and the way he navigated powerful personalities while holding his own.
You could argue that his life was dominated by Balasaheb -- and in opting for the Sharad Pawar-led Nationalist Congress Party as his ally when he dumped the Bharatiya Janata Party in 2019, he merely traded one father figure for another.
And yet, the book argues, Uddhav is very much his own man.
It traces with sensitivity and acumen the way he has sought to propel the Hindutva argument away from the BJP's claim of sole ownership and redefine it.
It hints at, but does not answer conclusively, the dilemma of the Rashtriya Swayamsevak Sangh in having to choose between two set-ups that speak the same language but in different words, akin to a parent struggling to be fair to both, a child and a step-child.
The book has its share of reportage from behind the scenes, the life-blood of political reporting.
It describes the anxieties of the Sena at the rise of Narendra Modi, and how Balasaheb supported Sushma Swaraj rather than Narendra Modi for the top job ahead of the 2014 elections.
Even after Balasaheb's death, Uddhav did not openly support Modi as candidate for PM, instead referring to him as a 'good friend' who had done a 'good job' as chief minister of Gujarat.
With Uddhav in charge, the Sena became more sophisticated, more scathing, more biting.
It was in the government but out of it. It was the ruling party but also the opposition.
But the plot had begun unravelling in 2014 during the assembly elections, as Amit Shah campaigned that 'We made a tiger out of a rat and that tiger is now trying to scare us. But we need to show these rats their right place'.
Uddhav reacted unemotionally and judiciously, even though he may have known many would see his actions as opportunist.
True, the book says, he is chief minister today.
But it wonders whether Uddhav (and indeed the Sena) has the pizzazz and the staying power to continue to be an actor in Maharashtra politics as a paler version of the NCP and an orange rather than saffron version of the BJP.
Feature Presentation: Aslam Hunani/Rediff.com