There's no doubt that now Captain Singh has no choice: A succession plan has been forced on him.
He can sulk, or he can fight back.
But the playing field is no longer as level as it was.
Aditi Phadnis reports.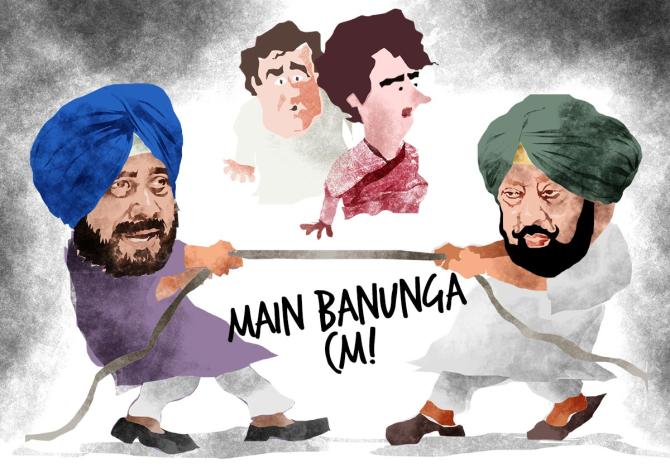 With Navjot Sidhu's appointment as head of the Congress' Punjab unit, Chief Minister Captain Amarinder Singh is, without doubt, down. But whether he is out remains to be seen.
Till a few months ago, Captain Singh's supporters thought everything was going his way.
The Shiromani Akali Dal, the principal rival, had had to walk out of the National Democratic Alliance, breaking with the Bharatiya Janata Party on the issue of the farm laws, thoroughly compromised by its complicity.
Basking in the reflected glory of the farmers' revolt, having piloted an alternative version of the farm law that the Akali Dal was forced to support in the assembly, politically Captain Singh was in a sweet spot.
So much so that in November last year, he felt confident enough to call Navjot Sidhu to lunch and discuss various matters with him.
Mr Sidhu had resigned in July in protest when the chief minister divested him of the charge of the local bodies department.
Captain Singh had said Mr Sidhu was a non-performer. He offered him the power department, but Mr Sidhu refused to take up his new assignment, secure in the belief that New Delhi (Priyanka Vadra and Rahul Gandhi) would reverse the injustice done to him.
The chief minister and he had not talked since then.
But if the lunch was meant to be a bridge, it was too far.
That meeting and the subsequent events only hardened Mr Sidhu's resolve to end this as a fight to the finish.
The collateral damage was Sunil Jakhar, who was sacked as PCC chief, replaced by Mr Sidhu.
So is it 1-1 or love-all?
Soon after his appointment, Mr Sidhu organised a meeting at which 62 MLAs were present.
Given that the Congress won 77 seats in the 117-member assembly (the number is 83 now, after by by-elections, etc), this meant the chief minister had no support.
Of course, MLAs know which side of their bread is buttered.
If they turned up in large numbers at Mr Sidhu's do, it was because they realised that he would be the man who would finally decide whether they would be renominated or not in the 2022 assembly election.
But there's no doubt that now Captain Singh has no choice: A succession plan has been forced on him.
He can sulk, or he can fight back. But the playing field is no longer as level as it was.
Consider Captain Singh's record. The Congress won eight Lok Sabha seats of the 13 in 2019. It could easily have won 10 if more thought had been given to ticket distribution.
It has won every by-election held so far. It has won all the local body elections.
His supporters say Captain Singh is no paragon of virtue. He has his own way of doing things, and "that's just the way he is".
But they do believe the exercise in New Delhi was primarily designed to browbeat him into accepting Mr Sidhu's suzerainty.
Now he has no choice.
Consider Punjab's social fabric. The state has about 38 per cent Hindus.
It used to be 48 per cent before terrorism broke out, but the numbers have come down in the past 20 years.
There are about 31 per cent Dalits, who cut across Hindus and Sikhs, but the Sikh Dalits are more numerous.
Seventy-eight per cent of the Dalit population live in rural Punjab.
Traditionally, the Congress has won in Punjab because of the Hindu and the Dalit.
Of course, there are sect-wise divisions -- Ramdasiya, Ravidasia, Valmiki, etc.
There are divisions among the Hindus as well. The Jat Sikhs are a solid phalanx of 18-22 per cent and have dominated the politics of Punjab since 1977. Every chief minister has been a Jat Sikh.
And now the chief minister is a Jat Sikh. And the PCC chief is a Jat Sikh.
How well does Mr Sidhu know the workers and the party, given that he is a relatively recent import from the BJP and claims till today that Arun Jaitley was his guru in politics?
He is ambitious and a man in a hurry, for which he cannot be faulted.
But faced with the truculence of the chief minister, he will be on a quest to fashion a party that is loyal to him.
Whether such a party can win elections is another matter altogether.
In the clutch of forthcoming elections, to be sure, Uttar Pradesh will be the big one.
But there are two other contests that will be equally important.
One is Karnataka. And the other is Punjab. On both, the last word is yet to be said.