The National Democratic Alliance government has adopted half measures instead of moving decisively on defence, says Ajai Shukla.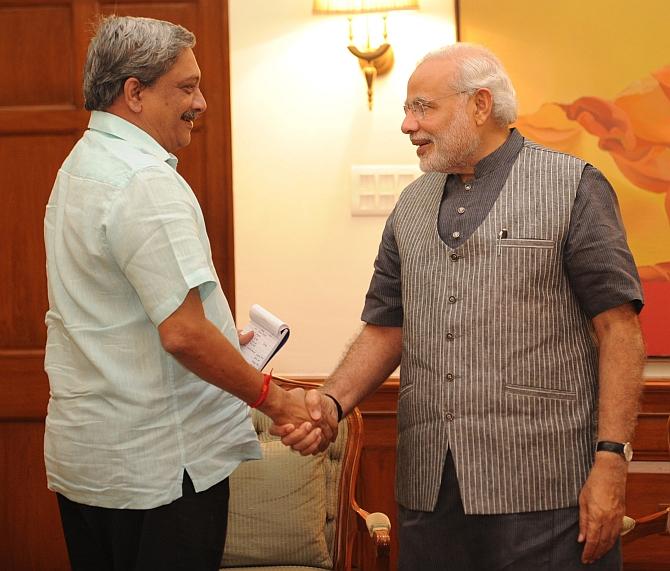 High amongst the reasons why almost a third of India voted the Bharatiya Janata Party to power a year ago was the carefully presented image of a party that would safeguard national defence and pay attention to a long-neglected military.
After years of decision paralysis under the United Progressive Alliance defence minister, A K Antony, the BJP promised a robust revival, with its election manifesto promising dramatic changes to invigorate the military.
"The BJP recognises the importance of identifying a clear road map to address the issue head-on, with radical systemic changes," declared the party's manifesto.

Yet little has changed during the BJP's year at the helm.
Were the military to go to war today, it would still be hamstrung by a dysfunctional and divided command structure that inhibits tri-service cooperation.
While fighting as single services rather than an integrated whole, the army, the navy and the air force would face familiar shortages of equipment, including artillery guns, helicopters, night-vision devices, fighter aircraft, anti-submarine capability and even army jawans' personal equipment.
Despite sloganeering about "Make in India", there are no actual policy changes that might erode our unenviable status as the world's biggest arms buyer.
Alongside paying lip service to indigenisation, Defence Minister Manohar Parrikar sacked the well-respected head of the Defence Research and Development Organisation, leaving this crucial engine of domestic production headless for over three months now.
Meanwhile, the long wait continues for policies that bring private Indian defence companies at least on a par with foreign companies -- repeatedly promised but not yet delivered by Parrikar.
A worrying shortage of junior officers still blunts the combat capability of all three services, especially the army.
The many soldiers who could die as a consequence would continue to have their names engraved on a war memorial that pre-dates independent India.
There is growing resentment within the reliable BJP constituency of ex-servicemen, with the long-standing demand for "one rank, one pension" still undelivered, despite repeated promises.

On the positive side, the defence ministry is gradually realising what this column has long argued -- that India's limited defence Budget has no place for grandiose schemes like adding a mountain strike corps to an already bloated army, or buying 126 Rafale fighters for a budget-busting Rs 90,000 crore.
Parrikar has also accepted the need for a tri-service chief to coordinate between the army, the navy and the air force, which would eliminate the wasteful duplication of capabilities and synergising combat power. Also welcome is his announcement that the Indian Air Force would buy 10-12 squadrons of Tejas light combat aircraft to replace the MiG-21.

Still, the defence minister has adopted half measures instead of moving decisively.
Instead of scrapping the MSC entirely, or keeping it intact by scrapping one of the three mechanised plains corps, Parrikar has inexplicably cut down the MSC to one-third of its size. This is like economising on scissors by buying just one blade.
A mountain corps with just one infantry division cannot generate the combat momentum needed for making deep inroads into enemy territory and would, therefore, lack a strategic rationale.
The same logic would apply if the tri-service chief turns out to be a compromise solution -- the four-star first-amongst-equals that the Naresh Chandra committee recommended, rather than an authoritative five-star chief of defence staff recommended in 2001 by a Group of Ministers.
Responsible for long-range planning but lacking operational authority, a four-star defence chief would constantly run up against the fact that the two go hand in hand.

Perhaps the most damaging compromise solution of this year (in fairness, it was Prime Minister Narendra Modi's decision, not Parrikar's) was the purchase of 36 Rafale fighters from Dassault, apparently to compensate the French aerospace company for cancelling the tender for 126 fighters, which Dassault was poised to bag.
Having earlier said on Doordarshan that 126 Rafales would have cost about Rs 90,000 crore, Parrikar has now told The Economic Times that buying just 36 Rafale fighters has saved India Rs 60,000-65,000 crore. That means the IAF is paying Rs 25,000-30,000 crore for 36 Rafale fighters bought in "flyaway condition", or Rs 700-830 crore an aircraft.
This is no cheaper than what India would have paid for the 126-fighter purchase, even though the latter would have come with manufacturing in India and significant technology transfer.
Parrikar has justified this by pointing to a 50 per cent offset that Dassault would be liable for, which he says would benefit India's defence industry.
In fact, since Dassault would have been liable for offsets even in the 126-fighter contract, India has paid as much for off-the-shelf Rafales, without the benefit of "Make in India".

To put in perspective the staggering price India will pay for the Rafale, Hindustan Aeronautics Limited is charging the IAF Rs 358 crore for the Nashik-built Sukhoi-30MKI fighter, less than half the cost of the Rafale.
It is supplying the Tejas LCA Mark I for Rs 160 crore apiece, which means each Rafale will cost as much as four-five Tejas fighters.

Another loss of this wasted year has been the combined failure of two defence ministers -- Arun Jaitley and Parrikar -- to put in place policies that would enable private defence firms to take up the slack in equipping India's military and reducing import dependence.
On the day that Parrikar first occupied the defence minister's chair last November, it took him no more than five minutes to declare that swift decision-making was his "speciality" -- a reminder he has served up several times since then.
He has repeatedly promised a new defence procurement policy that would expedite acquisitions and a new blacklisting policy that would not scupper India's procurement options by banning numerous vendors.
In Goa, on December 27, he promised private defence firms a new "Make" procedure by end-January, which would subsidise the development of defence equipment by Indian companies.
He has boldly declared that he would allow arms companies to appoint agents in India, subject to regulation. Yet none of these policies have seen the light of day.

It may well be that Parrikar is held back by a moribund bureaucracy and by a military so mired in internal squabbles that it has forgotten how to think strategically.
Even so, he has just four more years to demonstrate leadership and deliver the kind of operational readiness that lakhs of crores spent annually should buy.
Otherwise the charges of "policy paralysis" that the BJP has rightly levelled at the Congress could fly in the opposite direction in the run-up to 2019.