The Middle East's power house is about to get a new ruler who is only 31 and he may lead Saudi Arabia for decades, says Ambassador M K Bhadrakumar.
IMAGE: Crown Prince Mohammed bin Salman, right, during a ceremony pledging allegiance to him in Mecca, June 21, 2017. Photograph: Bandar Algaloud/Courtesy of Saudi Royal Court/via Reuters
The royal decree of June 21 by Saudi Arabia's King Salman appointing his son Mohammed bin Salman as the crown prince and next in line to the throne is a watershed event in Middle East politics.
Such a development has been expected for some time, but when it actually happened, it still looks momentous and somewhat awesome.
For a start, 31-year old MbS, whom many tend to deride as the 'warrior prince', has earned a reputation for being rash in the use of force.
The extremely brutal war in Yemen is his signature foreign-policy project.
Saudi Arabia, famous for its caution and its glacial pace of decision-making, has changed remarkably since MbS trooped in alongside King Salman to the centre stage of the Saudi regime in January 2015.
Considering King Salman' age and health condition, MbS is being positioned in advance so that there will be no succession struggle.
MbS has been steadily tightening his grip on the key instruments of power through the past two-year period -- national security apparatus and intelligence, armed forces and oil industry -- in a grim power struggle with Crown Prince Mohammed bin Nayef, who has now lost the game and is retiring from the arena.
With the vast powers of patronage vested in MbS as the crown prince, make no mistake, the winner takes it all.
In short, the Persian Gulf's -- nay, Middle East's -- power house is about to get a new ruler who is only 31 and he may lead Saudi Arabia for decades.
The timing of the shift in the power fulcrum cannot but be noted.
It is exactly one month since US President Donald Trump visited Saudi Arabia. Trump's visit revived the Saudi-American alliance, which was adrift during President Barack Obama's second term.
MbS has emerged as the Trump administration's number one interlocutor in the Saudi regime, superseding Nayef who used to be the favorite of the Obama administration.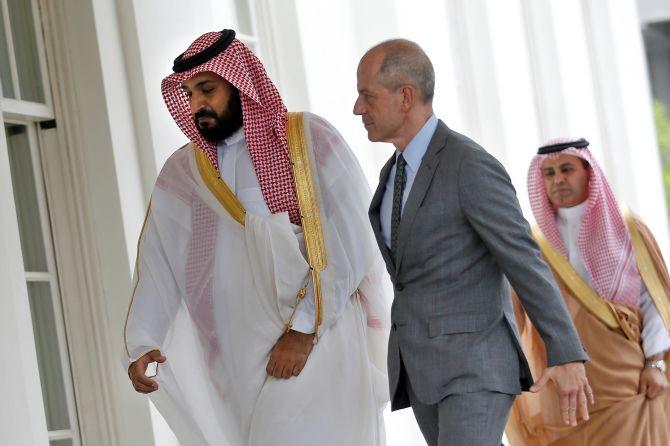 IMAGE: Prince Mohammed, then Saudi Arabia's deputy crown prince and defence minister, arrives at the White House for a meeting with then US President Barack Obama, June 18, 2016.
The Obama administration favoured ousted crown prince Mohammed bin Nayef, the Trump administration prefers Prince Mohammed.
Photograph: Carlos Barria/Reuters
MbS has forged links at personal level with Trump's son-in-law Jared Kushner. In a rare gesture, the prince invited Kushner and his wife Ivanka Trump to his residence for a private meal during father-in-law Trump's visit to Riyadh.
So, Saudi-US relations from now onward will be a cozy, exclusive, secretive family affair imbued with a 'win-win' spirit -- as it used to be in the halcyon days when the Bush family held power in the US.
Trump's visit to Riyadh signalled that Saudi Arabia has regained its stature as the US' number one partner in the Muslim Middle East.
Trump has publicly endorsed the Saudi stance in their standoff with Qatar, which, incidentally, is widely attributed to MbS.
MbS is widely regarded as the mastermind of the tough policy policy to isolate Qatar to make it submissive and has personally identified with the virulently anti-Iran thrust in the Saudi regional strategies.
Therefore, MbS' ascendancy impacts Middle East politics along the following fault lines:
The war in Yemen;
The standoff with Qatar;
Saudi-Iranian tensions;
The nascent Saudi-Israeli regional axis;
The situation in Syria and Gaza and/or Lebanon; and,
The crackdown in Bahrain.
It remains to be seen whether the unity of the Gulf Cooperation Council can be preserved.
MbS enjoys personal rapport with Sheikh Mohammed bin Zayed, the crown prince of Abu Dhabi in the United Arab Emirates.
But other GCC States -- Kuwait, Oman and Qatar -- will have a profound sense of unease about the 'warrior prince' and this may lead to some major realignments in the Persian Gulf.
On the one hand, MbS may advance a normalisation of relations between Saudi Arabia and Israel.
If that happens, Israel breaks out of isolation and the Arab-Israeli conflict can never be the same again.
Again, it is conceivable that MbS may throw the Palestinians under the bus.
On the other hand, Iran too may finally succeed in breaching the GCC cordon that Saudi Arabia had erected, which in turn, may somewhat blur the sectarian divide in the Muslim Middle East and bring about a convergence of interests with Qatar and Turkey as regards perceived Saudi hegemony.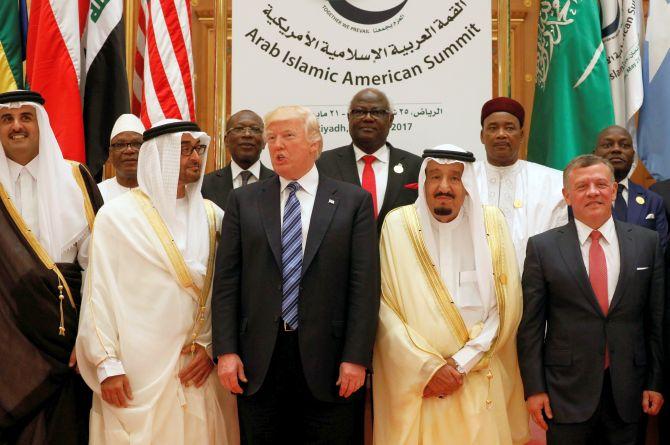 IMAGE: King Salman of Saudi Arabia, second from right, with US President Donald Trump and other Arab leaders at the Arab Islamic American Summit in Riyadh, May 21, 2017. Photograph: Jonathan Ernst/Reuters
MbS is a man in a hurry. He has radical ideas to transform Saudi society and its economy under the rubric of Vision 2030.
He has brought in Western-educated technocrats into the governmental apparatus, replacing the Old Guard.
How the conservative religious establishment views these winds of change remains the big 'unknown unknown' -- especially MbS' management style such as his openness to out-of-the-box thinking, his uniquely public profile in a deeply conservative country, his risk-taking character and his willingness to break conventions.
There is indeed a lot of pent-up disaffection within Saudi Arabia, which makes the period of reform and transition very tricky.
The example of the Shah's Iran readily comes to mind. In the ultimate analysis, therefore, the big question is: Who is the real MbS?
Clearly, his conduct so far cannot be the yardstick to fathom his personality, since it was primarily a swift, decisive action plan to elbow out the incumbent crown prince and take his job.
Now that MbS' actual hold over the levers of power is going to be unchallenged, his priorities can also change.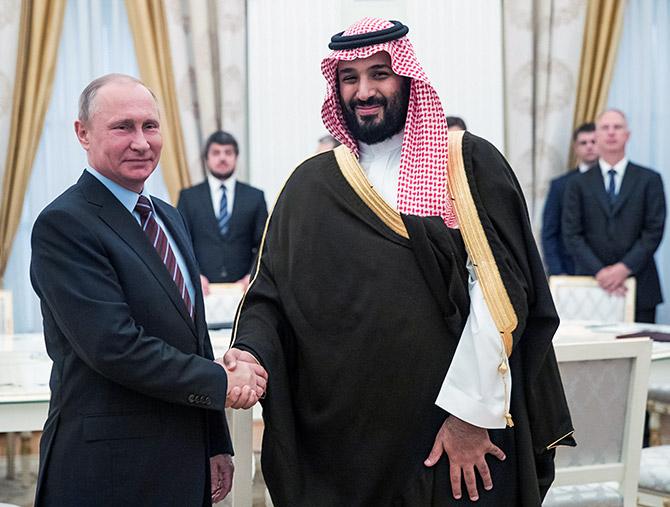 IMAGE: Prince Mohammed has struck an unusual rapport with Russian President Vladimir Putin, whom he met at the Kremlin, May 30, 2017.Photograph: Pavel Golovkin/Reuters
Indeed, there are intriguing sides to his personality -- his personal role in forging Saudi Arabia's working relationships with Moscow, his determination to reduce the economy's dependence on oil, his appeal to the Saudi youth as the harbinger of 'change' and so on.
The bottom line is that social and political stability in the country is vital for the success of Vision 2030, in which MbS has staked his prestige, envisaging wide-ranging structural reforms, geo-economic restructuring and the infusion of massive investments.
King Salman's recent visit to China underscored that MbS understands the potential linkage between his Vision 2030 and China's Belt and Road Initiative.
Of course, China is highly receptive to the idea, too. Deals worth $65 billion were signed in Beijing during King Salman's visit.
Similarly, MbS has been a frequent visitor to the Kremlin and enjoys some degree of personal rapport with President Vladimir Putin.
The OPEC decision on cut in oil production has been a joint enterprise in which Putin had a 'hands-on' role.
Rosneft has signalled interest in acquiring shares in Aramco when its 'privatisation' begins next year, and at the recent meet of the St Petersburg International Economic Forum, the two countries agreed to set up a joint energy investment fund.
MbS, who is also the Saudi defence minister, is also intensifying military cooperation with Russia and China.
A notable project will be the Chinese drone factory to be set up in Saudi Arabia.
Again, Russia is in currently talks for the sale of T-80 battle tanks to Saudi Arabia, among other weaponry.
Suffice to say, MbS is quite aware of the seamless possibilities that the multipolar world setting offers.
It is useful to remember that MbS is a unique Saudi prince who never attended a Western university.
He is far from a greenhorn in the world of politics either, having begun as fulltime advisor to the council of ministers in 2007.
Indeed, his trademark is his assertiveness in foreign policies that stands in sharp contrast with the traditional Saudi style, and, which, therefore, looks aggressive.
But then, it needs to be factored in that the war in Yemen and the strident anti-Iran outlook are immensely popular in the domestic opinion in terms of the surge of Saudi nationalism.
The big question, therefore, will be how he deploys the surge of nationalism -- amongst the youth, in particular -- in his hugely ambitious plan to reform and modernise the country.
Traditionally, Saudi rulers used to derive legitimacy from the approval of the Wahhabist religious establishment.