What will Indian cities do about its growing mountains of waste?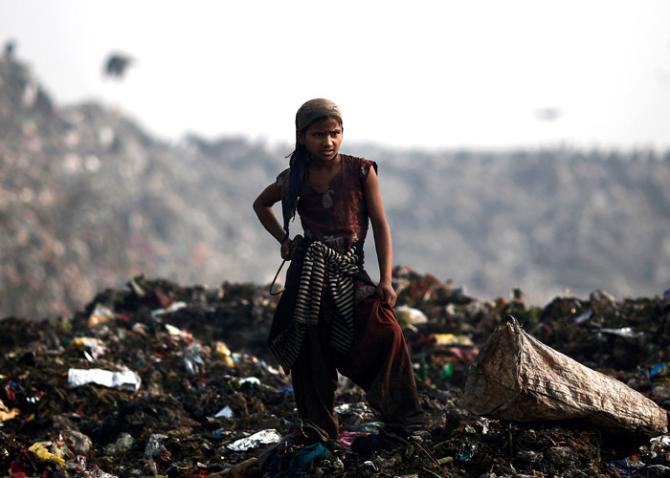 IMAGE: Delhi garbage dumps like this one are full. Photograph: Adnan Abidi/Reuters

Recently, two people died in Delhi because the garbage mountain of the city collapsed on them.
The waste dump, called landfill for want of a better word, is more than 50 metres high. It is one of the city's three landfills, and its capacity has long been exhausted.
Everybody knew this was a disaster waiting to happen. It did.
IMAGE: A garbage dump along the Ganga in Mirzapur, Uttar Pradesh. Photograph: Danish Siddiqui/Reuters.
The question is: What will the city do about its growing mountains of waste?
The very next day after the tragedy municipal officials started looking for new places for the waste to be sent to. A new landfill site was even identified.
But the people of Rani Khera village, where the dump was to be located, protested. "Over our dead bodies," they said. Not in our backyard.

And why not? Would any of us want to have garbage dumps in our backyard? It is our garbage, then why not our backyard?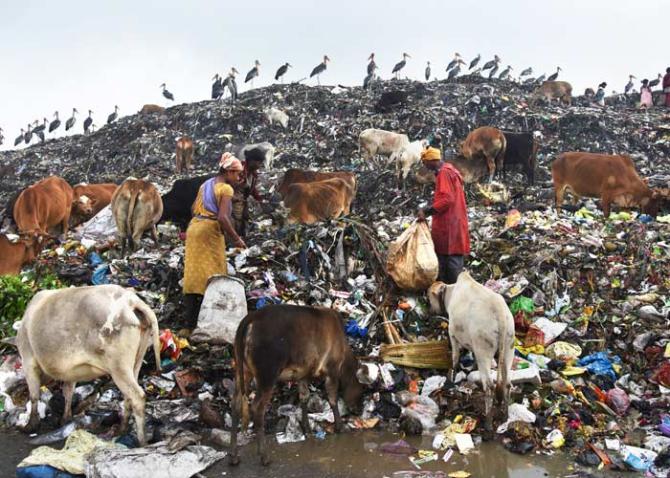 IMAGE: Scavengers collect recyclable materials at a Guwahati dump. Photograph: Anuwar Hazarika/Reuters.
The fact is that Not-In-My-Backyard is a game-changer in waste management. The global history of waste management is testimony to this. In the early 1980s, ships carrying mountains of garbage from rich cities of the US and Europe to Africa had become a global scandal. This led the world to agree on the Basel Convention on the Control of Transboundary Movement of Hazardous Waste and their Disposal.
It was the NIMBY of the global rich -- people in New York, for instance, did not want the waste or its disposal in their backyard -- that had pushed the waste into the backyards of the poor of Africa. But as the poor rose in protest, the rich had to take back their waste and devise ways of managing it in a way that would not lead to stink in their front yards. This is how waste management has evolved in the Western world. They have no option but to reuse, recycle, or incinerate waste in their own backyard.


IMAGE: When poor neighbourhoods refuse to remain quiet or allow garbage to accumulate in their vicinity, waste will not be able to be hidden away. It will have to be managed differently. Photograph: Adnan Abidi/Reuters.
This is why India should be celebrating its own NIMBY. For so long we have used the backyards of our cities, where the poor live.
But as literacy and political and social empowerment are growing, people in poor neighbourhoods or in villages are saying enough is enough. "Your waste cannot be dumped in our backyard."
But their protests are not being heeded. City governments and the judiciary invariable rule against such protests. This is because waste disposal is seen as an important municipal task. In this way, protests against building dump sites or compost units or waste-to-energy plants are judged to be unnecessary or illegitimate.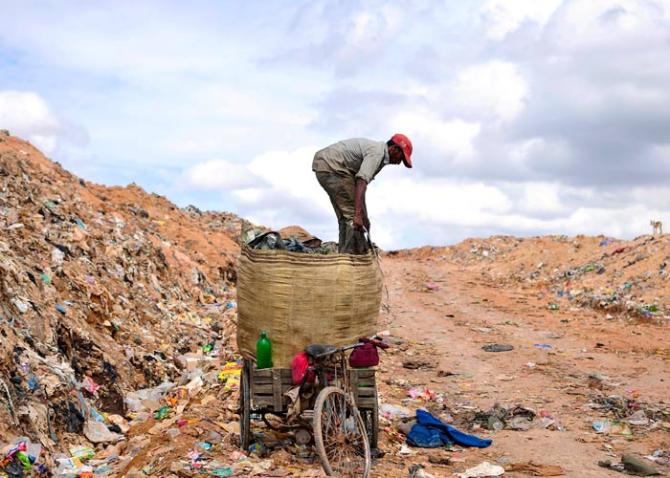 IMAGE: A Bangalore rag picker packs a sack filled with recyclable materials. Photograph: Abhishek N Chinnappa/Reuters.
Protests have different outcomes, depending on who is protesting, the rich or the poor. This is why the NIMBY of the poor is different from the NIMBY of the relatively rich. Protests by the middle class invariably push the problem to somebody else's backyard, where it is assumed nobody lives. But this is where the poor, till now powerless to protest, live.
When poor neighbourhoods refuse to remain quiet, waste cannot simply be hidden away. It has to be managed differently. This NIMBY of the poor has the potential to drive a waste revolution, where waste is no longer waste but a resource. This is what is happening in the frontrunner cities of clean India. These cities have reinvented solid waste management, because they had no choice.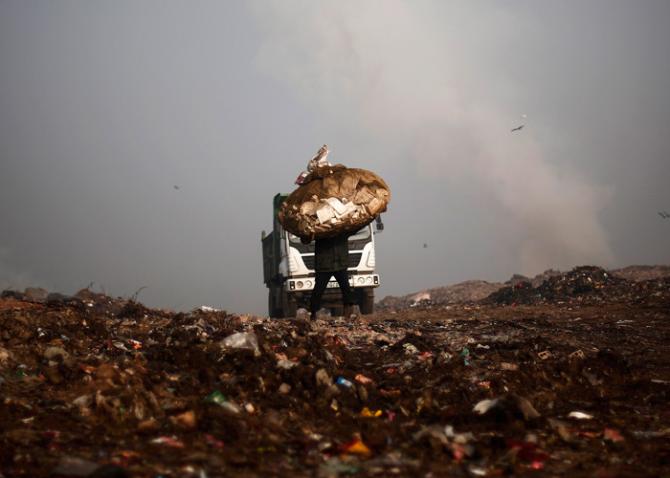 IMAGE: Unless alternate means of disposing of waste are not looked at, dumps will become unsustainable. Photo: Adnan Abidi/Reuters. Photograph: Adnan Abidi/Reuters.
Vilappilsala village, which wanted to stop Thiruvananthapuram from dumping its waste in the village, lost the case even in the Supreme Court. But the villagers in this case have stood firm and the city has had to find alternative ways of handling waste. The municipality has said that it cannot collect waste because it has no dumping ground. So, city residents have to either live with the stinky waste or learn to segregate, process, and recycle it. This is happening. A similar agitation has forced the neighbouring city of Alappuzha to stop its only landfill.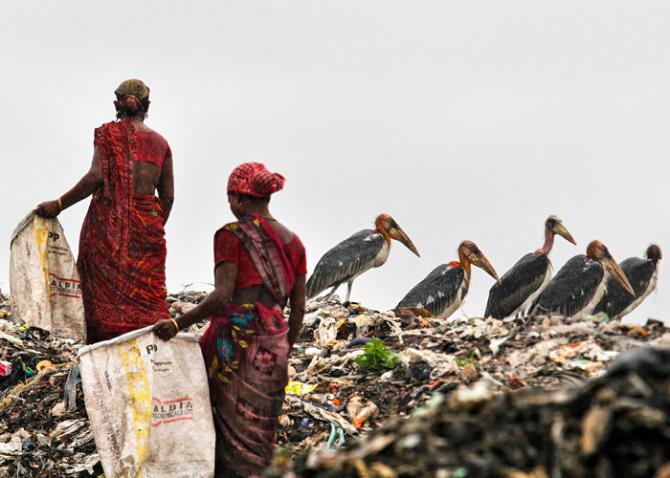 IMAGE: Human and bird scavengers looking for pickings at a Guwahati landfill. The greater adjutant, a kind of stork feed on carrion and offal and was once the logo of the Calcutta Municipal Corporation. Photo: Utpal Baruah/Reuters Photograph: Utpal Baruah/Reuters.
Garbage mutinies are growing:
In Pune, the village of Uruli Devachi has repeatedly said that it has had enough of the city's garbage.
In Bengaluru, villagers are protesting against the Kannahalli as well as the Bingipura garbage disposal sites.
In Vellore, 18 villagers around the Sadupperi site are up in arms against dumping.
The list goes on. More importantly, this dissent will only grow as it should.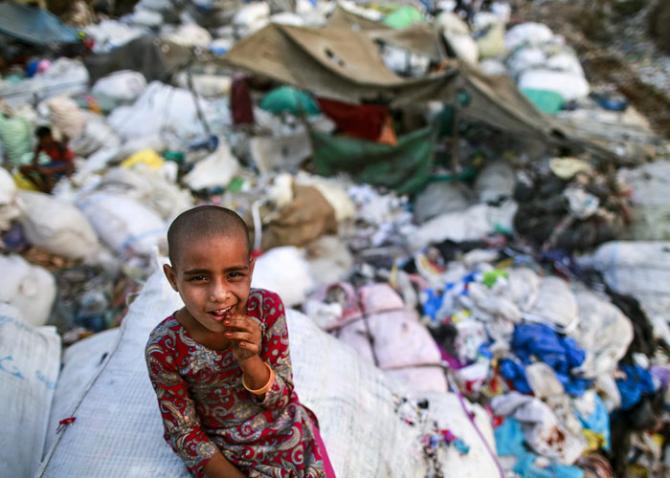 IMAGE: A girl sits on a sack of discarded clothes in a Mumbai slum. Photograph: Danish Siddiqui/Reuters.
As yet, city managers, like in Delhi, are still working to get land for waste. They hope they will quell the dissent, or get a court order in their favour, or get some land, somewhere. Till then they continue to dump waste and hope that the mountain does not come tumbling down. This is not sustainable.

It is time we accepted that this dissent is not just legitimate, it is necessary. This dissent will demand that Delhi does not go looking for another dump site. The city should instead begin to manage its waste in its own backyard, not that of the poor. And for this, all manner of waste processing -- composting, generating energy from waste, or recycling — will have to be done. After all, it is our waste. It should be our backyard as well.

Sunita Narain works at the Centre for Science and Environment. She can be contacted at sunita@cseindia.org. Twitter: @sunitanar.