'You worry when serious people, with control of our and our children's future, begin to start obsessing over social media, seeing it as an easy, lazy, fun, low-cost substitute for boring, old-fashioned practices of politics, governance and serious, fact-based debate,' says Shekhar Gupta.
Illustration: Dominic Xavier/Rediff.com
Over the past couple of weeks, we have seen social media show its real powers.
It created most significant global headlines as Presidents Donald Trump and Enrique Peña Nieto of the US and Mexico, respectively, confabulated on Twitter and started destroying the most successful trade agreement in human history (Nafta, or the North American Free Trade Agreement).
History was made, and unmade, by leaders of the world's most powerful nation, and its most populous neighbour, in just 280 characters, over the question of who will pay the costs for America's $15 billion wall.
Closer, check Tamil Nadu, where an entire mass movement was incited, fed and sent haywire by social media.
The jallikattu protests were spread fully on Twitter, WhatsApp and Facebook, with even the usually most measured voices joining in: Chess champion Viswanathan Anand, cricketer Ravichandran Ashwin, megastar Kamal Haasan and, most surprising of all, music composer A R Rahman.
The movement had no leaders, no spokespersons, no one to negotiate with. This was an electronic upsurge.
It wasn't very different from the way the Arab Spring spread and left the region in a terminal mess.
In the same period, our establishment made history by threatening Amazon, one of the world's largest corporations (with billions of dollars committed to be invested in India), to apologise for its Canadian unit hawking doormats in Indian flag's colours.
Our external affairs minister demanded an apology, and got it quickly in India. She also sent firm instructions to her envoy in Ottawa to take this up with Amazon: On Twitter.
Significant, considering how conservative, in fact most conservative of all government functions has been diplomacy, in delicacy of its language as well as confidentiality.
In usual times, it would have been a discreet 'cable' sent by the section head in the MEA, traditionally carrying the modest title of joint secretary (Americas).
We aren't talking about the angrier 'kutte, main tera khoon pee jaoonga' type follow-up from our economic affairs secretary.
It was a bit radical for a staid bureaucracy, but also understandable, even admirable as the shortest application ever for the post of Sebi chairman that falls vacant in a few months.
Between Washington, Mexico, Chennai and New Delhi, you have enough recent evidence to arrive at some conclusions.
One, that social media has now graduated from being just a medium of communication, debate and abuse, to an instrument of governance, mass politics and diplomacy.
Second, it follows that it takes away from governance the luxury of patience and from diplomacy the power of discreet back-channels and behind-the-scenes negotiations, and accountability from mass politics.
Who would you have been held responsible if protests in Tamil Nadu really got out of hand?
Who is responsible for the human and political detritus of a failed revolution like the Arab Spring?
How do we deal with a world where the biggest superpower's president behaves like an old tribal chief or monarch making a declaration of war by sending back the decapitated head of a neighbour's envoy, or, where the world's largest e-commerce giant is hit in the middle of the night in public by the top-ranked officials of the government of its fastest growing overseas market?
Welcome to the perilous new world of governance social media.
When heads of State, diplomats and public figures are getting swayed by this storm, to expect the conventional media not to follow would be unreasonable.
After Google, social media has risen as the next, and enormously more compelling justification for lazy journalism.
Check out your favourite channels at prime time, digital news platforms and even newspapers. You will find several stories and debates based on what some so-and-so said on social media in the course of the day, or a WhatsApp forward.
This will get more serious now with Mr Trump using Twitter to issue his superpower equivalent of the Caliph's firmans or the Pope's Ecclesiastic Bulls.
I have been mulling over this for the past few days, following the big developments we listed above.
I noted also a brilliant cartoon (external link) by a Lebanese-Swiss cartoonist showing Mr Trump at his White House desk contemplating which of the two big red switches to hit prominent switches: Reading 'Tweet' and 'Nuke'.
But the immediate spark came when our stellar bio-tech entrepreneur Kiran Mazumdar-Shaw and I exchanged harmless tweets, stating our own slightly divergent and nuanced views on Vijay Mallya's debt default.
By noon, three media organisations -- including two reputed business channels -- had called me, and I presume my dear friend Kiran, to ask to join a show to "take your twitter debate forward."
And here we thought we were to use this medium to merely join ongoing debates.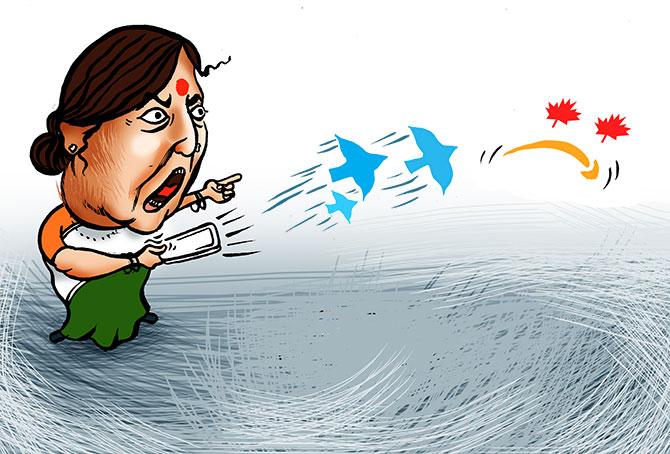 Echo chamber is an expression that's been used by social media critics for a long time now.
The change now is, this echo chamber, or some form of it, overwhelms our minds, governments, politics, public opinion and debate.
In its most harmless manifestation, it can be cute, like Mr Trump complaining about something being 'unpresidented.'
In a more sensitive situation, it can be Pakistan's defence minister mistaking a social media spoof for a real warning of nuclear attack by Israel and threatening to retaliate with nukes.
Now, we know that in Pakistan defence ministers are not expected to know the whereabouts of its nukes, yet a peremptory threat of that kind to India would have invited immediate retribution, at least on the warrior channels with angry, old, grey moustaches.
Or even someone as careful and correct as Rajnath Singh responding, in full mistaken fury, to a tweet on JNU from a fake Hafiz Saeed handle.
This is no condemnation of social media, or a conservative's lament.
That moral high ground isn't available to me since I, too, -- after years of disdain -- have learnt to use this medium.
A couple of years ago, I had explained reasons for this in a column, the spin being, how could I say in a mere 140 characters what I had taken 8,618 (the exact number of characters in that article) explaining.
I had also invoked a famous line from Hollywood star George Clooney: 'I won't risk an entire career on 140 characters.'
Three things persuaded me to change my mind soon thereafter.
One, that if you couldn't escape abuse by avoiding social media, it might be better to be on it and make your point, even provoke, if not fight back or retaliate.
Second, the realisation that technology had now given us journalists a new power: Of being able to carry our audiences with us even as we changed platforms.
So, the audience became the king more than the brand.
And third, is a bit more involved.
On a long flight to Melbourne, I watched Birdman, which won four Academy Awards in 2015 and which features an over-the-hill star (played masterfully by Michael Keaton) who nobody knew outside of his superhero livery of a Birdman as powerful and virtuous as the Spiderman.
There's an argument between him and his angry daughter, whose friends Keaton mocks as having no ambition other than 'going viral' and is admonished in turn: 'Dad, things are happening in a place you wilfully ignore... You hate bloggers. You make fun of Twitter. You don't even have a Facebook page. You're the one who doesn't exist.'
That was the last fearful nudge I needed two years ago, and I write this on a day when my audience has crossed a million.
I am grateful to them all, and for the platforms that provide you such a large reach, ability to communicate at a mass as well as selective level in a dramatically short time.
You'd worry, however, when serious people, with control of our and our children's future, begin to start obsessing over it, or seeing it as an easy, lazy, fun, low-cost substitute for boring, old-fashioned practices of politics, governance and serious, fact-based debate.