Priyanka Gandhi will strike a deal with Mayawati and not Akhilesh, says Nazarwala.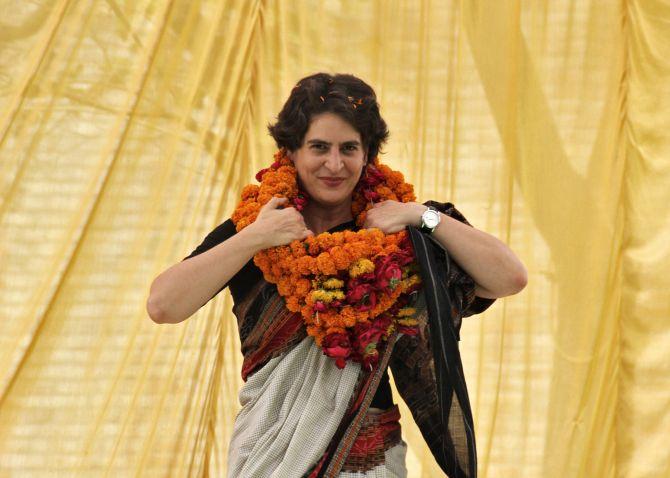 Priyanka Gandhi is set to play a leading and decisive role for the debilitated Congress in the Uttar Pradesh elections.
A determined Priyanka is being projected with a clearly defined role and is strongly supported by Congress leaders.
Party veterans Raj Babbar, Ghulam Nabi Azad, P L Punia, Sanjay Singh, Rajiv Shukla, Pramod Tiwari, K L Sharma and many others are all slogging to revive the party in UP.
Congress grassroot workers are motivated this time. Prashant Kishor has a 500-strong hand-picked posse of committed surveyors-cum-campaigners. They are working overtime to promote the Congress in the state.
The Congress ticket is in demand for the first time in decades.
Haseeb Ahmad, general secretary of the Allahabad District Congress Committee, has launched a campaign through his Facebook, Twitter, and WhatsApp accounts.
Slogans like 'Vishwas hai Priyanka, meri aas hai Priyanka' ('We trust Priyanka, she is our only hope') are being raised by state party workers to draw the Congress high command's attention towards their long-pending demand of bringing Priyanka into active politics.
Also for the first time, Priyanka's photographs have started popping up in festival hoardings and newspaper ads of the party.
Rahul Gandhi's leg-work -- done with faith and humility -- has been underestimated by his rivals.
Yes, the 'khaat sabha' episode and his 'khoon Ki dalaali' remark evoked some ridicule. Yet, the resolute, resilient Congress vice-president's month-long journey from Deoria to Delhi has been reasonably successful.
All said and done, UPites have a fond weakness for the Nehru family.
Indira Gandhi is still held in high esteem. She promised 'garibi hatao' (remove poverty), and the UP voters trusted her.
Rahul is promising a loan waiver to the farmers. And the gullible UP farmers seem to have fallen for the bait. Thousands have signed petitions.
However, his bombshell threat of having proof of Prime Minister Narendra Modi's 'personal corruption' has been defused, for the time being.
But Priyanka is much smarter than her brother.
Gifted with a charismatic personality, she gabs cleverly, a la Indira Gandhi. She is, virtually, a recycled Indira Gandhi.
Priyanka knows how to deftly handle the print and electronic media. Even Arnab Goswami, the prime time pasha, has not dared to interview her till date despite her husband Robert Vadra's Haryana land-grabbing, and other things in her life including her controversial holiday home acquisition in Shimla.
A desperate Rahul and an over-hyped Akhilesh Yadav have been negotiating for a seat-sharing deal. The facade may not fructify as desired.
Sheila Dikshit's health does not permit her to continue campaigning for the Congress in UP. She tried to find an escape route by proposing Akhilesh as the leader if and when the alliance materialises.
Priyanka is likely to replace her.
If Priyanka has her way, she will gamble by siding with Mayawati.
Why would she latch onto a crumbling Samajwadi Party and commit political suicide?
She seems to have struck a secret deal with Mayawati for pre-election winnable-seat concessions, and post-election power-sharing!
Modi's call to make a 'Congress-mukt Bharat' faces this one obstacle.
However, with the Congress struggling to hold onto its double digits and avoid slipping further, Modi may or may not be too concerned about its fate.
Photograph: Pawan Kumar/Reuters