'The prime ministership needs a statesman, not a politician, and 18 months into the job Modi is yet to learn the difference between the two,' says Saisuresh Sivaswamy.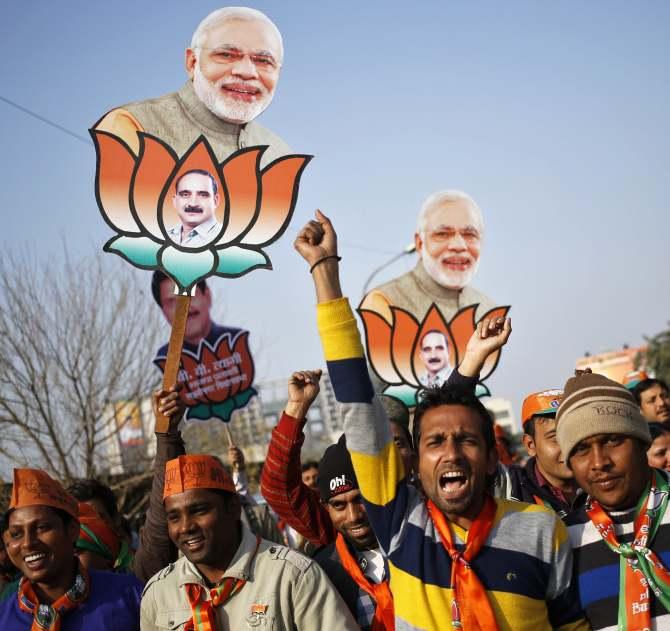 It's not correct to transpose the outcome from a state election as a referendum on the central government, but this rule doesn't apply to Narendra Modi who seems to be turning every state election since his historic mandate in May 2014 into a vote on him -- barring, of course, the Delhi election in February.
Since a win in the elections since May 2014 has been credited to Modi's charisma, it is only right that the Bihar reversal also be attributed to his fading electoral charm. How else can you describe it when the prime minister has addressed not one or two but a whopping 33 election rallies in the poll-bound state and pitted himself against regional leaders?
Despite topping Bihar in terms of vote share -- with 25% -- in these elections the BJP has been well and truly routed, its seat share placing it closer to the Congress than to the simple majority mark of 122. If the Bihar election had been a 'kaante ka takkar, as was expected before the counting, no one would have minded. But it is the scale of the defeat that is truly astounding.
And as the Bharatiya Janata Party's chief electoral mascot, the blame must be laid at Modi's door, even if it is a state election.
Sunday's outcome shows that in the 18 months since his charge into Lutyens Delhi, Modi's charisma and popularity can do with some buffing up.
In the full knowledge that he holds the fourth estate in utter contempt, and would pass up any criticism or advice emanating from it as coming from 'news traders' -- a term he first employed in his April 2, 2009 interview to Rediff.com (his party colleagues were worse, one of them refers to us as 'presstitutes') -- let me stick my neck out and suggest five -- only five -- ways he can reclaim lost ground, before it is snatched from under his feet.
1. Remember minimum government?
Considering the number of goodies that spewed forth from Modi's motorcade in the 2014 election campaign, Indians would have been forgiven for thinking that the election, though held in the blistering heat of Indian summer, was actually being held at Christmas time, for Modi resembled Father Noel (the beard and girth were almost there, and the dash of red could be seen occasionally too).
Today his party chief may describe the promises (well, at least one) as jumla, but one of the things Modi promised -- and seems to have subsequently forgotten -- was minimum government, maximum governance.
Since 2014, it seems, the nation's discourse has been stuck on what can and cannot be eaten, what can and cannot be worn, is there a good time for women to stay out till at night, what they should wear, who they should be seen with, what is their place in society, which films are fit for the public, etc, that the slogan seems to have been reversed, to maximum government, minimum governance.
To be fair to the prime minister, none of the disturbing statements or actions came forth from him, but from his pesky party colleagues and ideological associates. It is a democracy and everyone has the right to air their views, however unpalatable they maybe and all that, but where the prime minister seemed to be failing was in reining in his rabidly foot-in-the-mouth colleagues.
And it was not because he lacked the gift of the gab; Modi, excellent communicator that he was and remains, just did not think these misfires worthy of his time and speech, with the result the image gained ground that either the prime minister did not care or he could not intercede for whatever reason.
Modi can thus do with taking more than a leaf from his friend Barack's book on how a national leader lends an assuring voice to a troubled populace.
2. Consensus over confrontation
Since Modi came to power, Parliament has been under shutdown. Well, the Lok Sabha has been hyper-productive but the Rajya Sabha, where many of the government's pet projects need to be cleared, has been on a non-cooperation movement, as the Opposition holds the upper hand.
One would think that given the importance of the pending legislations to fulfilling his government's promises and taking the nation forward, Modi would ensure that he worked with the Opposition, but his style -- abrasive, critical and mocking -- remains what it was in the 2014 run-up.
That was a bitterly fought election when everyone had their gloves off. Now that the election was long over, one would have expected the government to put the bitterness behind it and reach out to the Opposition, including the Congress which made up in decibel power what it lacked in numerary strength.
But no. Modi remains in the trenches, refusing to engage with the Gandhis, for one, and asking his lieutenants to do the task instead. It thus boils down to a clash of egos.
The prime ministership needs a statesman, not a politician, and 18 months into the job Modi is yet to learn the difference between the two.
3. Where are the regional leaders?
Could the outcome in Bihar have been in different had the BJP projected a chief ministerial candidate, since it was well known that the person leading the party's charge holds another, very important job in New Delhi and wouldn't relinquish it to go to Patna and become chief minister?
Maybe. In 2014, everyone knew who would be the prime minister if they voted BJP.
Maybe not. In 2015, Kiran Bedi was projected as the Delhi CM candidate, and it did not save the BJP from being swamped by the Kejriwal wave.
Whatever be the outcome, regional leaders need to be groomed and strengthened so the party doesn't deteriorate into an outfit overly dependent on one person, as the BJP is increasingly turning out to be. Okay, make that two persons.
The PM can remain the main vote-catcher, but the people need to be told who their CM will be if they vote for the BJP. Else, it resembles the Congress's system of high command deciding who the CM will be.
If the people want the Congress's style of functioning, why would they settle for an ersatz Congress instead of voting for the real thing?!
4. It's all about price rise
You can bring in your heavy artillery, station federal ministers in constituencies, do micro-level booth management, but none of it will work if you are far removed from the ground reality.
And the ground reality in Bihar, as elsewhere in the country, is that prices of staple food items are going through the roof and the government either has no clue about it or has no solution to offer the suffering public.
If some months ago it was the humble onion which brought tears to the common man, today it is tur dal that has become the mascot of mismanagement in the food sector. My colleague Archana Masih, who has travelled through Bihar and produced an incisive portrayal of Bihar's reality, was telling me that the price of mustard oil, a staple in Bihar's kitchens, has spiralled out of the common man's reach.
One of the legends about Modi's sarkar was how clued in he was about what was happening on the ground, through a network (official and otherwise) of information providers. Alas, given the way price rise has played havoc with the common man's budget, that must remain in the realm of legend, not reality.
The prime minister needs to ensure that hardships to the public through vagaries -- of market forces and/or individuals -- are minimised, if not eliminated. Lest his party get eliminated from the electoral arena.
5. Listen to RaGa once in a while
Yuvraj. That's Modi's epithet for the Congress vice-president.
Granted, Rahul Gandhi has not exactly covered himself in glory despite a fawning media projection which seems keener than him on a Rahul-Modi faceoff in 2019.
But at least some of his points are not entirely off the mark.
When he says that the prime minister needs to spend more time in the country than he does outside, it strikes a chord. Journalist Vir Sanghvi said it right, that Modi can win the next election from Wembley. For that is the extent of his connect with the NRIs. If only it were the case with Indians, too.
Rahul Gandhi is right when he says that Modi needs to spend time with distressed farmers who are committing suicide.
Rahul Gandhi is right when he says that Modi need to listen to unemployed youth who voted him into the prime minister's office with great hope, but which hope has thus far been belied.
Give him an audience, a few TV cameras, and Modi is in his elements.
Alas, not for him, it seems, a walk through misery street.
It is a perception, sure, but Modi knows too well that in politics perception is everything.
So far Modi has had a clear run, with no one to challenge his primacy in politics. Today, Nitish and Lalu have offered the nation an alternative template.
More importantly, in Nitish there is a nucleus of emerging challenge to his position in 2019. Modi can heed the message from Patna, or continue as he has these 18 months.
My guess is he will do the latter. He doesn't read or heed news traders, remember?