Arvind Kejriwal's strategy to take the pollution bull by the horns needs to be applauded. I am sure that all the imaginary problems and grievances will be addressed before the restrictions are actually implemented, says Sudhir Bisht.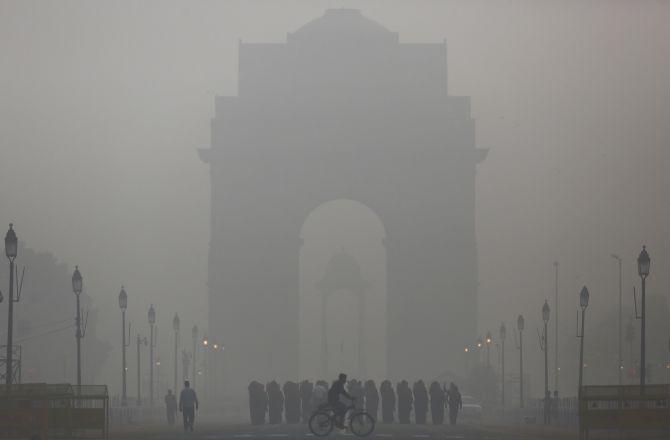 If tweets were the only way of judging the sanity or otherwise of any policy decision, then Delhi Chief Minister Arvind Kejriwal has lost it, hands down.
His decision to allow odd and even-numbered cars on alternate days on Delhi's roads has met with the customary howls and protests. But this is quite expected from the social media-obsessed class that largely judges an executive action not on merit. The sole reason for decrying or rallying around any action of the government is the political affiliation of us, the Twitterati.
So all those who oppose everything that Kejriwal does are bound to troll his rather anti-populist idea. A sample:
'What will happen if someone comes in to spend a day with his relatives on an odd number plate day? How will he be able to travel out the next day?'
'What will happen to me if I attend a party that goes past midnight? Will the traffic police book me?'
'This will promote more people to buy more cars and those who can't afford it will buy another number plate.'
And 'What's Arvind Kejriwal's own car number? The last digit is even or odd?' tweeted by yours truly, an erstwhile supporter-turned-critic.
However, upon introspection, I have to say that what the Kejriwal government is trying to do is not without merit. Here are my five reasons for supporting the move by the Delhi chief minister.
1. The Delhi government has to start necessarily by attacking the root cause of pollution
I ran a practice marathon run of 10 km organised by Adidas on Sunday morning.
The event, that was organised at 5.45 am, was attended by around 250 men and women. Dwarka is one of the least polluted areas of the National Capital Territory, but believe me, almost all the running enthusiasts were suffering from varying degrees of coughing, sneezing or congestion.
There was thick smog till about 7 am on roads that are never crowded, even at peak hours on weekdays. Without going into the statistics of air pollution in Delhi, I can safely say that vehicular pollution contributes about two-thirds to the overall air pollution in Delhi. It is therefore important for the government, that is under serious the court's scrutiny, to attack the very source of pollution.
Among the vehicles that ply in Delhi, taxis and autorickshaws already run on CNG. The two-wheelers run on unleaded petrol. The polluting trucks enter Delhi but only during night and even they are being subjected to strict anti-pollution regulations and entry taxes. Buses too run on CNG, so this leaves the private cars as the major source of pollution.
Kejriwal has really no other option but to drastically reduce the number of cars on Delhi's roads. The 'even-odd number plate on alternate days' thus looks like the only idea that could bring immediate and tangible results.
2. Extraordinary problems require extraordinary solutions
Any human entity, whether it is an individual, a team or a nation, has to show extraordinary effort to counter an extraordinary problem.
Nothing comes out of the ordinary and the mundane except more of the same.
Human history is replete with such examples.
In war-ravaged Rwanda, the government dissuaded people from talking about their tribal origin after the bitter Hutu-Tutsi civil war ended. The government thought that the only way to stop tribal escalation was to stop people from asking or revealing their tribal origins.
This was an anti-democratic suppression of the right to associate but this was perhaps the only way to prevent the country from pursuing the path of self-destruction.
China realised that its rising population was standing in the way of economic growth and enforced a one-child norm across the country. Now you can debate its merits and demerits but rough estimates suggest that the Chinese population would have added at least 350 million to 400 million people if the one-child norm was not enforced.
Similarly, Beijing introduced restrictions to limit its traffic with odd and even number plates to ply on alternate days in 2008. The pollution levels in Beijing have declined substantially since then.
The air pollution levels in Delhi are alarmingly high and nothing short of an extraordinary and immediate action can bring about any alleviation. We can't wait for many more months before the new Metro trains are added. We can't wait for several years before the adjoining districts in neighbouring states develop into proper cities and provide relief to the overcrowding of a Delhi that is bursting at the seams.
3. We need to do something now
Kejriwal can't control air pollution coming into Delhi via the sky from other states. He is controlling what he can actually control.
Some of his detractors say that only vehicles don't contribute to pollution. A friend of mine with whom I was arguing in favour of the 'even-odd number plate on alternate days' sent me a report published in the Indian Express which says:
'A combination of clouds and burning of post-harvest paddy stubble in Punjab and Haryana as the culprits behind the blanket of smog that has engulfed Delhi in recent days. As this episode suggests, it is not enough to only target vehicular pollution -- admittedly a major source of the fine particulate matter that is particularly injurious to health -- where most interventions have been directed.'
I entirely agree that neighbouring states also contribute massively to Delhi's air pollution. So does the burning of dry leaves and waste by the various civic agencies of Delhi who are always at loggerhead with Kejriwal.
So what should he do?
'He should pick up the phone and request the Badals in Punjab and the one and only Manohar Lal Khattar to instruct their farmers to stop lighting the post-harvest stubble and they will immediately do the needful.'
What wishful thinking!
Kejriwal has very little control over what happens in Punjab and Haryana and he has to make do with what he can do to combat the menace of pollution in his own territory.
Let us give him credit for what he is attempting to do.
4. The restrictions on car days would go a long way in changing the outlook of Delhi-ites
This one may look a lot judgmental and preachy and I hate to say this, but the people of North India in general, and of Delhi, Punjab and Haryana in particular, don't feel they have arrived, they have made it big, in life unless they have migrated from a bike to a car, from small car to sedan and from sedan to an SUV.
I make this comment with a full sense of responsibility.
The size of the car often determines the number of marriage proposals one gets.
A young salesman of white goods who drives his own car commands a premium over an assistant professor with a PhD from a top university if the latter goes to the North Campus in a Metro train.
I am happy the restrictions on car days will make young professionals change their commuting habits. I hope they will support car pools and learn to take a Metro or an AC bus to work. This will also discipline them in terms of leaving office at the designated time. They can't keep their car-pool partners wait, can they?
5. The success of car restrictions would be as much a success of the people of Delhi as it would be that of Kejriwal.
Just as in a good organisation all the stakeholders succeed if the organisation succeeds, all the citizens of Delhi would succeed if the car day restrictions lead to a lessening of pollution in Delhi.
The children of Delhi would breathe more freely, the millions who suffer from respiratory problems would spend so much less on medication, and the monthly fuel bill would go down dramatically.
All that is needed is a collaboration between the government and the citizenry. Kejriwal has shown that he is willing to cooperate with the central government. His cleanliness drive was kickstarted by Union Minister M Venkaiah Naidu. He knows that unless he shows extraordinary achievements, he can't claim to be a different kind of a chief minister.
His strategy to take the pollution bull by the horns needs to be applauded. And I am sure that all the imaginary problems and grievances will be addressed before the restrictions are actually implemented.
Kejriwal needs to be supported. Let us pray that he succeeds and even if he fails in this endeavour, his failure would be one hundred times better than remaining moored in the inertia of despair and despondency that results from inaction.
IMAGE: India Gate, Delhi, on a smog-filled morning. Photograph: Anindito Mukherjee/Reuters
Sudhir Bisht, @sudhir_bisht, author and columnist, lives in New Delhi.