'While I am personally pained at the raids on Dr Roy's home, I want to ask five questions of those crying themselves hoarse over the attack on "Freedom of the Press",' says Sudhir Bisht.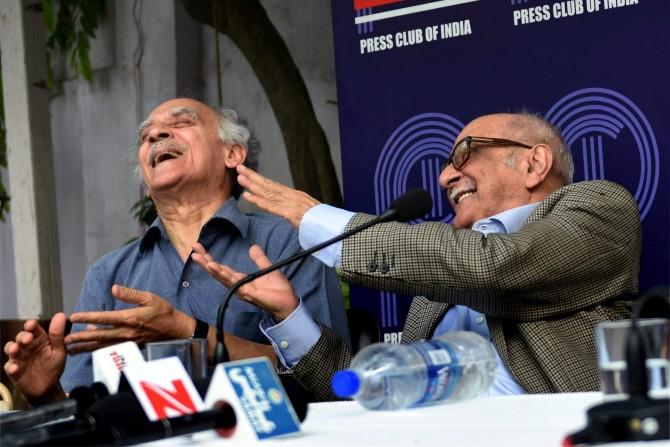 IMAGE: Dr Arun Shourie and legal legend Fali S Nariman at a protest meeting at the Press Club of India in New Delhi, June 8, 2017, against the CBI raids on NDTV promoters Radhika and Prannoy Roy's homes. Photograph: Subhav Shukla/PTI Photo
The first television channel that I go to as soon as I switch on my telly between 8.30 pm and 10 pm every evening is channel 369 on Airtel DTH.
It takes me straight to NDTV 24x7.
I would classify NDTV as a channel with a slightly less than extreme left-of-centre point-of-view.
All the people there dress like the CEO of an MNC, in perfect suits and immaculate ties, but they all seek to propound the cause of human rights activist Harsh Mander.
I am a right-leaning individual and I like most things about the Right camp, except its gau rakshak vigilante groups and 'you-eat-what-we-eat' fanatics.
I watch NDTV for two or three reasons.
The first being that I find most of its anchors to be gentle on my ear drums.
I like to watch when Sreenivasan Jain is holding forth gently but forcefully on Truth vs Hype or when Sunetra Choudhury is interviewing the people on the streets, or when Vishnu Som is tearing gently into a fiery Prabhu Chawla.
I also like to watch NDTV to balance the views of some other channels that simply depend upon handouts of PR managers of various ministries to form a favourable opinion about the establishment.
I also switch to NDTV because it kind of amuses me to note that when there are channels that are fighting for the most raucous channel of the year award, NDTV seems to have chosen the blue ocean strategy and gone for the most listless channel award of this decade.
But I always watch NDTV 24x7 when its founder and chairman Dr Prannoy Roy is on the show. He mostly appears on television when NDTV does pre-poll surveys or a poll-post post-mortem of election results.
Dr Roy is the original Buddha-like performer in the mould of Bjorn Borg, the greatest tennis player who merely lifted his arms when he won his Wimbledon titles many times over.
Dr Roy's voice remains even pitched, sombre with satin-like flow. Dr Roy has built NDTV into one of the biggest brands in India, but the business of NDTV has remained unprofitable.
As per the media Web site hoot.org, the consolidated profits of NDTV have been rather distressful.
In FY ending March 31, 2011, NDTV made a profit-after-tax (PAT) of Rs (-) 1,738 million; in FY ending March 2012 it made a PAT of Rs (-) 873 million; in FY ending March 2013 it made a PAT of Rs (+) 5.81 million; in FY ending March 2014 it made a PAT of Rs (-) 842 million and in FY ending March 2015 it made a PAT of Rs (-) 460 million.
The poor financial health of the NDTV group can be summarised in the few lines that I quote from Business Standard:
Ever since it began news broadcast operations in 2003, NDTV has made a net profit in only four years. It ended the 2015-16 fiscal year with Rs 75 crore in losses on revenues of Rs 577 crore. Analysts stopped covering the stock long back. 'If NDTV continues this way, its net worth could be wiped out in a couple of years,' says one.
Dr Roy has been recently in the news for all the wrong reasons.
He, his wife Radhika and their private company linked to NDTV -- RRPR Holding Private Ltd -- are accused of defrauding ICICI Bank of Rs 48 crore on a loan taken in 2008.
The CBI searched four places belonging to the Roys in Delhi and Dehradun a few days ago.
I am personally pained at Dr Roy's plight. He doesn't appear to be a person who would defraud a bank.
A man who does not have the stomach to fire his anchors who may be causing his channel immense damage can't scheme to defraud a bank as clever as ICICI.
However, at the same time, it is wrong to start painting the government of the day as some kind of tyrant that seeks to bring a channel to its knees just because the channel seems to oppose all that this government seeks to do.
There is a particular set of pressmen that have been mobilised, under the unseen umbrella of a forum, who are crying hoarse at the CBI raids on Dr Roy's homes and offices.
Last week, men of eminence like jurist Fali S Nariman, former editor and former Union Cabinet minister Arun Shourie, former MP and veteran editor H K Dua, former Statesman editor S Nihal Singh and legendary pressman Kuldeep Nayar held a press conference in New Delhi and criticised the Union government for the CBI raids on Dr Roy's homes and offices.
Dr Roy has received support from other expected quarters, from Shekhar Gupta and the likes of Arvind Kejriwal and Mamata Banerjee. Prashant Bhushan is another admirer who took to Twitter to support Dr Roy.
Dr Shourie, the most vociferous critic of the Modi government since 2015, said the government had been using two methods to control the press.
The first, he said, involved 'bribing the press by way of advertisements.'
The second, as per Dr Shourie, is 'by subterranean spreading of fear.'
Dr Shourie went on to say that the government was now using a third method of using 'overt pressure' and NDTV was at the receiving end of that.
I leave it to Dr Shourie to explain the classifications. But I do wonder if all this would hold if Dr Shourie were to be made the finance minister tomorrow.
A section of the press that was the favourite of the previous regime that ruled India is angry at the new establishment for not taking them to foreign lands on the PM's special aircraft.
They have attacked the government for allowing the CBI to raid the Roys' homes for a so-called cheating involving Rs 48 crores.
The NDA, these gentlemen allege, wants a press that is completely subservient to the government.
The government has imposed an 'undeclared Emergency' and is out to control a free press.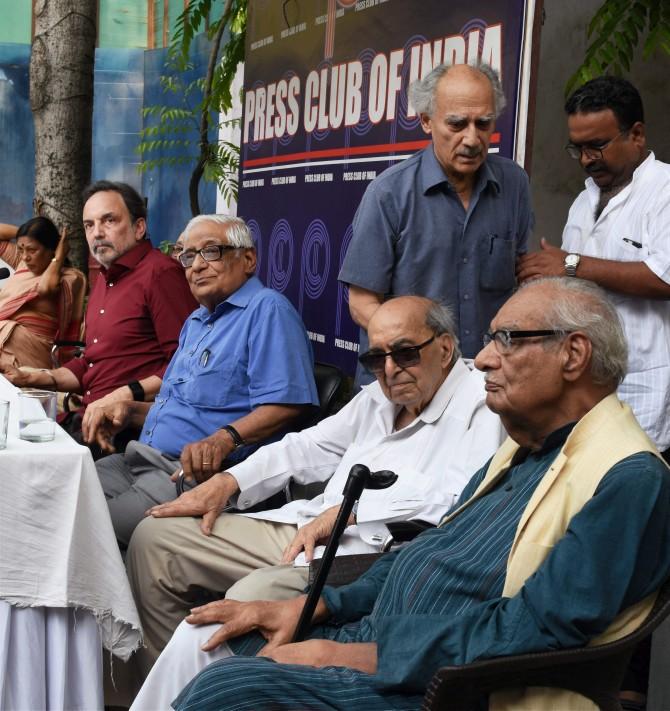 IMAGE: Legendary columnist Kuldip Nayar, former Indian Express editor Dr Arun Shourie, former Statesman editor S Nihal Singh, former Hindustan Times editor H K Dua and NDTV promoter Dr Prannoy Roy at a protest meeting against the CBI raids on NDTV promoters Radhika and Dr Roy's homes at the Press Club of India, New Delhi, June 8, 2017. Photograph: Subhav Shukla/PTI Photo
While I am personally pained at the raids on Dr Roy's home, I want to ask these gentlemen five questions:
How is a raid on Dr Roy's homes and office an attack on NDTV?
Dr Roy and his wife Radhika are executive chairperson and executive co-chairperson on the NDTV board. There are six more directors on the NDTV board and they have nothing to do with the CBI raids.
The Central Bureau of Investigation has in fact raided the Roys, owners of RRPR Holdings Pvt Limited where they have a controlling stake.
How is a CBI raid on NDTV's directors an attack on the Freedom of the Press?
I believe that Fali Nariman is wrong when he says, 'The FIR filed by the CBI is definitely an unjustified attack on press and media freedom.'
I also believe that men like Shekhar Gupta are only showing support to the Roys out of a sense of loyalty.
I want to ask Fali Nariman and Shekhar Gupta to explain how a CBI raid on Dr Roy is an attack on the press and media freedom.
If I extend this logic, then I can say that questioning Himachal Pradesh Chief Minister Virbhadra Singh in the disproportionate asset case is an assault on Indian democracy!
The CBI routinely raids businessmen when there is a strong case of alleged wrongdoing.
If I accept Fali Nariman's logic, can I say that a raid on any businessman's office or home by the CBI is an attack on the entire business community?
The argument of these highly eminent men thus smacks of a lack of logic.
Why is the CBI raiding someone who has allegedly defrauded ONLY Rs 48 crores?
NDTV, in its statement, says, 'Even though lakhs and crores of rupees of dues have not been paid by several industrialists and no criminal case has yet been registered against any of them by the CBI, the CBI has chosen not only to register an FIR, but also conduct a search for a loan which has been duly repaid to ICICI Bank. Moreover, ICICI is a private bank.'
I find this statement ridiculous, to say the least.
Is there a cut-off mark for malpractice that makes it worthy of getting the CBI's attention?
Does NDTV want to say that since bigger alleged crooks are not being booked by the CBI, smaller alleged offenders should be allowed to rest in peace?
Because murderers are yet to be put in jail, should pickpockets be allowed to continue picking pockets? What kind of logic is this?
ICICI is a private bank, so what has the government to do with it?
This is more bizarre logic -- that since ICICI is a private bank, the government should not poke its nose into what happens between the bank and its customers.
There is no doubt that ICICI is a private bank, but it is also true that it is a publicly listed bank.
I favour the logic that lowering of interest rates or granting a 'haircut' in the interest rate to save the loan from becoming a bad debt is the ICICI management's sole prerogative.
I personally believe that since ICICI is not a complainant, the case against the Roys of defrauding the bank MAY not lead to any conviction. But to emphasise the private nature of ICICI Bank to stop the CBI from raiding RRPR Holdings is unreasonable.
Moreover, ICICI's shareholding pattern, as published on its Web site, clearly mentions that 74.70% of ICICI ownership rests with the public.
Should that not make ICICI as responsive to the interests of the investing public as a public sector bank?
NDTV was raided as it has taken a bold anti-government stand!
Roy supporters, whom I call the 'Roy Brigade' in a positive sense, declare that since NDTV had been taking a consistent anti-NDA stand the CBI was let loose upon the Roys.
We need to examine this logic with some facts.
I personally believe that after a very long anti-Narendra Modi stint, NDTV had softened its stand on the present establishment.
This was evident from the way the channel did not telecast an interview with former finance minister P Chidambaram.
The channel also took a pronounced neutral view during the Bihar and Uttar Pradesh elections.
With the exception of Ravish Kumar and Nidhi Razdan, I believe no other NDTV anchor had shown any exaggerated anti-NDA bias.
Nidhi Razdan recently asked BJP spokesman Dr Sambit Patra to quit her show midway. Prashant Bhushan, the activist-lawyer, tweeted: 'Raids on NDTV take place 3 days after BJP spokesman is asked to leave Razdan's show. The message is clear. Govt intimidating the media.'
To think that the CBI raided the Roys after Nidhi Razdan asked Dr Patra to leave her show is laughable.
Much as I await the outcome of the cases against Dr Roy and his wife, I hope the couple comes out clean, but I also pray that the NDTV management appeals to some of its star anchors to at least put up a show of neutrality.
I also believe that the 'Roy Brigade' should stop going over the top.
Let the CBI complete its investigation and let the exercise go through the legal process before one pronounces a guilty verdict on the government.
The Roys, of course, remain innocent till proven guilty.
Sudhir Bisht, author and columnist, tweets at @sudhir_bisht