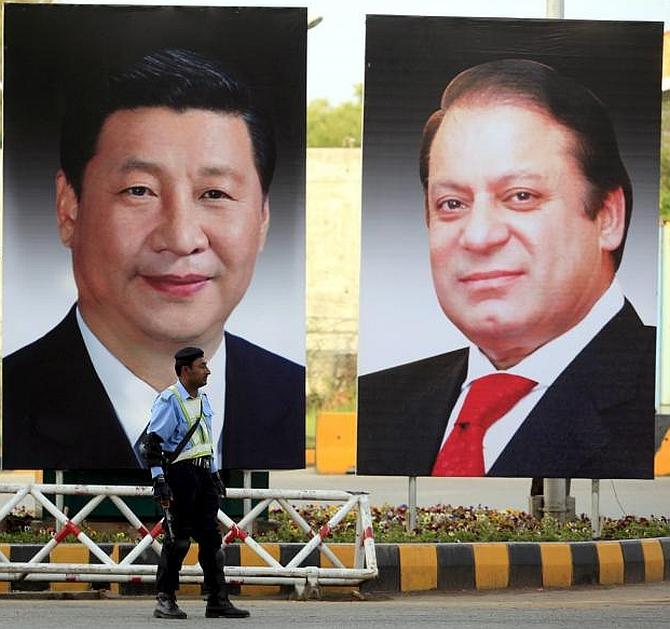 'The Modi government's lurch toward America has not brought it any dividends so far. The Western world is simply not in a position to make big investments in India... India needs to take a leap of faith vis-a-vis China,' says Ambassador M K Bhadrakumar.
Looking at it from any angle, Chinese President Xi Jinping's visit to Pakistan last week has been an extraordinary event. To be sure, Pakistan experienced the 'Midas touch.'
Almost overnight, there is buzz that Pakistan is an overlooked reform story without reform valuations. And this is according to the prestigious London-based Renaissance Capital. But Xi's visit was not exclusively business-driven, either, since whatever China touches today -- even a new bank -- also becomes 'political.' Beijing can't help it.
And, of course, anything China does with Pakistan also affects India and a wide arc of countries in the South and Central Asian regions (where the United States also happens to be an embedded superpower lately). In sum, Xi's Pakistan visit becomes a moveable feast for strategic analysts. I spotted ten lodestars. They are:
#1. Sino-Pak ties transforms. That is, of course, stating the obvious. The massive Chinese investments in Pakistan (to the tune of $46 billion) that have been promised make the relationship truly 'win-win.'
For Pakistan, China becomes by far the most important strategic partner in the world community, while for China, the partnership with Pakistan is assuming a global character since the proposed Economic Corridor is not only an additional route to access the world market without the involvement of any third country in the project and will greatly expand the scope for the sustainable and stable development of China's economic development but also becomes the grand opening move on the chessboard of the 'Belt and Road Initiative,' through which China hopes to link with nearly half of the population of the world.
The proposed investments by China will boost Pakistan's $274 billion GDP by over 15 percent. For China, it has significantly tackled its 'Malacca Dilemma.' Simply put, China has become a real 'stakeholder' in Pakistan's stability and security.
#2. China has confidence in Pakistan's future. On the face of it, China is running against mainstream world opinion, which is that Pakistan is one of the most dangerous places on the planet. Pakistan has been billed as a 'failing State' and condemned as a shady partner of terrorist groups. China, however, is undeterred and is hopeful of 'turning it into a regional economic hub.'
Equally, China is convinced of the genuineness of the Pakistani claim of a paradigm shift in its approach to terrorist groups. Xi commended the success of Pakistan's counterterrorist operations. China seems determined to make Pakistan a success story.
#3. China overtakes US as top ally. The Chinese influence in Pakistan has touched an all-time high level. This surge comes at the cost of the traditional influence the United States wielded over Pakistan through the past several decades.
The US will have to negotiate with Pakistan harder than ever from now onward. Given the solid foundations of friendship at the people-to-people level between China and Pakistan, Chinese influence in Pakistan is destined to endure the test of time. On the contrary, the US is widely disliked and feared by the Pakistani people. A quasi-alliance, all in all, is taking shape between China and Pakistan.
#4. Pakistan-India gap is narrowing. With such massive economic assistance from China, backed also by the military cooperation (with China supplying eight submarines, etc), Pakistan has significantly bridged the gap with India's growing economic and military power in recent years.
Given Pakistan's smaller size and its focused needs of defence and taking into account its stockpiles of nuclear weapons, keeping strategic parity with India now becomes an achievable goal for Pakistan.
Conceivably, 'Make in Pakistan' may even steal a march over 'Make in India.' The rev up of the Pakistani economy in the coming period is bound to make that country an attractive destination for foreign investors, as it potentially shares with India a lot of the traits such as a dynamic growth rate, dropping inflation rate, a big domestic market, human resources and so on.
Pakistan enjoys a more favourable fiscal budget situation compared to India by reducing its budget deficit to 4.7% of GDP in 2014 (as against India's 7%) and Pakistan is much cheaper as an emerging market.
At some point, China may argue for its induction as a BRICS member country.
#5. Shift in Pakistan's strategic orientation gets reinforced. The Pakistani elites have been traditionally Western-oriented and at odds with the country's public opinion, which is vehemently 'anti-American.' This contradiction is getting resolved to a great extent, thanks to the subtle shifts that have been taking place in the country's overall strategic orientation.
The discretion that the Pakistani elites -- civilian and military -- have shown by steering clear of any involvement in the Saudi-led war in Yemen has been extraordinary.
More than anything else, it has been a popular decision, but its strategic connotation is at once obvious. When it is added to the shift in Pakistan's approach to terrorism in the recent period, the signs point toward a fundamental reset of the strategic compass. The consolidation of China-Pakistan relations strengthens this reset.
#6. Afghanistan is unquestionably a net gainer. The rise in China's influence over Pakistan works in favour of the stabilisation process in Afghanistan. Pakistan is far more comfortable with China as facilitator of the Afghan peace talks than it is with the US (whose intentions are highly suspect in Pakistani eyes.)
That is to say, Pakistan will be willing to bring forward its 'strategic assets' to the negotiating table within a process where China plays a key role. Besides, China is uniquely placed to bring to bear on the situation a 'grand bargain' involving the key regional States -- Russia, Iran, the Central Asian States and even India -- which provides a much-needed underpinning to the peace process.
Over and above, China and Pakistan now would have a shared interest in the stabilisation of Afghanistan, because the main threat to the realisation of the 'Belt and Road' projects in Pakistan (involving the location of tens of thousands of Chinese personnel on Pakistani soil at the project sites) come from the terrorist groups operating out of the Af-Pak region.
Put differently, the success of the Sino-Pak partnership itself is critically linked to the success of stabilisation of the Afghan situation.
#7. Chinese navy anchors at Gwadar. The development of the port of Gwadar and improving the infrastructure in the hinterland would inevitably help China sustain its permanent naval presence in the Gulf of Oman and the Arabian Sea. It no longer matters for China if its submarines operating in the Indian Ocean are denied docking and refueling and replenishment facilities by the new regime in Sri Lanka.
#8. South Asian capitals hold breath. Xi's visit to Pakistan has evoked region-wide interest in South Asia. China has conveyed a big message to the other South Asian countries, especially the smaller countries surrounding India (such as Sri Lanka, Bangladesh or Nepal) that it pays to climb on board the Chinese 'Belt and Road' initiative.
Actually, for these countries it should be clear that the Chinese show is the only show in town. China's pledge of 'win-win' cooperation and its projection of China's development being a driver of growth for the region as a whole will now resonate in South Asian capitals.
#9. Power dynamic in the region changes. Viewed against the backdrop of the international situation characterised by the chill in US-Russia ties and the US' 'pivot to Asia' strategy aimed at the containment of China, Pakistan's gravitation in the direction of China (and Russia) at this juncture underscores a strategic realignment in the making.
Here, several other factors also need to be noted: a. Russia is warming up to Pakistan and establishing military ties with that country; b. China and Russia are both energetically boosting their respective strategic ties with Iran; c. Iran is about shirk off the sanctions; d. Pakistan is mending its ties with Iran; and, e. Both Iran and Pakistan are likely to be inducted as members of the Shanghai Cooperation Organisation.
#10. Modi has an existential dilemma. It is a moot point whether China intended that Xi's visit to Pakistan holds lessons for India too. The stunning thing is that Xi counseled Pakistan to follow a foreign policy of peace.
Suffice it to say, India faces an existential dilemma. Xi has brought in a level of sophistication in China's diplomacy that compels India to go back to the drawing board, as the accumulated wisdom of its Sinologists is being rendered irrelevant.
It is plain to see that China is not bullying India over the 'Belt and Road' initiative, but instead it is leaving the choice to India to decide if or how far or at what stage it wants to get involved in it.
Xi's visit to Pakistan has shown how far China could have helped India's own development agenda. Put differently, China is conscious that there are entrenched interest groups and lobbies in India with a hardened mindset who are doggedly resisting any paradigm shift in relations with China. So, China has left its visiting card at India's doorstep.
Clearly, Xi's visit to Pakistan provides a challenging setting for Indian Prime Minister Narendra Modi while planning his visit to China hardly three weeks from now. Comparisons are bound to be drawn over the art of statesmanship and visionary leadership.
The Modi government's lurch toward America has not brought it any dividends so far and objectively speaking, the Western world is simply not in a position to make big investments in India. At the same time, criticism is mounting within India that Modi has not achieved anything so far in the fulfillment of the development agenda during this past 11 months in office.
And if and when the lights begin to shine once again in Lahore as a regional capital, which is surely on the cards, Modi will have a lot to mull over regarding the wisdom of negotiating the relations with China without any 'big picture,' and allowing himself to be held captive by the hardliners who do not even have the intellectual capability to think beyond the issues of stapled visas, the Brahmaputra, trade deficit, the South China Sea and so on as the stuff of India's relations with a rising China.
To be sure, India needs to take a leap of faith vis-a-vis China -- as China has just taken vis-a-vis Pakistan. The fact of the matter is that Xinjiang is being seriously destabilised and China's territorial integrity is being violated with impunity by elements operating out of Pakistan and, yet, Xi decided not only to remain engaged with the Pakistani leadership, but profoundly deepen the relationship and make a personal effort himself by even going the extra league to hold a meeting with Pakistan's top military leadership face to face.
Xi is no risk taker by any reckoning when it comes to China's national security or territorial integrity and sovereignty. But he is a hardened realist and his China Dream is an unusual dream.
Xi's Pakistan visit ought to provide food for thought to Modi personally. To be sure, Xi's visit to India last September turned out to be a lost opportunity, and it is not only India's, but Modi's loss too.
Ambassador M K Bhadrakumar is one of India's best-known strategic thinkers.
REDIFF RECOMMENDS
Image: Giant portraits of China's President Xi Jinping and Pakistan's Prime Minister displayed along a road in Islamabad. Photograph: Faisal Mahmood/Reuters