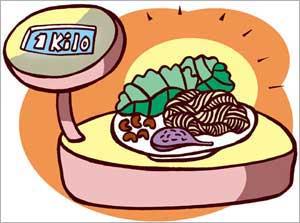 'My Indian guests were to get a slice of the authentic Brazilian experience, the cuisine being only one part of it,' says BS Prakash of a typical Brazilian institution.
Illustration: Uttam Ghosh
'But I do eat fish,' Mr Banerjee was protesting.
"I was speaking only for myself when I said that we are vegetarian," said Mr Swaminathan not very truthfully. He had in fact told me just a moment ago "Ambassador, please take us to a vegetarian restaurant. I am finding it very difficult to manage food here, in Brazil."
"Well, I enjoy everything, even a steak," added Mr D' Souza, now, cautiously, not sure about the reaction of his boss, Swaminathan. It was evident to me, however, that he did want to eat a steak, having come all the way to Brazil and perhaps as homage to his Goan ancestors.
'No problem,' I said cheerfully. All of them were senior officers from the finance ministry and as the ambassador in Brazil, I was hosting them at lunch during a break in the conference.
How can there be a delegation of financial experts without one or more with a name ending with an 'm' or 'n' as in Subramanyam or Gangadharan or Swaminathan? Not all, but most of them were vegetarian, I knew from experience.
There used to be a time when finding suitable restaurants for visiting Indian delegations used to be a challenge for people in my profession. Not any longer. These days, most parts of the world that are visited by Indians, say the US, Europe, Singapore, or Gulf has plenty of choices including Indian restaurants.
But not Latin America, and especially not Brazil. Believe it or not, there is not a single Indian restaurant in a huge and touristy city like Rio de Janeiro, host of the next Olympics.
We have tried to promote it, but it has not worked so far. In my reading, the reasons are: Brazilians find any spicy food very difficult to manage, and secondly, they prefer their dishes a bit dry while the essence of good Indian food are the sauces.
But I was still confident of managing this conflicting culinary demands easily. "Let us go," I said and we proceeded to a typical Brazilian institution -- a por quilo place, literally translated as 'per kilo'.
Rather than narrate the concept, let me set the scene for you, of that day, with the finance ministry guys, their names all changed, of course. 
Por quilo restaurants are to be found in all cities and all localities in Brazil and can be from classy to very basic. The concept is quite simple: the price is per kilo of food, no matter what it is, whether the most expensive prawns or the inexpensive spinach or anything in between.
I took my guests to a middle of range kind of place as we had to finish our lunch in about 90 minutes. My Indian guests were to get a slice of the authentic Brazilian experience, the cuisine being only one part of it.
As we entered the large sprawling space with about two hundred seats, we were each given a swipe card like a debit card with a magnetic strip. With some difficulty we found a table for five and parked ourselves marking our table with our briefcases. I led them then to a huge and colourful buffet and advised them to first to go around once.
"You will find everything from salads and lentils, to fish, chicken, sausages and steak. Pick what you want and pile it on your plate. At the end of the process the food will be weighed and whatever you eat will cost the same per kilo."
As we started the process, my guests could see the other rituals of the typical Brazilian lunch hour. It is a special hour or actually two hours for most Latinos. No self-respecting Latino, whether in South America or in Spain or Italy, will be seen dead with a lunch dabba brought from home.
Not for them, the American style of 'grab a sandwich and gulp it down on a park bench or in front of your computer terminal'. The so-called lunch hour generally serves a social purpose. Depending on your needs, you meet your friends, not just the office ones but those outside too, your lover -- if you are so inclined, do your shopping, run to the bank, or just have a civilised lunch over a relaxed chat. And the most functional venue in Brazil is the aforesaid per kilo, since it has all the essentials and can be tailored to suit your budget.
I guided my guests. Swaminathan piled his plate with succulent salads of which there were some eight varieties in this upmarket place. I pointed him to other strictly vegetarian choices. There was a kind of a rajma but with black beans, fried brinjals and bhindi, pumpkin and potatoes, and types of rice, noodles and pasta.
Banerjee was very happy to see baingan bhaja but I showed him three varieties of fish, both river and sea water, and on top of that prawns in two different ways. As for the others, there was everything else: chicken, mutton, pork and yes, beef -- if you really want it, Mr D'Souza, here it is in different styles. But the trick is that you have only one very large plate at the beginning of the buffet and at the end of the line, a long line, a counter where it is all weighed.
My guests, all Indian bureaucrats, were like me: they averaged between half a kilo and three-fourths, all less than the average of say 900 grams in Brazil. The charge at this rather good por quilo was around 13 dollars per kilo in the local currency and hence came to around $ 8 per person.
This incidentally is also the minimum floor price, even if you are fasting and take only two hundred grams of leafy greens. Not cheap, but not expensive, you will admit. You pay for the drink that you pick up on the way to your seat -- a Coke, a juice or a beer -- and that is swiped too on your card as is the dessert if you want it, again weighed. 
As we sat down to eat, I looked at the familiar restaurant with new eyes, that of my Indian colleagues. How will this system work in India, they wondered. There were some features that makes it work well in Brazil, we concluded.
For one, there is a true abundance of natural produce in Brazil. There are throughout the year plenty and more of vegetables, fruits and diary products. The same is true of all kinds of fish and meat. Brazil is one of the world's agricultural superpowers and the actual cost of farm produce is such that they need not worry about the cost differentials between potatoes and prawns.
This may not be the case in India, we agreed.
Second, there was the cultural aspect of displaying everything together, trays touching each other with total disregard for any food sensitivities or prohibitions. This too was a problem but still could be managed, we thought. There are of course fixed price buffets these days with plenty of choice. But 'per kilo' introduces an element of justice and equity between buffet eaters, an element of 'pay as you eat' principle. This will appeal to Indians, we concluded.
As I proceeded to collect everybody's cards and we rose to leave, Mr Swaminathan was looking full, but still not content. Why no samtripti despite all the samriddhi, I wondered. But in a flash, my South Indian soul -- despite not having an m or an n to end my name -- had the answer.
"Sorry, no curd rice or even yogurt, Mr Swaminathan," I said.
"Or pickles," he answered ruefully.
B S Prakash is the Indian Ambassador in Brazil and can be reached at ambassador@indianembassy.org.br