Home > India > News > First Look



Former Nepal PM Koirala passes away

March 20, 2010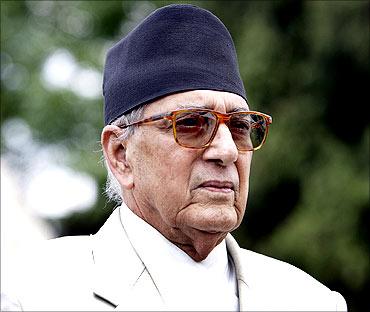 Nepal's five-time Prime Minister Girija Prasad Koirala, who had been unwell for several months, died here today after multiple organ failure.
87-year-old Koirala died at 12.10 pm local time at his daughter and Deputy Premier Sujata Koirala's residence, Nepali Congress Vice President Gopal Man Shrestha said.
Koirala, the president of the Nepali Congress which is a key constituent of the ruling CPN-UML-led coalition, had been unwell for several months.
He was discharged from Marty Ganga Lal Heart Centre in Kathmandu on Wednesday after showing signs of improvement and had been staying at his daughter Sujata's residence since then.
Earlier, Chiranjivi Nepal, an advisor to Sujata who is also foreign minister, said the veteran politician had slipped into coma following a bout of diarrhoea.
Koirala had a low hemoglobin level and was suffering from bronchitis and lungs problem. He died of multiple organ failure, party sources said.
Koirala had been instrumental in leading the peace process and bringing the Maoists to mainstream politics, ending a decade-long armed conflict that claimed 16,000 lives.
He also played a crucial role in turning Nepal into a Republic through abolition of 240-year-old monarchy two years ago. His last rites will be performed on Sunday, Shrestha said.
Image: Former Nepal PM Girija Prasad Koirala | Photograph: Reuters