Home > India > News > First Look


Discuss |
Email |
Print | Get latest news on your desktop


Kasab as he is today!

February 04, 2009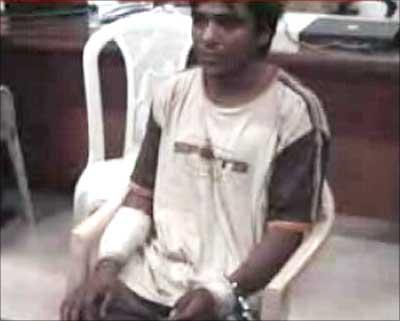 The doubts that Pakistan raised regarding the death of Ajmal Kasab [Images] -- the lone surviving gunman in the November 26 terrorist attack in Mumbai [Images] -- have been clarified with the terrorist's latest picture being released by the Mumbai police.

The latest picture of Kasab, which was taken during his interrogation, shows him sporting a T-shirt. The terrorist is also handcuffed in the picture. The Mumbai police say that Kasab is very much alive and is lodged in the high security jail on Arthur Road in Mumbai.


He is being constantly watched by a team of policemen as they fear that he may attempt suicide. He is being watched even when he is taking his bath, the Mumbai police say.

He is permitted to take a bath once in two days and a barber gives him a shave once in two days the police say.
The cops say that there is a huge security issue where this person is concerned and bringing him out in public is just not safe.

There is specific intelligence that he is a top man on the hit list of the Lashkar-e-Tayiba [Images].

Kasab too, during his interrogation, has on several occasions expressed fear over the fact that his organization the LeT is out to kill him. This is the reason why Kasab is not even produced before the court, the police say.

For Indian interrogators keeping Kasab alive is extremely important. He is the only person who can give a clear picture of the entire 26/11 incident and also the Pakistan link to it.

Photograph courtesy: Zee News [Get Quote]