Home > India > News > First Look


Email |
Print | Get latest news on your desktop


7-phase poll in J&K from November 17

Onkar Singh in New Delhi | October 19, 2008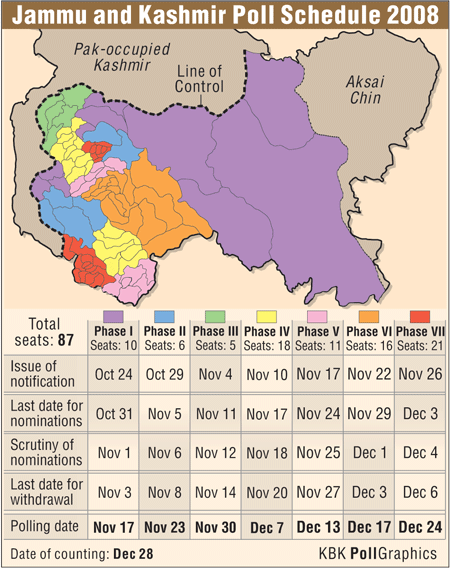 Chief Election Commissioner N Gopalaswamy has announced a seven-phase election for the Jammu & Kashmir assembly.
Polls for assembly constitutencies will begin with the first phase beginning on November 17 and the seventh and last phase of election on December 24.
"Counting will begin from December 28," the CEC said. To conduct the elections, the EC has set up over 8,109 polling booths in the entire state.
The polling for the 87-member assembly will be held on November 17, 23, 30, December 7, 13, 17 and 24.
Against the backdrop of parties and outfits in the Kashmir Valley expressing themselves against polls at this juncture, the CEC said the commission has taken a "risk".
This was in apparent reference to political parties in Kashmir like the People's Democratic Party, which said no to polls and another mainstream party, National Conference, which gave its nod after having voiced initial reservation.
The state administration will get adequate number of forces to ensure free and fair polls. Gopalaswamy made it clear that the job of EC was to conduct elections and not enforce elections. Last time, the commission did the same job as they are doing now.
"If somebody gives a call for boycott, then we can do nothing about it except ensure that polling takes place in a free and fair manner," he said.
Additional Reportage: PTI 
Image: KBK Graphics
Read More:
5 state poll