Home > News > Interview

The Rediff Interview/Mauritius Vice President Abdool Raouf Bundhun

'We have set an example for India'

March 10, 2006



This year, President A P J Abdul Kalam is the chief guest at the Republic Day ceremony of Mauritius on March 12.

The idyllic country has very close ties with India, and not just because of Bollywood, which has shot a myriad songs in its picturesque locales.

The majority of the population in the Indian Ocean island nation is of Indian origin. Like India, it fought for independence from British colonial rulers.

And as Vice President of Mauritius Abdool Raouf Bundhun points out to Rediff India Abroad Managing Editor (National Affairs) Sheela Bhatt in an exclusive interview, Mauritius, with its communal harmony, has also "set an example" for India. Excerpts:

What's the story of the Bundhuns?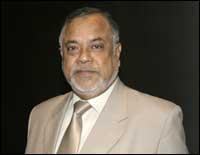 I belong to the fourth generation of Indians in Mauritius.
In 1866, my great-grandfather and my great-grandmother migrated to Mauritius from the district of Ghazipur on the Uttar Pradesh and Bihar border. His name was just Bundhun and her name was Rajbasiya. I have pictures of both of them.
My great-grandfather sailed for here from the port of Calcutta as a free man. In UP, his father was in the textile industry.
Ghazipur was facing recession because of the Industrial Revolution in Britain. Because of the sweeping economical and social effect of the Industrial Revolution in Europe, many of my great-grandpa's friends were moving away to other places as indentured labourers. So he too decided to migrate. He arrived here as a free man.
What else do you know about him?
 
My grandfather told me stories about him. He [his great-grandfather] was a very dynamic entrepreneur. After his arrival here, he became a jeweller. My grandpa followed in his footsteps.
My grandpa told me that in those days it was very difficult to migrate because if you crossed the sea you faced the risk of losing your caste. Nevertheless, they dared.
Even in those days there were agents working for companies in Mauritius and some were agents of the British. Our people from Bihar and UP were lured by them. They told our people: 'Come to Mauritius, you fill find gold underneath every rock.'
Of course, that was far from the truth.
Slavery was abolished by that time but they [the early migrants] were treated as slaves. They were asked to live in camps by the British colonial rulers.
The first Indian came to Mauritius in 1835. My ancestors came in 1866. In the beginning of the 20th century 200,000 to 300,000 Indians were in Mauritius. Today, there are 800,000 to 900,000 people of Indian origin settled here.
What has been the most striking aspect of your history here?
The poverty and the misery of the people.
Our people lived in inhuman conditions. Indians toiled from dusk to dawn in the sugarcane fields. There was no hygiene. There was no law to protect them. Only the joint family system, where old people took care of the children of the family, helped the Indians.
How did things change?
I would say in the beginning of the 20th century, when Mahatma Gandhiji stopped in Mauritius first when he was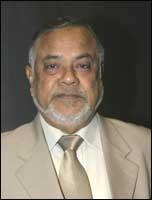 travelling to India from South Africa.
He stayed in Mauritius for two weeks in 1901. He was received by Gujarati traders living in Mauritius. He told us: 'Educate your children. It's the best power we have to fight colonial powers.'
We followed his words and sent our children to educational institutions. My great-grandfather told my grandpa about how he met Gandhiji and what they talked about. We have pictures of Gandhiji in Mauritius. We gave him a big party.
Around 1930, the first batch of people from Mauritius came to India for higher studies. Two of them were Basudev Vishwadayal and Jayanarayan Roy. Basudev studied in Mumbai and Roy in Allahabad University.
When these guys came back to Mauritius they started organising people through a movement called the Jan Andolan.
Basudev held religious ceremonies called Yaj. In those religious ceremonies he started spreading the message of education: 'Get yourself educated, go to school. Go to Urdu, Tamil or Hindi or whatever school, but study.'
Roy founded a school of his own and led the movement. Shiv Sagar Ramgoolam, who was born in 1900, went to school, college and then to London for higher education.
He was from a poor family but after his return from London he got involved in politics. He was one of the rare elites in those days who started campaigning for civic rights of Indian migrants. He started with the right to vote.
Success came slowly. He was elected as a legislator, and then to Parliament.
He campaigned for a universal struggle against injustice and for responsible self-government. In 1968, he led Mauritius to independence.
On March 12, 1968, Mauritius became independent. We selected March 12 because in India Mahatma Gandhi had started Dandi March on that date.
I was with [Sir Seewoosagur] Ramgoolam as a young man. I was elected as a member of Parliament at 27.
How about your own career?
I have seen my community's poverty and misery. I studied up to secondary level and then joined the civil service. I joined the department of social welfare.
I saw firsthand the extreme poverty of the people and the pathetic conditions they were living in.
I resigned from my government job and entered politics to join Ramgoolam. He gave me an election ticket. I was half his age. We used to call him Chacha Ramgoolam (Uncle Ramgoolam).
We fought the elections, and won. He made me Mauritius's first first minister for youth and sports.
Before becoming the Vice President, I was the ambassador to France.
What were the first years of independent Mauritius like?
We had only one industry -- the sugarcane industry. We needed to diversify. We now have the tourism industry, export processing zones, offshore banking and such things.
How do you see your Indian identity?
I am first and foremost a Mauritius citizen. I have served my country my whole life. But in my heart of hearts, I feel my Indian origin. I feel that in our way of life. We have suffered immensely. I also feel we belong to India.
We look up to India as our motherland. Mauritius is my fatherland. My home is Mother India.
We have acquired Indian culture through Hindi films. Seventy per cent of Mauritius's population is of Indian origin. We are a small country. We will have to work hard.
We have remained united. We have taken the destiny of our country in our hands.
How are your inter-community relations?
Hindus and Muslims live like brothers in Mauritius. If they are neighbours, they are closer than real relatives.
Our grandpas told us that when they set sail together leaving their motherland behind, they were not called Hindu or Muslim. All of them were called Jahazi Bhai (Brothers of the Ship). They faced the same miseries and the same sufferings.
When Babri Masjid is demolished or Gujarat riots happen (in India) it makes us very sad.
India should be the country setting an example for us, but it is the other way round!
We have set an example in Mauritius. We are united.
Photographs: Jewella C Miranda
The Rediff Interviews


What do you think about the story?








Read what others have to say:





Number of User Comments: 5








Sub: Why Does Rediff has a link for Sharing Comments?

Rediff Never posts any Messages/Reader's comments, then why does rediff has a link for Posting??? Somebody please explain. Thanks


Posted by Manoj Gupta









Sub: we have set an example for india.

Why honourable Vice President of Mauritius Abdool Raouf Bundhun is not able to recall mumbai, Delhi, akshardham, coimbatore, varnasi and parliment bomblast, trouble in kashmir, ...


Posted by pasupathy









Sub: When Hindu Temples are Bombed It hurts us too

I hate to see that this guy talks about unity and only mentions about Babri Masjid and Gujarat, but doesn't mention anything about Temple attacks, ...


Posted by Manoj









Sub: To Hon Vice President of Mauritius Abdool Raouf Bundhun

Ver well your exellency even we feel sad about Gujarat roits but we feel sadder and angried at the reason what started the roits,dont you ...


Posted by Sudesh Nayak









Sub: very wrong

Well what Mr,Bundhun said is typical of the old generation of the mauritians. They are at cross roads. But the yonger generation hate being ethnically ...


Posted by vash






Disclaimer