Home > News > Report

Kejriwal: Fighting for Parivartan

Onkar Singh in New Delhi | August 03, 2006 18:53 IST



It is business as usual in Arvind Kejriwal's organisation -- Parivartan.

It was July 4, when Kejriwal got a call from the Ramon Magsaysay headquarters in Manila informing him that he had won the award but requested him to keep it to himself till it was officially announced.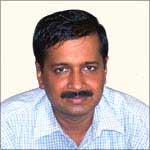 In recognition to his activating India's right-to-information movement at the grassroots, empowering the poorest of citizens to fight corruption by holding government answerable to the people, Kejriwal was named the awardee for emergent leadership.

The fact that he and his organization -- Parivartan -- are one of the winners of the Ramon Magsaysay Award for 2006 has not brought about a change in his personality.

When rediff.com called on him, Kejriwal was talking to social activist Anna Hazare on phone, chalking out the details of his visit scheduled for Thursday.

The former tax officer told rediff.com, "This award does not belong to me. It belongs to each and every person associated with Parivartan, which stresses upon transparency in public life. This award is for all those who are associated in removing corruption from public life."

"We feel sad that while our efforts are being recognised internationally, our government is trying to put hurdles. I would like to appeal to the government to give one more year to Right to Information Act and strengthen it further," Kejriwal added.

"Initially, we encouraged people to come to us. We handled their work with the concerned organisations. We realised that we were actually doing the job of the middleman. So we decided to do become facilitators and told people to use the Right to Information and get their jobs done without paying anything. At one point, we did a project with the Indian Express, then we had another called Ghoos Ko Ghoosa (Fist to bribe) with NDTV. Many people are now joining us in our fight against corruption," he said.

Thirty eight-year-old Kejriwal hails from Hissar town in Haryana. After serving the Indian Revenue Service for eight years, he went on long leave in the year 2000 to concentrate on Parivartan. He resigned from the IRS few months back.


What do you think about the story?








Read what others have to say:





Number of User Comments: 22








Sub: CONGRATULATIONS

Hello Arvind, Hi, First of all my heartiest congratulations to you for the great job and for the award.I am more proud because this great ...


Posted by Neeraj K Dua









Sub: Fighter is always there

Indeed a great effort to route out corruption and that to started by a All India Service official. I would like to add some suggestion ...


Posted by Bijay Ketan Pati









Sub: People behind the screens

It is not a joke to resign an Indian servcies job and concentrate on social upliftment. Upfront Arvind should be brought in the lime light. ...


Posted by Divakar









Sub: Corrupt india

He got award from other countries...Now he is international personality. But India Corrupt officials and politicians not awarded him with Bharat Ratna. Great personality.... ...


Posted by ashokteli









Sub: Comment on ''Fight for Parivartan goes on''

The timing of the award to Arvind of Parivartan could not be more is timely because the organization is in the midst of its battle ...


Posted by Tulika Narayan






Disclaimer