Home > News > First Look


Natwar Singh takes a break in Manhattan

September 20, 2005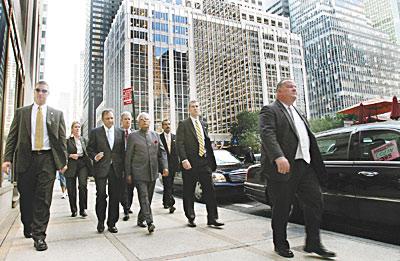 India's External Affairs Minister K Natwar Singh takes a break in Manhattan, New York, from deliberations of the United Nations General Assembly session on Monday.
He had earlier told the UNGA that the summit last week has not met the expectations of developing countries.
Though the main purpose of the summit was to review the implementation of the Millennium Declaration, unfortunately, most developing countries will not be able to achieve the Millennium Development Goals given the current levels of their growth and levels of international support, he said.
Natwar Singh had accompanied Indian Prime Minister Dr Manmohan Singh, who addressed the UNGA last week.
Complete Coverage: PM at the UN
Photograph: Jay Mandal