Gunmen on Friday killed a city council official in Kirkuk, a contractor renovating a mosque in Samarra and a man standing outside a Baghdad hospital, while several car bombs that targeted US convoys in the capital wounded six civilians, authorities said.
The new bloodshed came a day after 48 people were killed in a particularly violent day in Iraq -- including more than 30 in four suicide bombings -- raising to at least 825 the number of people slain since the new Shia-led government was announced April 28.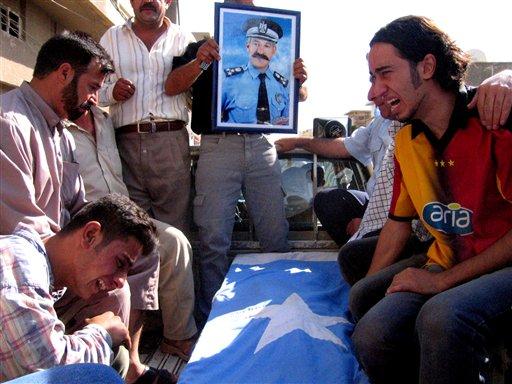 In the past 18 months, 12,000 Iraqi civilians were killed, including more than 10,000 Shias, Interior Minister Bayan Jabr said, citing figures from a research center. But he said he analyzed the figures on the basis of areas where the victims lived, not data explicitly stating the branch of Islam to which they belong.
Separately, Australia's top Muslim cleric, who trying to secure the release of 63-year-old Australian hostage Douglas Wood, said he hoped to receive news of the captive's imminent release. He did not elaborate.
Jabr on Thursday claimed the government offensive seeking to root out kidnappers and other militants in Baghdad had scored big gains, saying this week's sweep by Iraqi soldiers and police, known as "Operation Lightning," captured 700 suspected insurgents and killed 28 militants.
The campaign is the biggest since Saddam Hussein's fall two years ago. Iraqi officials have said the operation, which began Sunday, involves 40,000 soldiers and police, though not all are manning positions at any one time. Before the offensive, authorities controlled only eight of Baghdad's 23 entrances.
But the incessant violence launched by militants -- from Islamic extremists to Saddam loyalists -- highlights what still needs to be done to stop the killings.
Gunmen killed Brig. Sabah Qara Alton, a Turkman official at Kirkuk City Council, after he left a mosque in the ethnically mixed northern city following Friday prayers, police Capt. Sarhad Talabani said.
Earlier in the day, gunmen killed Razzouq Mohammed Ibrahim, an Iraqi contractor in charge of renovating a mosque in western Samarra, and stole his car, police Lt. Qassim Mohammed said.
Two Iraqi civilians, including a child, were killed early Friday when their car swerved into a US Bradley fighting vehicle near Khalis, 50 miles north of Baghdad, the US military said.
Insurgents fired mortars at the Baghdad Medical City complex shortly after midday, damaging one of the roof of a building. They then shot and killed an Iraqi man standing outside the complex, US military spokesman Maj. David Abrams said.
A suicide car bomber wounded nine Iraqi soldiers and two women after attacking an Iraqi army checkpoint near the US 42nd Infantry Division base in Tikrit, 80 miles north of Baghdad, police Capt. Hakim al-Azawi said.
Police also pulled the body of a man, who had his hands bound and was shot in the head, from the Tigris River, he added.
Car bombs targeted US military convoys in the capital, one of which wounded six Iraqi civilians in western Baghdad, police Capt. Mohammed Abbas said. Another blast damaged an American tank, but caused no US casualties, the military said.
Late Thursday, a suicide car bomber targeted followers of the mystic Islamic Sufi movement, killing at least nine Iraqis and wounding 12 in Yethrib, a remote village near Balad, north of Baghdad, said Dr. Faiz Shawqi, a local hospital official. The suicide bomber also died.
"I was among 50 people inside the tekiya (Sufi gathering place) practicing our rites when the building was hit by a big explosion," said Ahmed Hamid, one of the Sufis, who are regarded as heretics by Islamic extremists believed responsible for suicide bombings.
"Then, there was chaos everywhere and human flesh scattered all over the place."
Some 25 other Iraqis, including a young child and deputy provincial leader, were killed across northern Iraqi earlier Thursday in Tuz Khormato, Kirkuk, Mosul and Baqouba.
In Baghdad, men in three speeding cars sprayed gunfire into a crowded market in the northern neighborhood of Hurriyah, killing nine people, the interior and defense ministries said.
Two other Baghdad attacks killed four people and injured three.
Gunmen killed Shiite cleric Ali Abdul Hussein outside his home in Basra, 340 miles southeast of Baghdad, police said. At least 10 Shiite and Sunni clerics have been killed in the latest surge in violence.
Sheik Taj El Din al-Hilaly arrived in Baghdad on Wednesday to continue his mission to secure the release Wood, a California-based Australian engineer.
The Egyptian-born mufti has said his Iraqi contacts urged him to return to prepare for Wood's possible release.
Wood was abducted in late April, shortly before a militant group, calling itself the Shura Council of the Mujahedeen of Iraq, released a video May 1 showing him pleading for Australia to withdraw its 1,400 troops from Iraq.
The Australian government has refused to bend to terrorists' demands.
"We are here for a humanitarian mission to gain the freedom of the Australian engineer and we hope, God willing, that within the next few hours to hear news about the hostage's (imminent) release," al-Hilaly told The Associated Press after attending a Friday prayer service at a Baghdad mosque.
The Egyptian-born cleric said he made "indirect contacts" with the kidnappers, but provided no further details.
AP photo/Yahya Ahmed