Home > News > Report

At least 500 killed as quake hits Iran

Agencies | February 22, 2005 09:56 IST
Last Updated: February 22, 2005 19:30 IST



At least 500  people were killed when an earthquake measuring 6.4 on the Richter scale struck near Zarand in central Iran on Tuesday.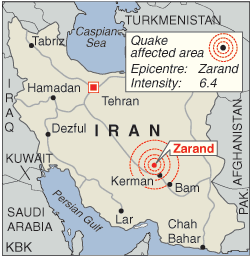 Around 500 were injured, Iranian officials told state-run television.
In Zarand, a city of about 135,000 people in Kerman province, 20 people died and 280 were hospitalised, officials said.
Six of Zarand's outlying villages suffered damage, the state-run television was told.
Casualties are expected to rise as rescue workers reach the area, where heavy rain is hampering rescue work.
According to a CNN report, the US Geological Survey said the quake was centred about 56 km northwest of Kerman at a depth of about 41 km.
Zarand, is about 200 km from Bam, where a 6.6-magnitude quake on December 26, 2003, killed more than 30,000 people. That quake was closer to the surface, at a depth of 10 km.
A deeper earthquake allows "more time for the energy to dissipate, and that means less intense shaking (on the surface)", CNN quoted a USGS official as saying.