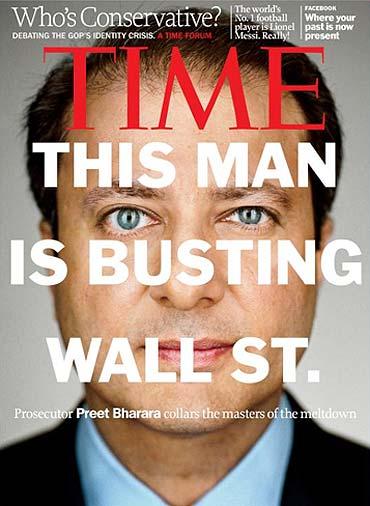 Eminent Indian-American attorney Preet Bharara has made it to the cover of the prestigious Time magazine for his crusade against Wall Street corruption and irregularities, including insider trading.
With the caption This man is busting Wall Street, Bharar's picture appeared in the latest edition of Time on Thursday, the day on which he announced to have taken action against one of the oldest Swiss banks for having evaded American taxes and helping in the flight of United States' money.
Currently US Attorney for the Southern District of New York, Firozpur-born Bharara has been engaged in a number of high-profile corruption cases including the one of insider trading against that of Rajat Gupta, former McKinsey head and a former Goldman Sachs director.
"US Attorney Preet Bharara has already taken down some of the financial world's most prominent figures. He is just getting started," says the cover story written by Bill Saporito and Massimo Calabresi.
Born of a Sikh father and Hindu mother, 43-year-old Bharara grew up in New Jersey -- a state which has a significant Indian-American population. He graduated from the prestigious Harvard College in 1990.
Nominated by President Barack Obama as the US Attorney for the Southern District of New York, Bharara was unanimously confirmed by the Senate in May 2009.
In this capacity since he was sworn in on August 13, 2009, Bharara oversees hundreds of criminal and civil cases, involving international terrorism, financial fraud, insider trading, public corruption, and gang violence, as well as the resolution of alleged civil rights violations at various public venues.
Bharara has not only been responsible for a major crackdown on illegal insider trading on Wall Street, but also has taken on some of the important terrorism cases of the Obama administration in New York.
Prominent among them include securing life sentences for Faisal Shazad, the Times Square Bomber, and Ahmed Ghailani, an Al Qaeda associate who was responsible for the mass murder of innocents at the US embassies in Kenya and Tanzania.
The Time cover story begins with an anecdote when Bharara secretly joined a conference call.
"On Wall Street and in financial firms across America, the conference call is a standard workday tool. Traders, analysts and executives hop on to discuss trades, news and rumors that might move the market. Such was the case at the hedge fund Level Global Investors on November 4, 2009, when one of its analysts joined a call organised by a second firm, Primary Global Research.
"PGR connects hedge funds, brokerages and other market players with executives of corporations -- a Wall Street matchmaker of sorts -- and on that day, PGR had some hot information for the hedgies at Level Global," it said.
"Unknown to the participants, Preet Bharara, US Attorney for the Southern District of New York, was recording the conversation, and he wasn't looking for stock tips. A confidential informant had told his office that the party line was being used illegally to trade inside information. Bharara, who has launched a war on Wall Street crime, wanted proof," the magazine wrote.
So he obtained a secret court order to join the conference call -- something of a first for a US attorney.
"Significant officials at publicly traded companies are casually and cavalierly engaged in insider trading," Bharara said on January 24, sitting in his corner office behind Manhattan's city hall.
"Because insider trading has as one of its elements communication, it doesn't take rocket science to realise it is nice to have the communication on tape," Bharara told Time.