Or would you prefer the lovely turquoise blue chiffon sari Sridevi wore in Mr India?
Sukanya Verma would like all this Sridevi memorabilia!
When I was in school, a co-worker of my journalist mom got me a personally autographed photograph of Sridevi. Although I hadn't asked for one, I was naturally thrilled.
This was a lifetime ago, but I am sure I still have it preserved in my unopened cartons somewhere.
I do hope that that's true for some of the iconic items connected to her cinematic imagery as well. Now, more than ever.
These are some items from the Sridevi memorabilia that I pray still exist and wish I had access to.
Pallavi's painting in Lamhe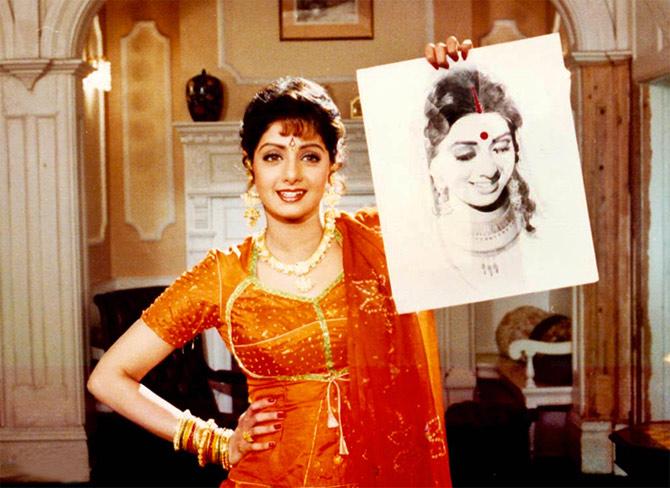 In Yash Chopra's offbeat romance, a smitten Anil Kapoor immortalises his first love -- played by Sridevi -- in a portrait that strikingly notes her marital status.
Years later, her daughter, also played by Sridevi, discovers the said painting and mistakes it to be a confirmation of his feelings for her, only to learn its rude reality later.
The turquoise blue chiffon sari from Mr India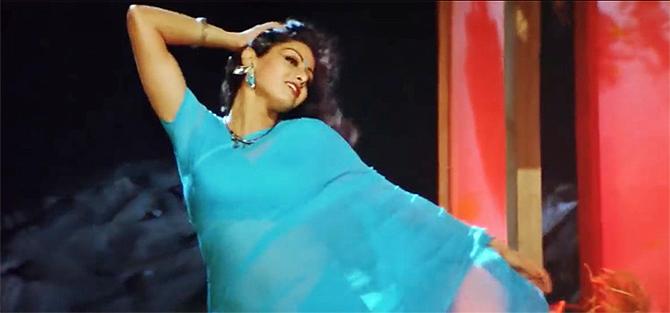 Draped in nine yards of pure sensuality and exuding pure and simple oomph from head to toe, Sri made out with her invisible paramour in the song Kaate Nahin Katte in Mr India.
Contact lenses from Nagina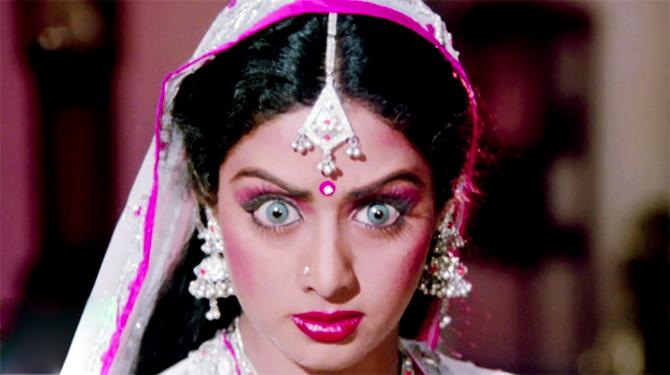 Sri makes snake eyes in a pair of creepy bluish-grey contacts to terrify and thrill anyone, who dare cross her path in Harmesh Malhotra's superhit supernatural fantasy.
Gold bridal outfit in Khuda Gawah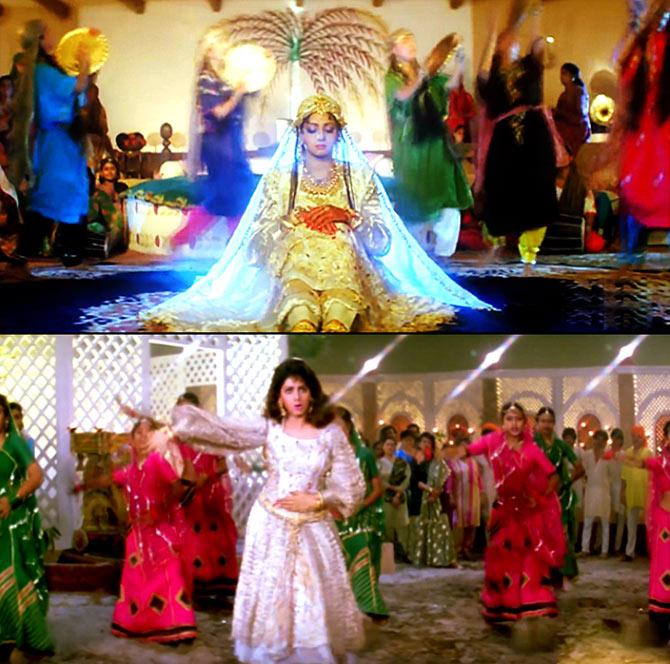 The lavish gold bridal costume worn by Sri's Afghani dulhan in the first half and then her lookalike daughter in the second, serve as a sentimental reminder of the family Amitabh Bachchan lost in Khuda Gawah.
Photo prints from Chandni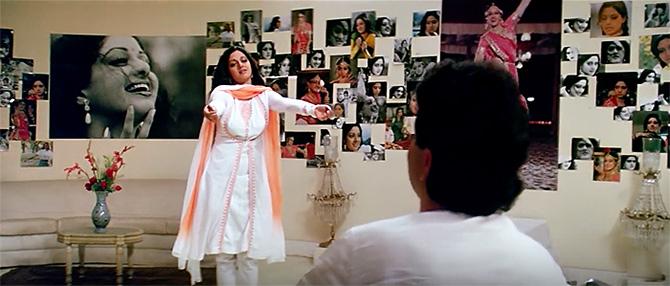 Rishi Kapoor goes wild capturing Chandni's charms in his camera. And if the result is every wall in his room plastered with countless snapshots of Sridevi in all her glory, why the hell not?
Her faithful satchel in English Vinglish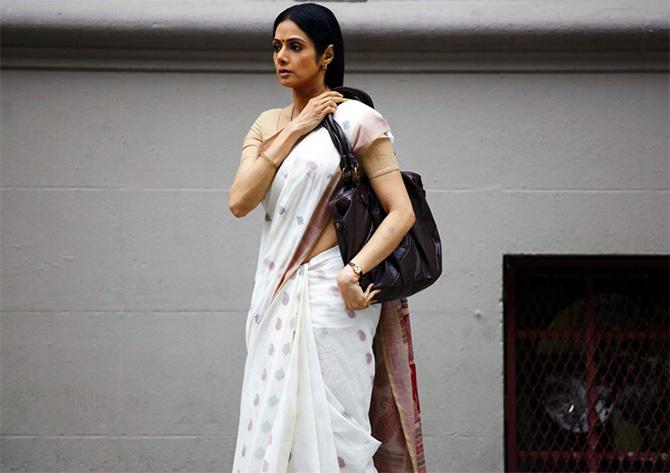 It's there everywhere Sri goes -- carrying her stuff, sharing her strain, staying by her side -- when pretty much everyone in her life takes her for granted.
Her trendsetting transparent raincoat in Chaalbaaz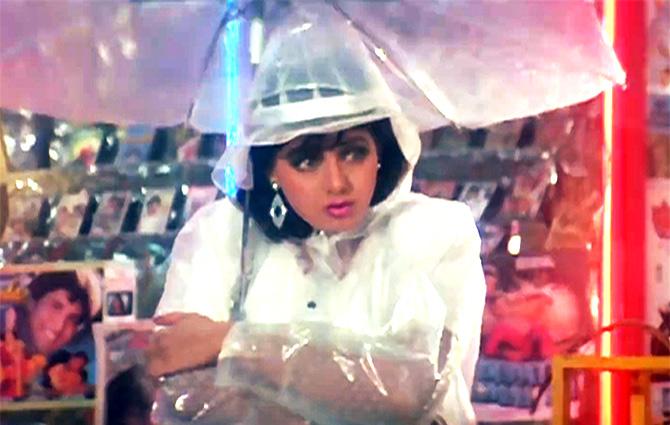 Those things became quite a rage as soon her groovy dance moves in Najaane Kahan Se Aayi Hai hit the air.
The all-black look from Sherni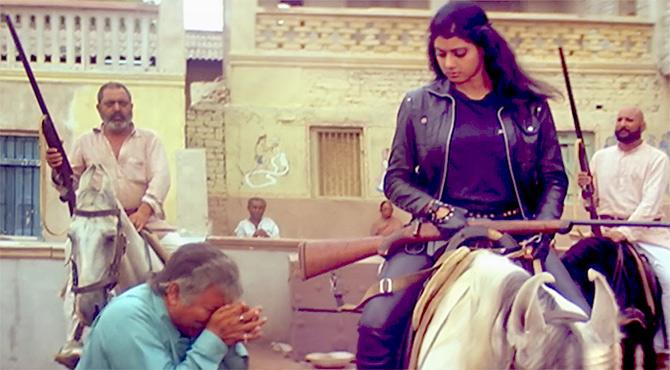 In 1988, when Amitabh Bachchan rocked his Shahenshah avatar, Sridevi unleashed a deadly dacoit in a leather jacket, jeans and headband with a handy bandook and bullets to boot. It's campy and works.
The study slate in Sadma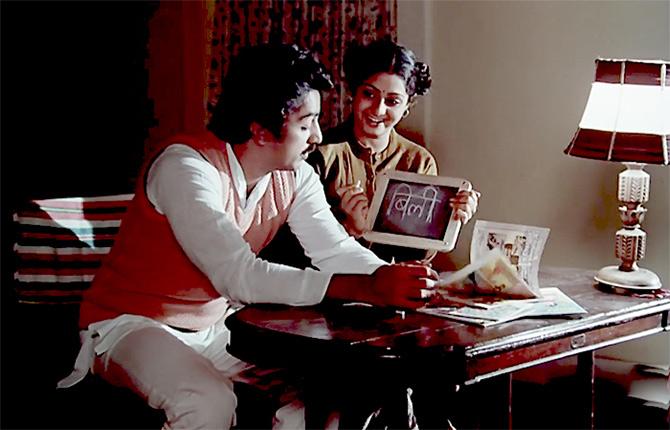 Sri's child-like curiosity in Sadma is etched in many memories and that modest slate on which she likes to scribble with a tiny chalk.
Her cute short hair wig in Gumrah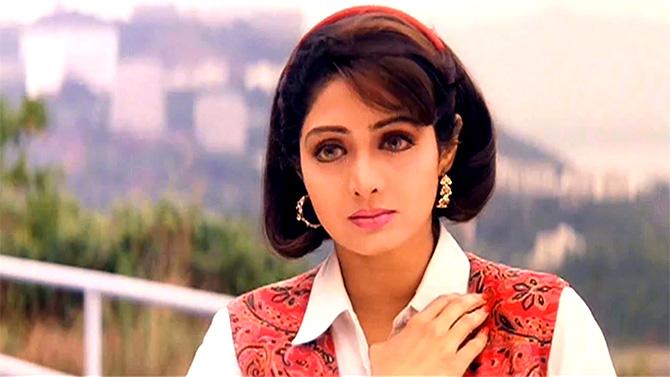 Sri looks both -- adorable and vulnerable -- as the falsely framed young woman rotting in a Hong Kong jail thanks to her rather realistic bob hairpiece.