Arun, 24, is from Kolkata. He's a bartender.
Vidya, 8, studies in an English medium school. Her father is a chaiwala.
Purvika, 9, has big, bright eyes. Her father works in a beer bar.
All of them are united by one cause alone: To become actors and join the film industry.
Rediff.com's Ronjita Kulkarni seeks them out in Dharavi, India's biggest slum.
Meet Adinath Laxman. Video: Vaibhav Kulkarni
Twelve-year-old Adinath Laxman wears a faded orange t-shirt and dark shorts, but his eyes shine bright.
In a surprisingly loud and clear voice, he recites a well-rehearsed dialogue from a popular Bollywood film, and does a good job of it.
After he finishes, he gives a shy smile, and then joins the rest of the class, sitting cross-legged on the floor.
Adinath is one of 25 students taking acting and dance classes at the 5 Star Acting Dancing Classes in the heart of Dharavi, the largest slum in India.
The classes are held in a tiny room in a one plus one chawl. A steep stairway leads you up to it -- it is so steep and narrow that there are no railings at the top end, and you have to hold on to a rope hanging down.
Posters of Bollywood actors like Shah Rukh Khan, Aamir Khan, Salman Khan, Hrithik Roshan and Priyanka Chopra adorn one wall, but the centrepiece is a wall full of photographs of the classes' students, new and old.
There is a small stage at one end, which can fit a maximum of three adults along its width.
The classes may look humble, but it harbours the dreams of so many people.
And they all owe it to one man: Narayan Pundalik, known to everyone as Baburao Laadsaab.
***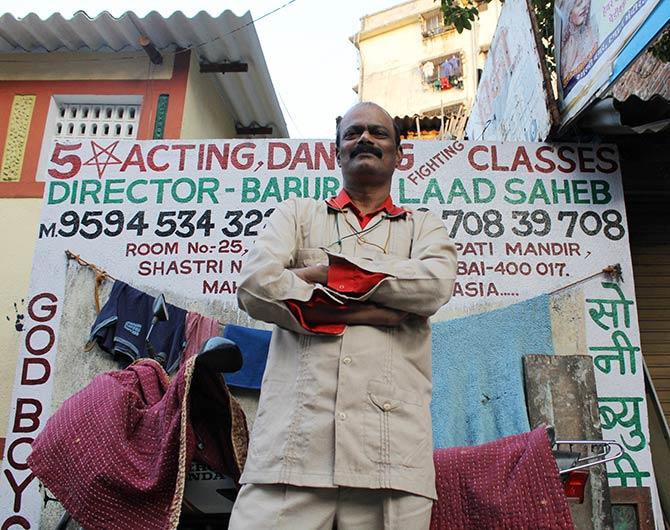 IMAGE: Baburao Laadsaab poses in front of his modest acting classes. Photograph: Hitesh Harisinghani/Rediff.com
"I didn't know how to dance," Baburao says, his loud voice echoing across the room.
"When I was 15, a girl asked me to dance at a party, and I couldn't say no to her. I danced so badly, she started laughing. I felt very bad. I told her that I will dance at her wedding."
"I joined a dance class, and learnt Bollywood dancing, Kathak and Salsa and I did dance at her wedding!"
To learn dancing, he sold his motorbike and mortgaged his gold. He would practice at weddings, because he wasn't allowed to dance at home.
"I had that junoon (passion)... why didn't I know this skill? I have to learn it! I've always had that passion to learn. If I didn't know something, I would learn it. The only thing I didn't learn was lighting -- I had got a lot of electric shocks while attempting. I have learnt everything else, from carpentry, etc, he adds.
Baburao started out as a signboard painter, and worked for a director in the south, S Ranganathan.
His first brush with the movies was when he was asked to paint the names of 10 shops for an Amitabh Bachchan film.
The shooting had stalled because the original painter had fallen sick. Baburao was asked to paint it in four hours, he did it in two.
People appreciated him, and he made a lot of contacts.
He started supplying actors to films. He would go to acting classes and seek them out, and give them work.
Baburao realised he could do a better job at teaching actors, than what he saw at the acting classes.
So he started his own acting classes. He was 20 years old.
***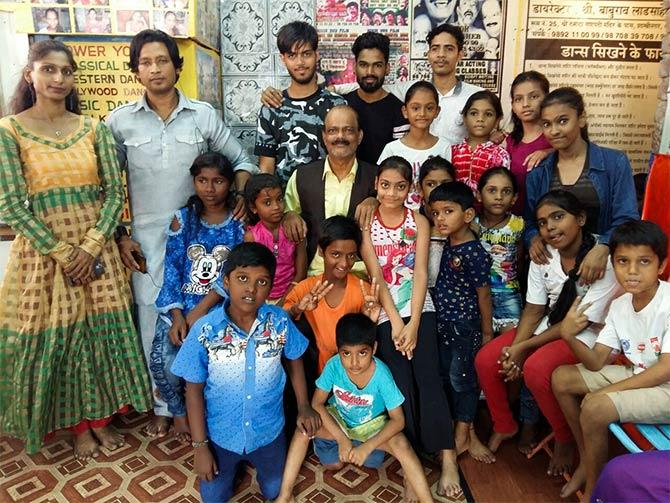 IMAGE: Students at the Five Star Acting Classes pose with Baburao Laadsaab. Photograph: Vaibhav Kulkarni
Thirty years later, Baburao has students coming from all over Mumbai.
Besides the children from Dharavi -- whom he teaches for free -- there are some from Mumbai's far flung suburbs.
The fees varies according to what they can afford, from Rs 100 to Rs 2,000.
"My electricity bill needs to be paid, that's all I want. Otherwise, I don't take money," Baburao explains.
The classes are held every Sunday, since the students are either in school or working during the weekdays, from 11 pm to 3 pm.
Besides acting, he also teaches direction, dance, fights and stunts.
From age three to age 30, all his students hang on to every instruction, every criticism, every word that Baburao says.
***
It took Razik Sheikh a month to memorise this three-minute dialogue. Video: Vaibhav Kulkarni
Razik Sheikh, 30, has been taking the classes for the past year.
He works as a driver, and earns Rs 15,000 a month. He hails from Bihar, and lives with his wife and two sons, aged 12 and 10.
"I want work in the film industry, want to become a good actor," he says.
He is probably one of the best students of the classes, and can say a three-and-a-half minute dialogue impressively.
Sandeep Prajapati, 20, works in a furniture shop, and has been coming to these classes for the last three months.
"I used to get scared (of saying dialogues) before, but I'm more confident now," he says.
Arun, 24, is from Kolkata and got to know about the classes through friends.
He has been learning for two months, but still does not have the confidence to go for the auditions that Baburao informs his students about.
He is a bartender, and has been very interested in acting from childhood.
Vidya, 8, studies in an English medium school. Her father is a chaiwala.
Purvika, 9, has big, bright eyes. Her father works in a beer bar.
All of them are united by one cause alone: To become actors and join the film industry.
***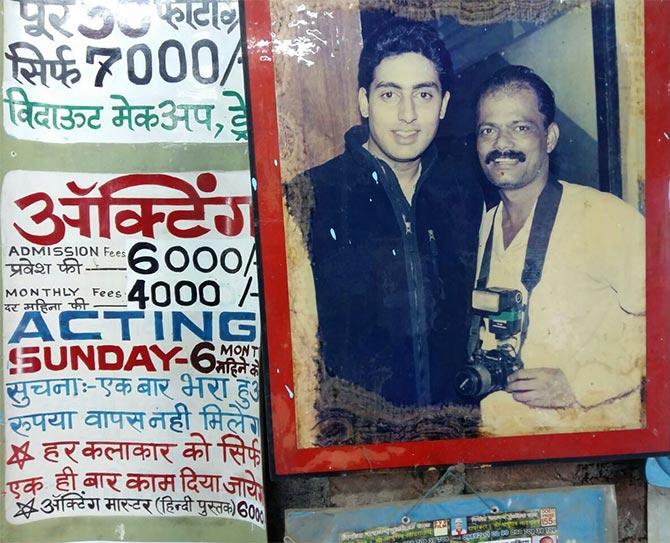 IMAGE: Abhishek Bachchan's picture with Baburao Laadsaab occupies pride of place in his classes. Photograph: Vaibhav Kulkarni
Baburao has provided actors for various films like Slumdog Millionaire and Paa.
"They didn't want fair children for Slumdog," Baburao says. "They chose dusky faces, and entrusted me with the job of training them for three-and-a-half months, like how to beg. They also gave me some dialogues and I had to train the kids with that."
The children got Rs 3,000 per day.
"Before Slumdog, there was a film called Dharavi (starring Om Puri, Shabana Azmi and Madhuri Dixit). It was shot just a few houses away. I helped with the casting and assistant direction. It was a flop because it was meant neither for the classes nor masses. But (director) Sudhir Mishra got an award for it," Baburao recalls.
"Since that film hadn't worked, we weren't that interested in Danny Boyle's film. Who would want to watch a film on Dharavi?" he asks.
Director Danny Boyle came with his crew six months before the shoot started for a recce.
"I didn't know English, so the assistant would translate the instructions to me, and I would explain that to the kids," he says. "We learnt very late that the film had won so many awards, and that we were associated with such a big film."
Baburao helped with the casting of Paa as well, for a sequence involving a slum.
They hired children as well as adults, and paid them Rs 3,000 and Rs 5,000 respectively.
Baburao met the film's lead star Abhishek Bachchan, and has a photograph proudly hung on a wall.
***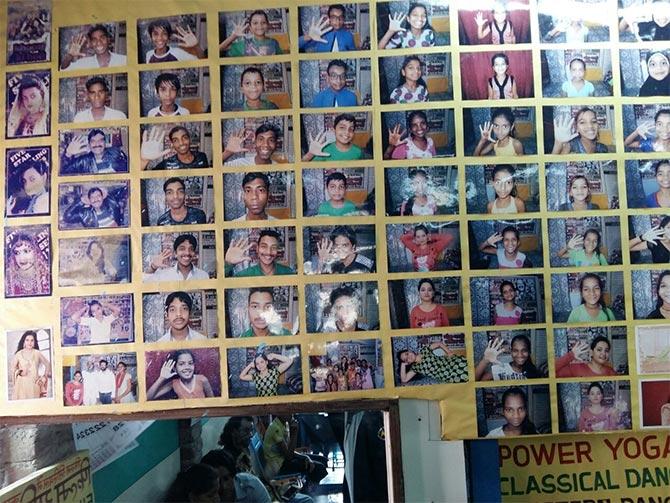 IMAGE: Baburao's students make a splash on one of the walls. Photograph: Vaibhav Kulkarni
Adinath Laxman is one of the lucky few in the classes to land a role in a film.
He stars in the upcoming Malayalam film Moothon.
"The shooting was in Mumbai Central. I have a tapori role. Then a good man comes, gets him admitted to a school and gives him a better life. Then we become better humans. The main hero does the adult role," Adinath says.
The 10-day shoot earned him Rs 20,000.
The money will come in very handy because there is no earning member in his family.
His father is dead, and his mother has not recovered from the grief yet.
"She hardly cooks," Baburao explains. "There is hardly any food in their house."
"Baburao Laadsaab feeds me, and gives me clothes. He gave me these slippers," Adinath says pointing to his modest footwear.
Work in the movies is critical for the little Dharavi resident, as that is the only way he can earn and feed himself.
Like Adinath, Arpita, 11, also auditioned for Moothon and got selected.
But her story is different.
"I went (for the shooting) to Hotel Balwas in Mumbai Central. They gave us food to eat. But my father was here..." Arpita trails off.
"This girl worked there for three days, and then left. Her mother is in the village, and she has to cook for her father. Since she was spending almost 12 hours a day in the shoot, she couldn't get time to cook, so she ran away," Baburao says.
***
Baburao Laadsaab teaches dance. Video: Vaibhav Kulkarni
The students aren't the only ones dreaming for a better career, and life.
Ten-year-old Yashashwini's mother sits quietly in a corner. She has been bringing her daughter, and her three nieces, for the past month.
"I want the children to have a talent that will help them stand on their own feet in future," she says in her soft voice.
"Her father wanted her to do modelling. So I want to make her one. He is dead; I am fulfilling his dream," she adds, her eyes moisting up.
The young mother has made an artist card for Yashashwini, as it is important in order to get work in the film industry.
"But the producers tell me that first I must teach her something so that she doesn't get embarrassed when she goes for auditions. That's why I bring her here," she adds.
"I want to get my daughter trained at a good place, but I cannot afford it. I will bring her here for a year, and then take her somewhere else," she says, adding that she does small jobs of decorating children's clothes, like button work, and earns Rs 6,000 to Rs 8,000 monthly.
She introduces her three nieces: Lekna, 8, Vidya, 8, and Purvika, 9.
"Lekna's mother is a gaonwali, and doesn't know all these things. Her father is a taxi driver. These girls' parents aren't the type who will show them the world."
***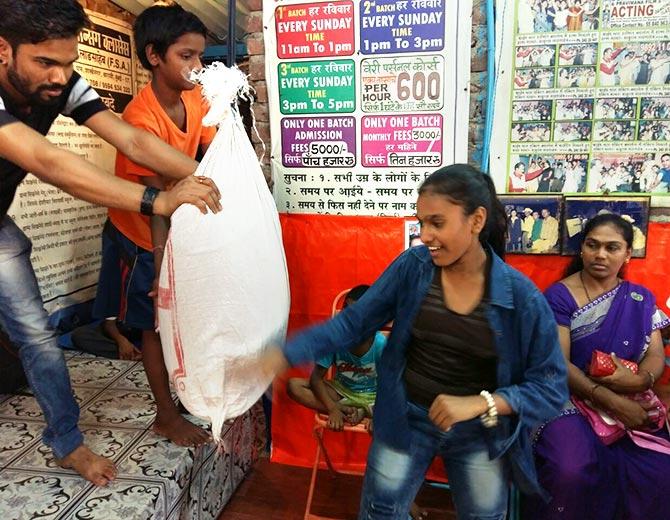 IMAGE: Besides acting and dancing, Baburao also teaches fighting and direction. Photograph: Vaibhav Kulkarni
Kirti Jadhav, 30, is one of the star pupils of the classes.
She joined at 18 to learn dance, and moved on to acting in the next 16 months.
"Luckily, my photograph was on this wall (it still is, and she points at it proudly), and I bagged the television serial Crime Diary through Sir," she says, sipping a chilled glass of water from a stainless steel glass, and nodding at her mentor.
"I did 105 episodes."
She has also sung and starred in Bhopuri albums, as well as Hindi songs.
"In the beginning, I didn't earn much. Now, I earn Rs 3,000 per day. I have gained confidence by coming in front of the camera," she says.
Despite acting for 10 years, Kirti hasn't done much work, she says.
After her marriage, she did not work for some years. She shifted to Kolkata and lived in a slum there.
Now, her sons have grown up, and so, she wants to pursue her career once again. She travels to Dharavi all the way from Bhiwandi, a township north east of Mumbai.
These days, she has bagged the lead -- in a double role -- in a film, Hum To Karenge Pyaar. It co-stars Vijay, another product of the classes. The film has been written by Baburao; he has even sung the songs.
Baburao looks at her proudly, as she speaks.
After all, she is his success story.
Additional reportage: Patcy N/Rediff.com