Chandra Barot's cult film turns 40.
Justin Rao speaks to Don's director.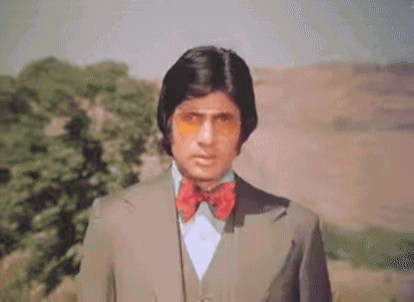 Don was a Salim-Javed script that many big stars in the industry passed on, but Amitabh Bachchan, Zeenat Aman and Director Chandra Barot decided to take on the 'difficult' project to pull one of their friends out of debt.
Released on May 12, 1978, Don -- featuring Bachchan in a double role, that of a mafioso and a simpleton -- went on to become a blockbuster with its racy music, iconic dialogues and pulsating action.
In an interview with PTI, Chandra Barot traces the birth of Don, how several stars rejected the film and how he once made Bachchan eat 40 paans just to get a scene right.
Barot was Manoj Kumar's long-time assistant director and became friends with Bachchan and Aman during the shooting of Roti Kapda Aur Makaan.
He also developed a close bond with the film's cinematographer, Nariman Irani, whom they fondly called 'Bawa'.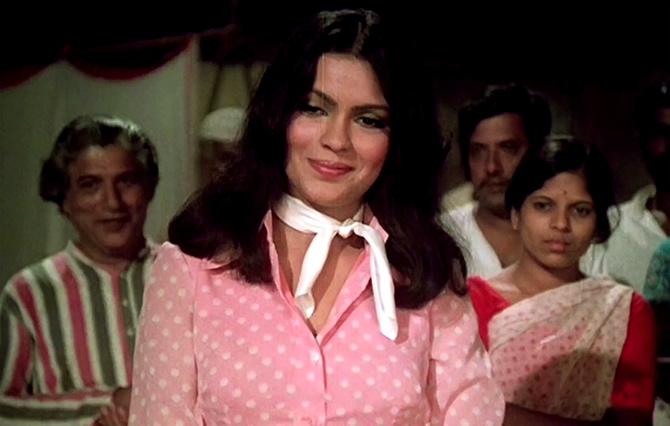 In 1972, Irani produced the Sunil Dutt-Waheeda Rehman starrer Zindagi Zindagi, but the film bombed and Irani found himself in debt.
"Because we all were working together -- Amitabh, Zeenat and Pransaab -- we were friends. We decided to make a film for Bawa to help him come out of the financial mess. Even Manojji suggested the same. But we didn't have a script," Barot recalls.
As luck would have it, Irani's wife was Waheeda's hairdresser and knew writer Salim Khan.
"We asked her to put in a word for us. When we met Salim, he didn't have a script ready, but told us, 'There is one subject which no one understands'. In the '70s, we had 'thakurs' and no one had heard the word 'Don'."
"Dharmendra, Jeetendra and Dev Anand had refused the film. But we said, 'We don't care, we just want 'Salim-Javed' written on the posters'. It was a ready script and we took it immediately. It didn't even have a title. Everyone in the industry called it 'Don waali script'," Barot remembers.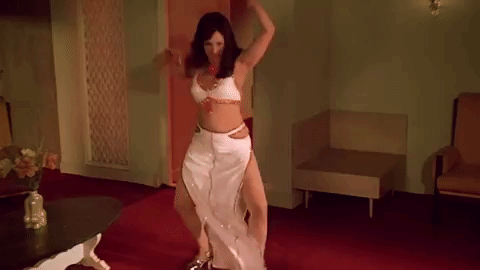 The first day of the film was to begin with the shooting of Yeh Mera Dil Pyaar Ka Deewana, but they did not have enough money, so Barot took Rs 40,000 cash from his sister, singer Kamal Barot, and the set was created.
"There was a scene in Shah Rukh Khan's Don remake, where he jumps off a plane. That single shot's budget was our entire film's budget -- nearly Rs 84 lakh," Barot says.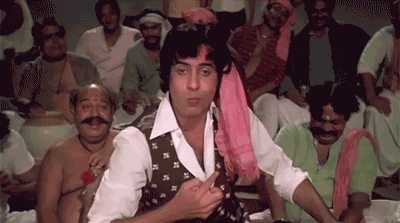 It was not just Helen's Yeh Mera Dil which became popular, Bachchan's Khaike Paan Banaraswala became a talking point of the film.
The song was added after the film was complete and Manoj Kumar had a role in getting the song included at the last moment.
"Manojji saw the film and he was angry. He said, 'Second half of the film is so tight, there is no loo break! Please add a song so that people can go to the washroom'."
Javed was initially reluctant about making changes in the script, but Chandra cracked an idea during a music session with composers Kalyanji-Anandji and lyricist Anjaan. Anjaan said every time he used the words 'Banaras' and 'Ganga', the songs worked.
Barot then spoke to Javed and they decided to set up the sequence as a Banarasi boy who eats paan and makes merry.
Bachchan, Barot says, had injured his foot while shooting for Laawaris.
"So if you watch Khaike..., he is limping. It is not choreography. He was actually injured!" he exclaims.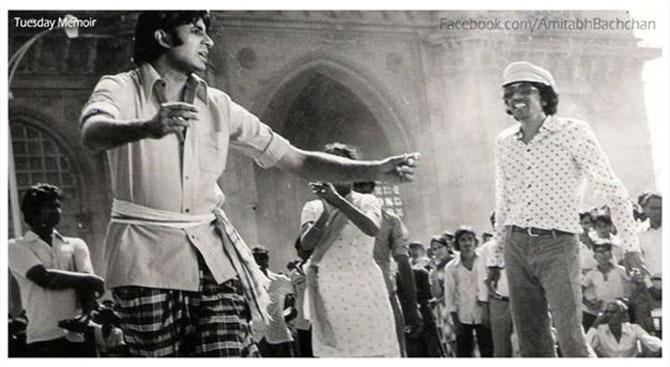 For Vijay's introductory song, Yeh Hai Bombay Nagaria, Barot was inspired by Sanjeev Kumar's Naya Din Nayi Raat look and decided to make the character a lungi-clad paan-chewing singer.
"Anandji used to eat a lot of paan and by the end of the day, his lips would have a red layer, a look which was not possible to create with make-up. So, we ordered 30, 40 paans and made Amitabh chew them till we got the look right."
"We got our scene, but the next day he could not speak as his tongue was cut because of the chuna in the paan. So the next day we ordered paan without chuna in it. Though Amitabh still scolded me!"
The director says a popular journalist wrote his 'obituary' just before the film's release as Yash Chopra's Trishul had released a week earlier and was a big success.
Bachchan also had releases like Ganga Ki Saugandh, Besharam and Muqaddar Ka Sikandar that year and then there was Don.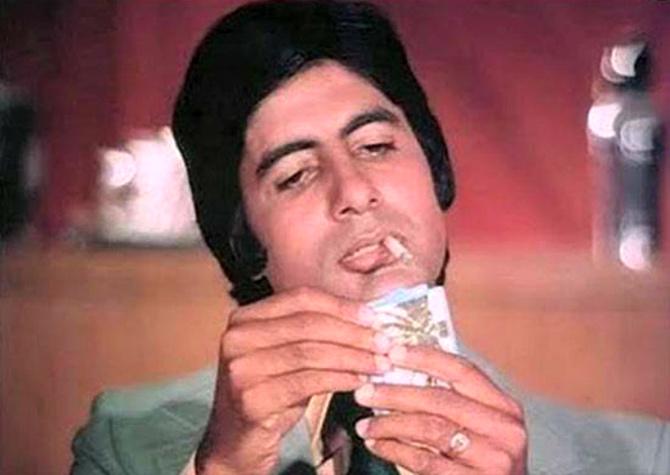 Barot lights up as he remembers the release day.
"The advance booking line was so long, I still have the photographs with me," he says.
Sadly, Irani, who had produced and shot the film, died six months before the release and could not see how the film would go on to rewrite the thriller genre in Bollywood.
"Before the release, we all let go of our remuneration. Amitabh was signed for two-and-a-half lakh; he let go his one-and-a-half lakhs. Zeenat let go her one-and-a-half lakh, Pransaab was the highest paid, five lakh, even he left half of his money. I let go of mine too."
Looking back, Barot has the fondest of memories of shooting the film.
"It was a picnic. We had no clue that a film no one wanted to make will one day become the one people can never forget."