'Dashing, charismatic and impossibly good looking, a to-the-manor-born superstar who walked the tightrope between mainstream potboilers and arty parallel cinema with amazing grace.'
Raja Sen salutes Shashi Kapoor.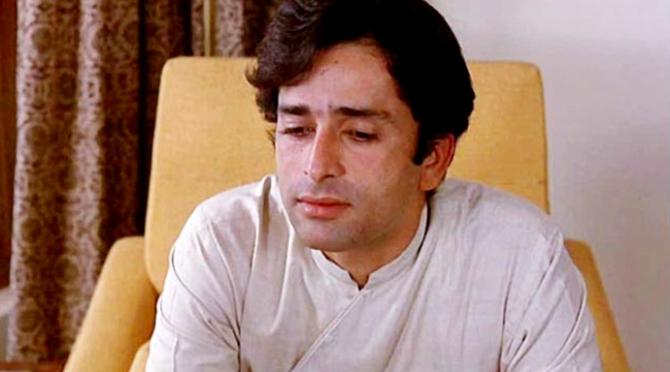 IMAGE: Shashi Kapoor in New Delhi Times.
Shashi Kapoor.
Dashing, charismatic and impossibly good looking, a to-the-manor-born superstar who walked the tightrope between mainstream potboilers and arty parallel cinema with amazing grace.
Everyone loved Shashi, the man who made our mothers swoon and our fathers smirk in solidarity.
To my mind, what made Shashi Kapoor special was that he was so much more than a leading man: He was also very memorably the man holding up the leading man.
Make no mistake, there were some phenomenal Shashi solos -- The Householder, Shakespeare Wallah, New Delhi Times, those many merry excursions with Nanda and Babita coasting on his irrepressibly roguish flair -- but what he did even better was the stuff with other actors.
Multistarrers like Waqt and supporting roles like Deewaar saw him unerringly bringing out the best in the performers around him, himself gamely often coming in to bat during the hammiest, stickiest of moments and making them work, carrying them through.
He was the Rahul Dravid of our cinema, a man with enough pure gamesmanship to ably and confidently support actors more eager to stay center-stage.
In films like the hilarious Pyaar Kiye Jaa, he benevolently forked over the spotlight to the funnymen, and Haseena Maan Jaayegi may be called his breeziest solo film only because he shared leading-man duties -- albeit with himself in a double role.
A frequent beneficiary of the Shashi Kapoor rub was Amitabh Bachchan, often gaining much simply by association as Kapoor nonchalantly classed up the productions and both actors -- visibly enjoying playing off each other -- upped their game and went for broke, no matter what the film demanded.
It is simple, thus, to here single out a film like Deewaar or Kabhi Kabhie, one of those critically lauded gems, but I've always felt a truly splendid performer is the one able to shine even in the silliest film.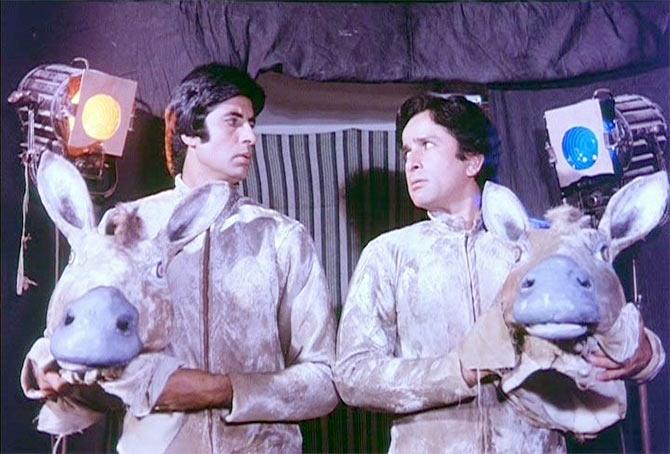 IMAGE: Amitabh Bachchan and Shashi Kapoor in Do Aur Do Paanch.
Shashi Kapoor is, in many ways, at his most enjoyable -- and certainly his most liberated -- in Do Aur Do Paanch: He is stunningly free of self-consciousness, full of vim, mainstream in the most mod manner and yet always nuanced enough to show he is playing it all with a giant wink.
Directed by Rakesh Kumar, Do Aur Do Paanch is a cartoonish film -- complete with animated, Pink Panthery opening credits -- about two rival conmen (Kapoor and Amitabh Bachchan) often fighting over the same target.
Both are masquerading as teachers at a boarding school where they want to kidnap the shrill scion of a multimillionaire.
It is an uproarious comedy, a broad farce that nevertheless holds enough subtlety to earn many a repeat viewing, one where the director gives each actor great elbow room.
And since Parveen Babi and Hema Malini accompany the leading men, this decision makes for a wonderful free-for-all, a big A-list party where the sheer ebullience and vitality of the performers invariably infects the audience.
Kapoor, without a doubt, gets the short end of the stick.
Bachchan, masquerading as the PT teacher who hides hooch in his trophies and unforgettably conjures up an imaginary childhood friend to hoodwink an easily confused Parveen, has the naturally 'cool' role and the sharper lines.
Kapoor, as the sullen music teacher, has to make do with glumly wrapping himself up in a shawl, calling Kader Khan his uncle, and singing a song in a ridiculous voice.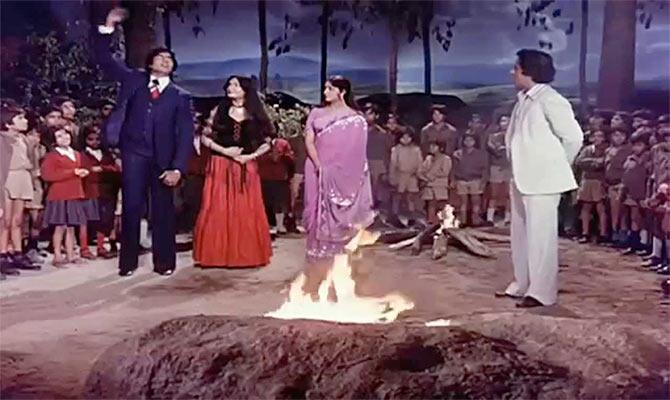 IMAGE: Amitabh Bachchan, Parveen Babi, Hema Malini and Shashi Kapoor in the song Tune Abhi Dekha Nahin in Do Aur Do Paanch.
But hark, for it is in the performance of that song -- the marvellously playful Tune Abhi Dekha Nahin -- that we see Kapoor soar, a singer sabotaged into croaking who stumbles catastrophically all over his performance and yet one who finally, opportunistically, gets his own back.
Just like with that song where he's forced to make the most of a trying situation, Kapoor carves out many an unexpectedly magical moment throughout Do Aur Do Paanch, whether sobbing absurdly loud for Hema Malini's benefit or coaxing children to force-feed Bachchan dozens of puris.
There are arguably greater Kapoor performances in more sophisticated films, but there's something rather special in the way he dazzles through this minor but magnificent role, one he embraces with unfettered glee.
And that is what, in my mind, characterises Shashi Kapoor, a man secure enough -- and, indeed, magnanimous enough, a big enough actor -- to let anyone else think they were the lead while he himself stood around getting soaked by a watering can.
Because any fool can play hero, but only a real hero dare play the fool.
This feature was first published in March 2015.