Sanjay Mishra's beautiful home is where he holds his script-reading sessions, costume trials and look tests.
He invited Rediff.com in.
Photographs, video: Hitesh Harisinghani/Rediff.com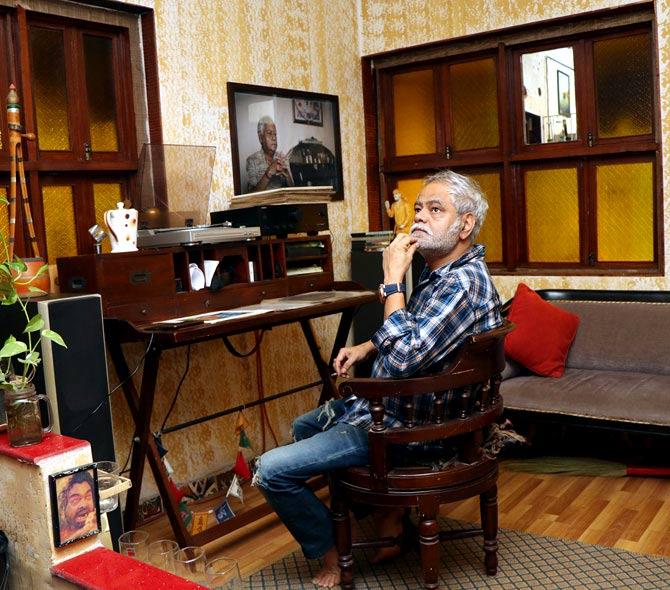 One of Bollywood's busiest actors is enjoying a day off.
Sanjay Mishra, who gave up acting at the prime of his career and left Mumbai to work in a dhaba in Rishikesh, has worked in several hits -- All The Best, the Golmaal movies, Jolly LLB 2 and many, many, more.
The nameplate on his house reads Pal and Lamha, after his adorable little daughters. A sketch made by a fan, when he was filming Kick 2 in Hyderabad, sits above the nameplate.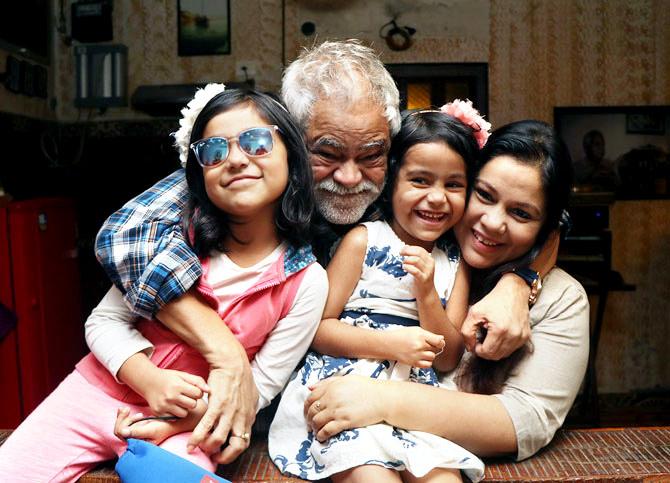 Sanjay Mishra's apartment is beautifully done up.
His love for music and photographs is clearly visible.
"After 20 years, I don't have a bank balance, but I have a music balance," Mishra had told Ronjita Kulkarni in an eloquent interview three years ago.
His living room has two gramophone players and four big speakers.
The walls have pictures of his family, mostly shot by him on his Canon 7D.
Mishra says he was reluctant to come to Mumbai initially.
"Main waise aana nahi chah raha tha Mumbai par mere gharwalo ne bhagaya mujhe (I didn't want to come to Mumbai but my family members made me come)," he says.
When he first arrived in the city, he stayed with a relative in Borivali, north west Mumbai.
"I have a special connection with Versova (also in north west Mumbai); I have stayed in a lot of apartments here," he says.
He bought his first home while he was working on the hit television show, Office Office. It is located barely seven minutes away from his current residence.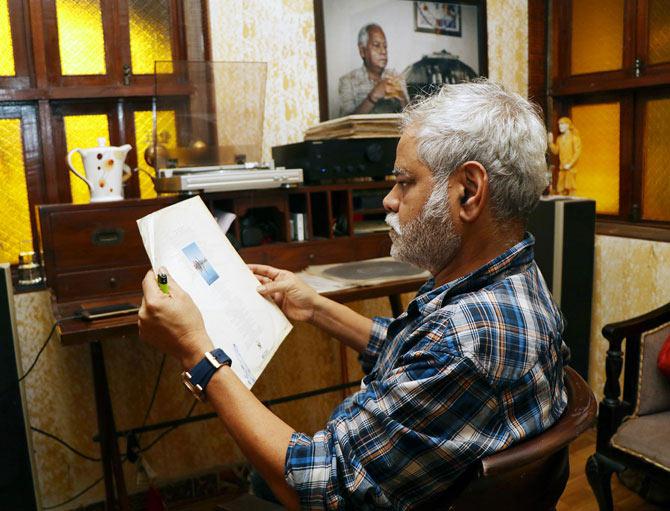 Mishra shifted to this beautifully decorated home during the prep for Dum Laga Ke Haisha.
The actor has two flats in the building.
He lives with his family in a rented flat. This apartment in the floor below belongs to him, and he uses it as a meeting place. This is where he holds script reading sessions, costume trials and look tests.
But it is his home in Varanasi that he is clearly attached to -- a big yellow house with green windows.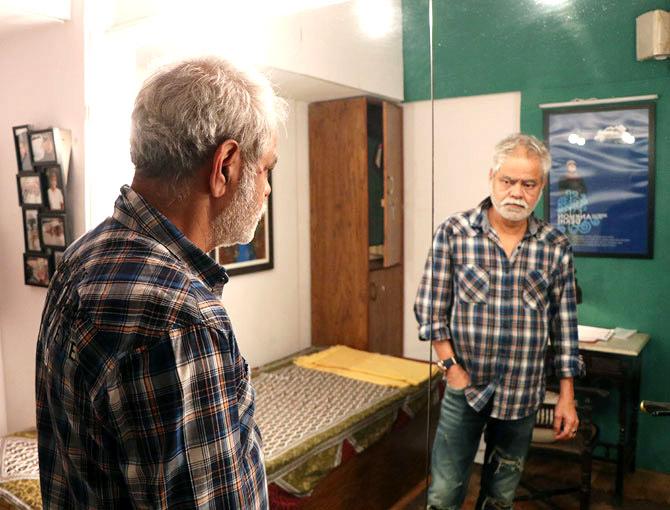 A man of many talents, Mishra is also a good cook.
He recommends the Naga Mirchi from Nagaland (also called the Bhut Jolokia).
One chilli, he claims, is enough for a kilo of meat.
These days, he is hooked onto Indian round gourd.
"Aajkal maine tinda khana shuru kiya hai, parathe ke saath badhiya lagta hai (I eat the Indian round gourd these days; tastes lovely with parathas)," he says.