Bollywood inspired weddings, Dharmendra's cringe-worthy attempt at realism, Sridevi and Aishwarya's painful connection and more in Sukanya Verma's Super Filmi Week.
Monday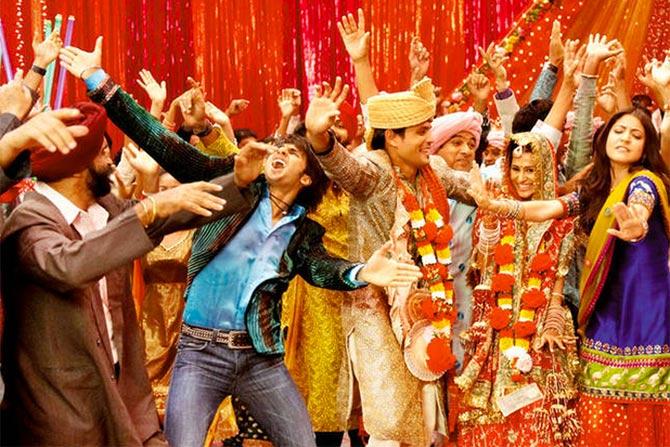 Padmavati protestors can gripe all that they want, but Hindi films are an indispensable part of India's identity.
Whether the escalating controversy is political, religious, sensationalised or plain foolish, all I know is everywhere I go, I witness Bollywood's reach and presence in the most reassuring manner.
I was in Bali, Indonesia, last month and the local cabbies, people who can't speak a word of Hindi (or even English for that matter), were into songs of Aashiqui 2 and Kal Ho Naa Ho.
On learning I am from India, they'd exclaim 'Amitabh Bachchan' or flatter my puckish baby nephew as 'handsome Shahroook Khan' to convey their fondest impressions of India.
A week later, I attended a big fat Punjabi wedding in Kanpur, the kind you'd expect Bittoo and Shruti's Shaadi Mubarak (Band Baaja Baarat) to give their all.
I am not exaggerating when I say it felt like I had wandered inside a variety of kitschy Bollywood sets featuring women in Thai costumes and ABCD-styled dance troupes, video montages of the bride and groom striking all kinds of hero-heroine poses against historical monuments before making an entry sporting and sashaying to Kaala Chashma.
At another wedding in Lucknow today, I once again notice how Bollywood's idea of celebration and ceremony inspires and upholds the flurry of festivities.
Funny that the same medium should be repeatedly reproached for demeaning tradition and culture.
Tuesday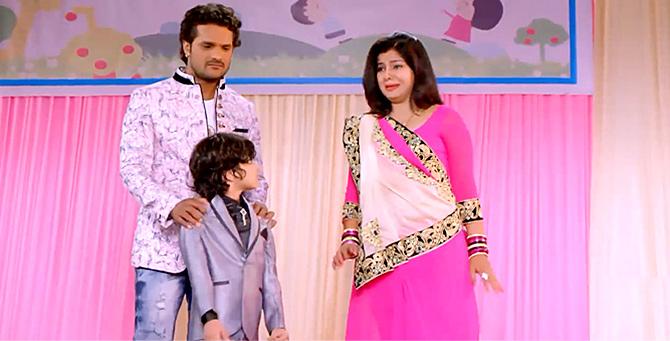 The fog is at it again.
My train to Delhi is delayed by a good two hours. It's not even daybreak and I am stuck at Lucknow's Charbagh railway station chattering my teeth in cold and anticipation.
In a Mani Ratnam film, I'd probably be treated to a chatty SRK and hot cuppa chai, but my reality is closer to an Amol Palekar film.
Predictably, the sleepy Rajdhani compartment is teeming with people from all corners.
Fortunately, I've got a side upper berth and evade a fair bit of human contact. Except any hopes I have to catch up on sleep are soon quashed after the uncle on the facing upper berth turns on his phone to watch a movie in ear-piercing volume.
It wasn't on my bucket list, but for what it's worth I can now claim to have watched, correction heard, an entire movie in a language I don't quite understand.
My curiosity is piqued after noticing the background score of this mysterious hokum is the same as the title track of Anil Kapoor-Sridevi-Urmila Matondkar's melodrama Judaai.
Putting Shazam's instant music identifying powers to good use, I eventually figure the film in question is a Bhojpuri drama called Saajan Chale Sasural 2.
Nope, this is in no way connected to the David Dhawan comedy. This is much crazier than you can imagine.
Think Abhimaan meets Raja Hindustani meets Aa Gale Lag Ja meets Kuch Kuch Hota Hai.
I know, I know, I am surprised I didn't jump off the train.
Wednesday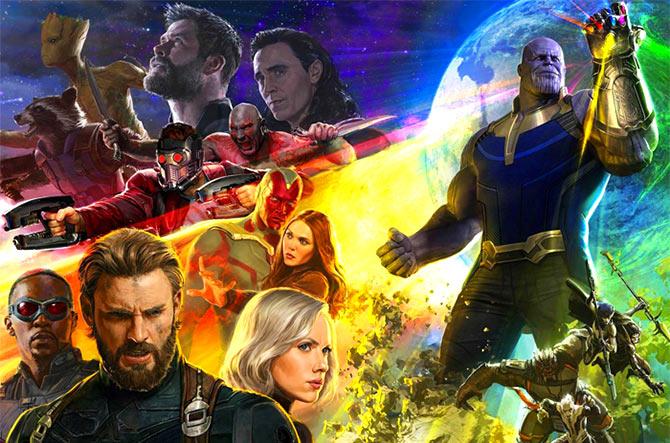 The granddaddy of all superhero movies is here. Well, at least, that's what the Avengers Infinity War trailer feels like until the next granddaddy comes along.
The only thing that matters about it is that it's got e-v-e-r-y-o-n-e and more.
There's so much to love about the Marvel teaser that hits the screens in May 2018.
Right from Nick Fury's 'There was an idea...' opening to Black Panther's 'Get this man a shield' to Thor scoffing 'And who the hell are you guys?' at the Guardians of the Galaxy assemblage, Infinity War brims with promise.
At the heart of this collective excitement and unanimous approval is Marvel's triumph in putting together a star-studded fantasy movie buffs dream of.
More than doing justice to the abundant talent involved, I am hoping it will have fun with it. That's what matters and what's missing in the biggies of this era.
Of course, MCU realises this better than most.
Thursday
Throwback Thursday must hold a special place in my life to overlook all the exciting new Netflix shows and settle for the 1983 historical Razia Sultan on television.
It's one of the first few films I saw on big screen. Apart from Khayyam's melodious songs, Hema Malini's coronation scene and a javelin piercing through her and a bodyguard in the climax are my most profound memories of Kamal Amrohi's expensive flop.
That 'bodyguard' is Dharmendra, of course.
Funnily, I have no recollection of the actor in it.
Perhaps it's got something to do with the fact that he appears like he's just stepped out of a box of cheap paint to justify his character, Yakut Jamaluddin's African origins.
This is disturbing on so many levels. Did someone protest? Holler for bans?
Friday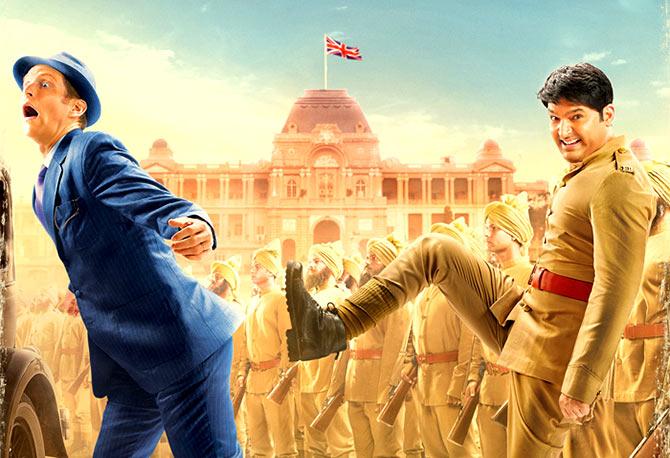 Stepping out of the house in Delhi winter feels like a chore and after enduring the first day first show of Kapil Sharma's Firangi, a slog as well.
It's what I wrote in my review, 'Every time comedian Kapil Sharma opens his mouth, you expect the mandatory 'boing' sound or a laugh track to go off. What was exasperating on his television show is plain embarrassing in a period drama that insists you take him seriously.'
'Who are they kidding?'
'Sharma is never winning the Hugh Laurie medal of versatility.'
'He could barely pull off a Govinda in the polygamous farce Kis Kisko Pyaar Karoon.'
'With Firangi, a pre-Independence mishmash of romance and drama, which he produces and stars in, he confirms he's no Shah Rukh Khan either.'
'At best, a serviceable buffoon with a flair for repartee, Sharma is awfully limited in his humour and screen presence to perk up this half-decent premise.'
Wonder how I would feel about Padmavati had it actually released on December 1 like it was meant to.
Saturday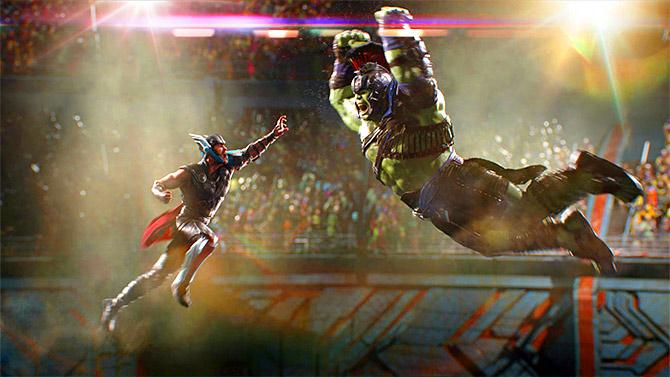 All this traveling in the last few weeks prevented me from catching Thor Ragnarok in theatres.
Luckily, there are still a few shows running in a theatre close to home. It's so nice that Thor f-i-n-a-l-l-y gets to be goofy and gutsy in ways that marks a refreshing change from his erstwhile stuffiness.
I enjoyed Ragnarok's glowing magnificence, generous humour and wicked gusto to the hilt, but the greatest whoopee moment when, not really a spoiler alert, Hulk emerges as Thor's unlikely opponent in Sakaar's fighting arena was ruined for me by that thing called trailer.
I can understand profit-desperate studio's marketing compulsions but I so wish it was left a surprise.
The thumping sound of dropping jaws would have filled the cinemas.
While I don't see the trend of 'tease the fans with just a little more' changing any time soon, it's made my stance to avoid trailers of these mega movies really strong.
At least not after the first one.
Sunday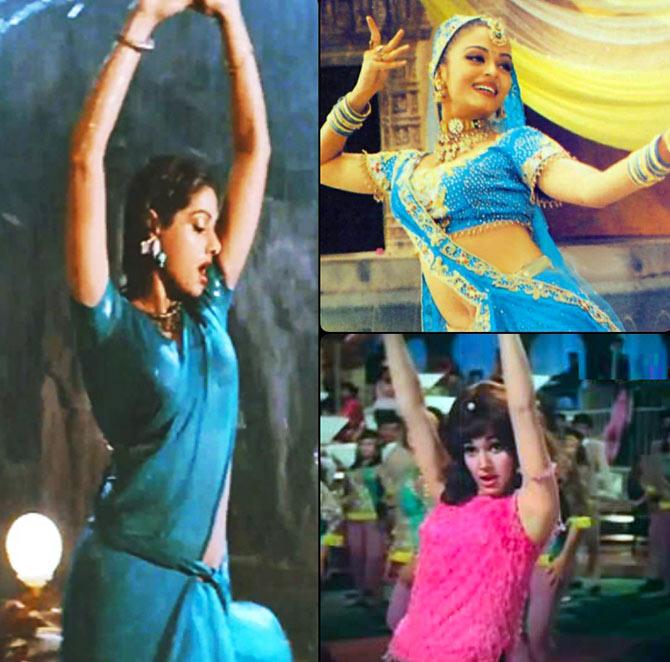 Here's a did-you-know I figured today.
Asha Parekh, Sridevi and Aishwarya Rai Bachchan's dancing prowess is undisputed.
What's fascinating is that all three were going through a tough time health-wise when they filmed one of the most memorable songs of their career.
Asha Parekh was hit by this awful bout of allergy while shooting for Teesri Manzil's Aaja Aaja chartbuster. She had to pop a lot of Avil to finish the intricate steps in one go even though it made her super groggy and sore. Bet you didn't even notice.
Sridevi was suffering from high fever when Shekhar Kapur shot the scorching Kaate Nahi Kat Te on his drenched sari-clad leading lady. Clearly, Jhanvi has mighty shoes to fill.
And Ash's swollen feet didn't come in the way of her dynamic dancing to Nimbooda Nimbooda in Hum Dil De Chuke Sanam.
Why shouldn't the leading lady make as much money as her male co-star?