Rimple and Harpreet Narula, designers for the lead cast of Padmavati, tell Rediff.com's Archana Masih that it will be quite a task to replicate the fragile and elaborate costumes.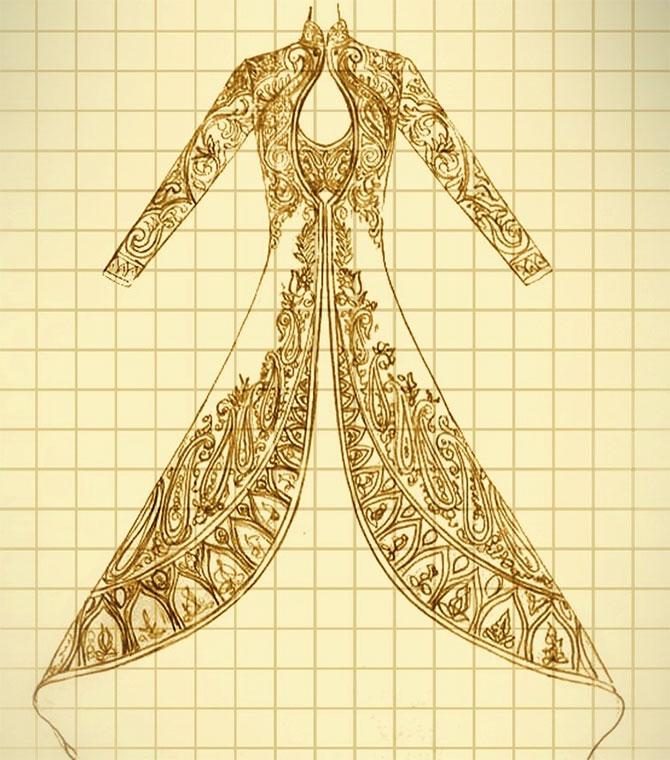 IMAGE: A design reference for Padmavati from the designers' 'Maharaja' creation.
The designers are bound by contract not to reveal the look of the film.
Image: Kind courtesy Rimple-Harpreet Narula.
Sources from the crew have told us that unidentified people attacked the sets in the wee hours of morning and petrol bombs were thrown.
The damage is humongous, the whole set is burned, nothing could be salvaged.
Luckily, no life has been lost.
I don't know how many costumes were damaged.
Costumes are always present at the venue of the shoot.
Three schedules of the shoot are over, and we have already sent the garments for those.
We are designing costumes for the four lead characters (Deepika Padukone, Ranveer Singh, Shahid Kapur, Aditi Rao Hydari) and have provided plenty of costumes which are prepared well in advance.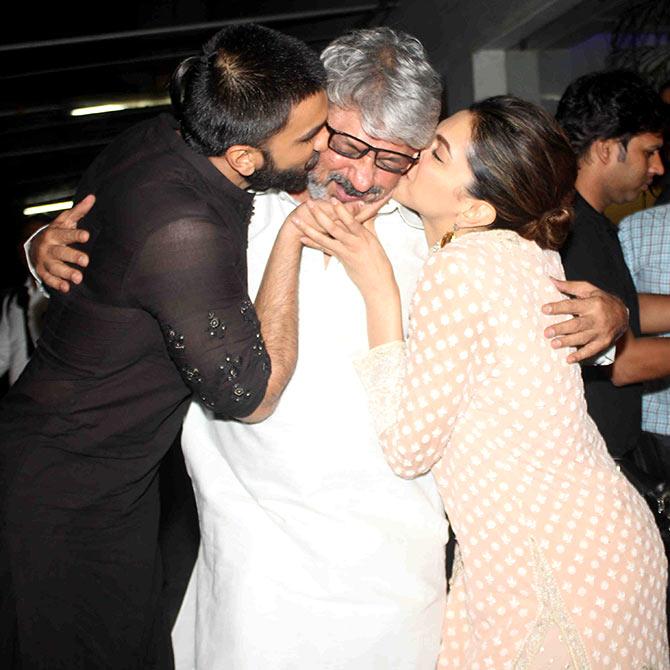 IMAGE: Filmmaker Sanjay Leela Bhansali with Ranveer Singh and Deepika Padukone. Photograph: Pradeep Bandekar
These costumes are very fragile.
We have created them from a lot of research and it will be quite a task to replicate them.
Some of them are antique pieces and irreplaceable. These are not regular costumes that can be made overnight.
The fabrics we used are old textiles that we collected over time. There were no power looms and only hand embroidery in those days.
So a lot of detailed embroidery has gone into making them look from the era the characters lived in.
We have been working on the costumes for eight, nine months.
After getting a brief from Mr Bhansali (director Sanjay Leela Bhansali) we visited a few museums, collected information from photographs, books and spoke to historians.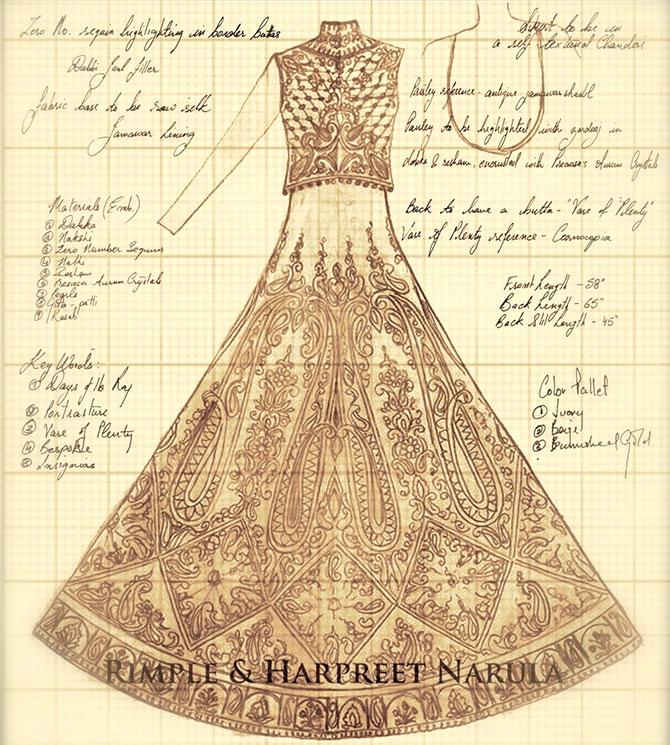 IMAGE: Another design sketch which serves as reference for the film's costume.
Image: Kind courtesy, Rimple-Harpreet Narula
Our last creation was based on the royalty of India and before that we had done a collection on the Uzbeki belt -- from Afghanistan to Uzbekistan.
We collected material from antique markets.
For the Rajasthani costumes, we have used vegetable dyes and picked up motifs and colours prevalent at that time.
We have made 40 odd costumes for the character of Padmavati.
The movie flows from one part to another. A long time goes into research and takes about 15 days of man hours to make a light ghagra and 2 to 3 months for a heavy costume.
Mr Bhansali has a vast knowledge of textiles. He has worked with so many designers in the past that there is lots to learn from him. We have worked in tandem with what he is looking for.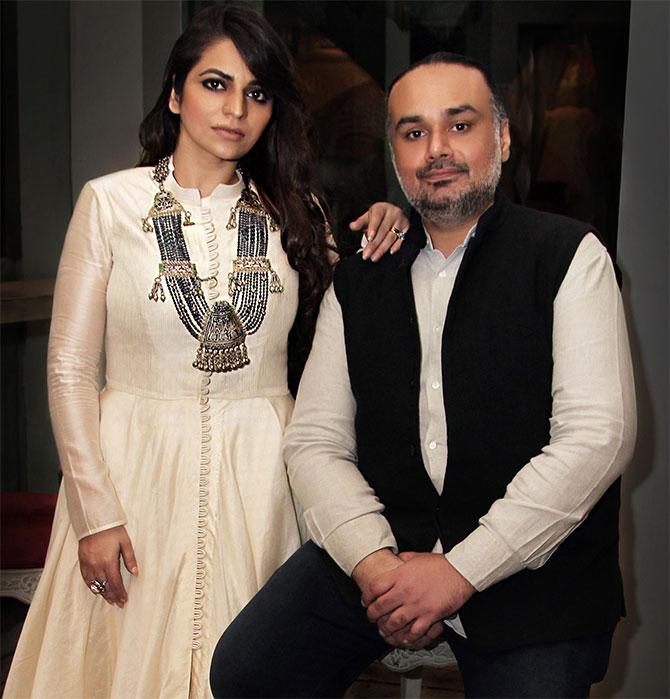 IMAGE: Padmavati is Rimple and Harpreet Narula's first film assignment as designers.
Image: Kind courtesy Rimple-Harpreet Narula
We received a call from his office that he would like to see us. We were nervous and went prepared to meet him.
Mr Bhansali was amazing. It is our first movie and he made sure we met each of the stars.
We were introduced to them and they are all amazing to work with.
Since costumes are very elaborate, he likes us to be on location when a new scene is set so that it is worn exactly the way it has been envisioned.
The violence is very unfortunate. Mr Bhansali has already said so many times that there is no such dream sequence.
He has delivered such amazing cinema. It is very sad that someone like him is attacked.
He is a very strong man and I am sure he will bounce back.