'The laughter stopped when Shammi was about 80.'
' The last eight, nine years of Shammi Aunty's life were miserable.'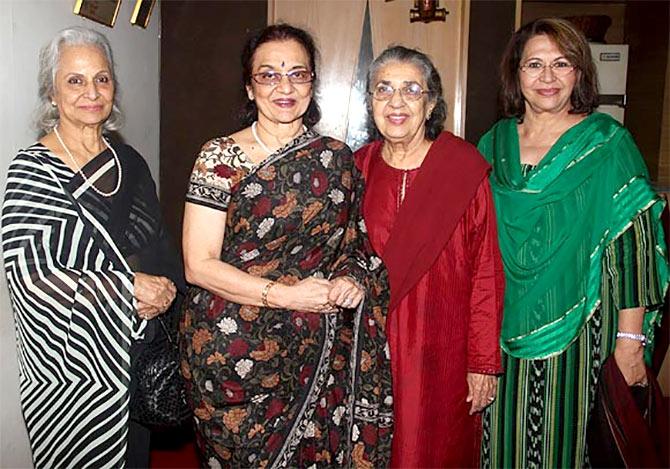 IMAGE: BBFs forever: Waheeda Rahman, Asha Parekh, Shammi and Helen. Photograph: Pradeep Bandekar
Shammi -- who entertained audiences for more than 60 years -- passed into the ages on Tuesday, March 6.
Fondly called Shammi Aunty, she was 89 and leaves behind an adopted son Iqbal Rizvi who lived in the neighbourhood.
Asha Parekh -- Shammi Aunty's best friend for more than 50 years -- is barely able to contain her sorrow.
"I haven't wept so much since I lost my parents. I called her Shammi Aunty," Ashaji tells Subhash K Jha.
"She was much older than me, but we were best friends for years. She shared everything with me. It was a natural born trait in her to win people's confidence. She was close to many actresses who poured their hearts out to her."
"With me, it was special. We had spent decades together. She was my closest friend, confidante and after my parents' death, a guardian angel. Now she's gone."
Ashaji breaks down as she recalls the memories with the ever jovial Shammi who made so many people laugh on and off screen.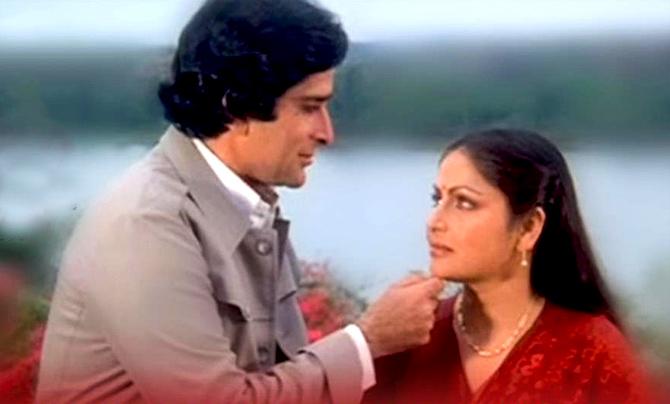 IMAGE: Shashi Kapoor and Raakhee in Pighalta Aasman.
Raakhee, who starred in Pighalta Aasman, the 1985 film Shammi Aunty produced, recalls, "Shammi Aunty taught me how to laugh out... to not hold back my laughter. As girls, we were always taught not to laugh loudly. Shammi Aunty made me realise that there was nothing unwomanly about a loud laugh."
In 1970, Shammi married film-maker Sultan Ahmed, but called it the biggest mistake of her life.
"I did Sultan Ahmedsaab's Heera only because of Shammi Aunty," Ashaji says.
"The laughter stopped when she was about 80. The last eight, nine years of Shammi Aunty's life were miserable. Her health was failing and she often had no domestic help. She would come and stay with me. We couldn't share as much laughter as we did earlier since her hearing was affected," she adds.
Born Nargis Rabadi into a family of Parsi priests in 1929, Shammi Aunty started her career in films in 1949 with Sheikh Mukhtar's Ustad Pedro. It was a hit, and after that, there was no looking back.
When her comic role in 1955's Masafir Khana clicked, she got typecast in similar roles.
"Mujhe comedy mein bada maaza aata hai. Main hoon hi waisi (It's great fun doing comedy. I am like that only)," she once told me over dinner at Asha Parekh's home.
"I want to continue acting, it's the only thing I know how to do. But movie offers have stopped coming for a while. I was doing television, but that has also dwindled. So I am sitting idle," she said.
"At my age, to be workless is to be worthless. Lekin main aaj tak kabhi kissi se kaam maange nahin gayi (I have never gone to anyone to ask for work). Why should I do so now? I am happy getting what comes to me. I'm grateful to God that I still get work. He has been very kind to me."
"Boman Irani once asked me how many films I had done. I had no clue! Recently, someone googled and found out that I had done nearly 200 films! I was amazed. When did I do all these films? Time just flew by!"
Shammi Aunty's last film was Bela Sehgal's Shirin Farhad Ki Toh Nikal Padi in 2012.
I will always remember Shammi Aunty as the irresistibly friendly soul who always met me at Asha Parekh's home and who never forgot to call and sing Happy Birthday every year until she grew too old to remember birthdays.
Shammi lost her only sister -- the well-known designer Mani Rabadi -- a few years ago. I called her after her sister passed away, but she could not remember who I was.