'Sometimes the cast wouldn't come together; sometimes I wasn't in a position at the box office to make this film. But I didn't give up,' Sanjay Leela Bhansali tells Avantika Bhuyan after Bajirao Mastani won 7 National Awards.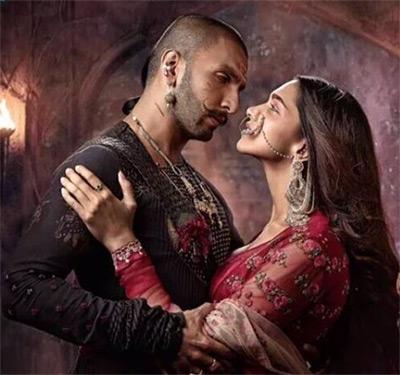 A multi-faceted personality, Sanjay Leela Bhansali believes in pushing actors and ideas to the limit.
'A simple guy with a complex mind,' is how Sanjay Leela Bhansali was described by Simi Garewal on her show, Rendezvous, in 2002, soon after the release of Devdas.
Considered his landmark film, Devdas affirmed his signature narrative style of using set designs, costumes and music to carry the story forward instead of using them as mere props.
The years that have followed have revealed the many shades of Bhansali -- be it as a screenwriter, producer, filmmaker, a trained Odissi dancer or music composer.
In 2008, he became the only film maker from India to be invited to Paris' Theatre du Chatelet to direct an opera, Padmavati.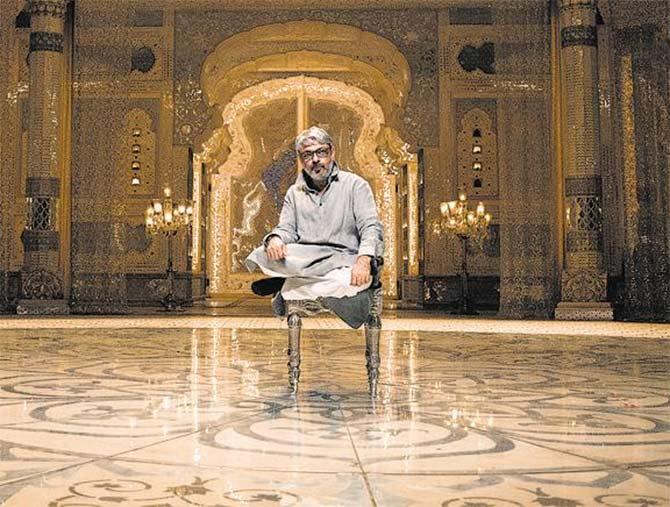 IMAGE: Sanjay Leela Bhansali on the sets of Bajirao Mastani.
Now his latest film, Bajirao Mastani, has bagged seven awards at the 63rd National Awards, including one for the best director.
This is a film he nurtured in his head for over two decades, even as he went about directing others.
"I took the film out every two years and made changes or corrections," he says. "One had to see how the narrative of drama would change with time. How you constructed a scene 20 years ago would no longer be relevant today."
So, he improvised, added to or deleted from the script, but stuck with it even when things refused to fall into place. "Sometimes the cast wouldn't come together; sometimes I wasn't in a position at the box office to make this film. But I didn't give up," he adds.
Like every film he has made, Bajirao Mastani too was an all-consuming experience, both for him and for his cast and crew. "He is one of the most intense directors that I have worked with," says Deepika Padukone, who played Mastani in Bajirao Mastani and Leela in Goliyon Ki Raasleela Ram-Leela.
"He pushes you to a limit where sometimes you feel like you can't do it. Sometimes you want to give up, but he doesn't give up and in the end, you start discovering new things about yourself -- creatively and personally."
For Bhansali, each film is to be lived. "You will get only one chance to make that particular film during your lifetime. I am trying to pursue excellence," he says. He feels that the cast and crew need to see that love and commitment from the director in order to feel the same themselves.
It is this passion that has prompted actors like Padukone, Ranveer Singh and Aishwarya Rai Bachchan to collaborate with him over and over again.
"During Ram-Leela, we were getting to know each other, figuring out each other's style of working. But with Bajirao, there was a sense of trust and comfort. It was like coming back home," says Deepika. "Most often, we just have to look at each other to understand what the other is trying to communicate."
IMAGE: Aishwarya Rai in Devdas.
For Bhansali, these repeated collaborations don't stem from a need to stay in the comfort zone. "Ranveer, Deepika or Aishwarya are all very important to me. But I needed to work with them again most importantly because I hadn't finished saying what I wanted to through them," he says.
Bhansali has had his share of commercial failures like Saawariya and Guzaarish, and they affected him deeply.
"It was a difficult time for him, but he realised that maybe melancholy is not something that the Indian audiences take happily to," says Maxima Basu, the costume designer for Ram-Leela and Bajirao Mastani.
Scratch the surface of his films and layers of his personal life emerge from within the stories. 'I live with a huge past in my head,' said Bhansali on Rendezvous. 'Devdas started off when my father died... he was an alcoholic and died of cirrhosis.'
His love for music too goes back to his childhood when he and his sister Bela would turn on the radio and their mom would break into an impromptu jig for them or when she would sing while cooking.
"My soul needs music all the time," says Bhansali who considers Kumar Gandharva and Lata Mangeshkar as his deepest influences. "There is no such thing as human perfection, and yet when you hear Lataji sing, you wonder how she sang that song so beautifully, so perfectly. Or, how Kumar Gandharva touched your soul so powerfully."
Kishori Amonkar is another of his idols and he has used her renditions in Raag Bhoopali as an inspiration for Albela Sajan in Bajirao. "Think of Hridaynath Mangeshkar's Mira bhajans. I have bought these records three to four times as I listen to them so often," he says.
"What do you say these days, 'downloading music'? I find that very irritating."
Though not a trained musician, he learnt the nuances while sitting at the feet of the legendary Rahul Dev Burman. What started as suggestions and inputs to his films' music directors turned into a full-fledged need to express himself musically with Guzaarish and continued with Ram-Leela and Bajirao.
"I hope other film makers call me. I want to give music for others too, and not just for my own films," he laughs.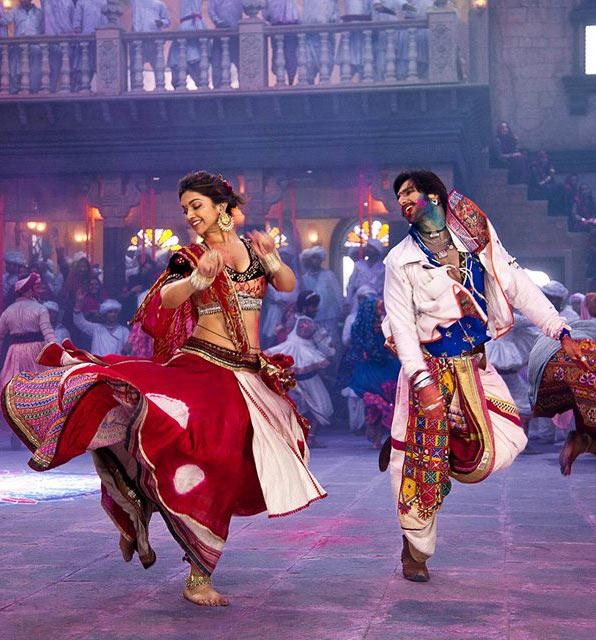 IMAGE: Deepika Padukone and Ranveer Singh in Goliyon Ki Raasleela Ram-Leela.
In his films, colour too emerges as a central character in the narrative. Somewhere, this too has its roots in his past -- in a childhood spent surrounded by the colourless walls of a chawl. "Sometimes the walls weren't painted for eight years at a stretch," recalls the filmmaker.
"I would lie down and listen to the radio within those colourless walls. So, painting walls is an obsession now. I could come and paint the walls of your house too, if you call me," he chortles.
But the sets, the colour themes and the costumes are not whims of an indulgent mind. "They play on the psychology of the actors -- they lead them to where I want them to be," he says. Basu concurs. "With him, it's not the usual 'Chalo, let's make a big budget film." He has a vision and that comes from a deep knowledge of art, music and cinema," he says.
"He loves desaturated colours," adds production designer Saloni Dhatrak. "A lot of the hues we used in Bajirao were inspired by Raja Ravi Varma paintings, which he is extremely fond of."
For Bajirao, Bhansali insisted on the use of fabric, which is unheard of in set design. "One day, he took me to Pune to get antique saris and 100-year-old fabrics that Peshwai women used," reveals Dhatrak. These were used as bed sheets and pillow covers in the film. Then one day Bhansali chanced upon a ceiling fan with zardozi work on it. It became part of Kashibai's room in the film.
Designer Anju Modi, who did the costumes for the protagonists in Ram-Leela and Bajirao, says meeting Bhansali's expectations is like climbing a mountain. "But once you get there, it's a great sense of achievement. And he will motivate you endlessly."
After her experience in Ram-Leela, she became alert to his style of improvising on the spot and would keep a backup plan with fabrics and ideas ready.
For the famous Deewani Mastani dress that Padukone wore, Modi had versions in red, yellow, soft pink and off-white, but wasn't happy with the result. "So I suggested dhaani, an old-world pale mehendi colour that is not used in fashion these days," she says. Bhansali happily agreed to it.
At first glance, Bhansali often comes across as gruff. "But you just need to spend half an hour with him to realise that he is such a jovial guy. Scratch the surface and there's a crackpot underneath," says Basu.
So, are there any other facets to him waiting to be discovered? "Architecture," says Bhansali.
Even a small hut in the Dharavi slum area that the planes pass by, while landing in Mumbai, fascinates him. "I am obsessed by how you can construct it, add to it and take it somewhere else."