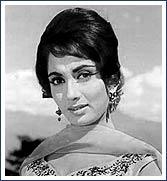 'As the burkha-clad beauty Husna in Mere Mehboob, she inspired Shakeel Badayuni to compose Mere Mehboob Tujhe Meri Mohabbat Ki Kasam/Phir Mujhe Un Nargisi Aankhon Ka Sahara De De. Hasrat Jaipuri showered epithets like Nargis-e-Mastaana and Phoolon Ki Rani, Baharon Ki Malika on her in Arzoo.'
Dinesh Raheja remembers Sadhana's memorable movies and songs.
Best-tressed of the 1960s heroines, Sadhana was more than just that sophisti-cut fringe or the mascot of many a shot-in-colour-in-Kashmir musical.
She was also an undervalued actress who bared her soul in two Bimal Roy films and was tantalisingly enigmatic in Woh Kaun Thi and Mera Saaya.
She was a gamine, fragile beauty in the Audrey Hepburn-Leslie Caron mould (think Gigi) --- heart-breakingly waifish or heart-stoppingly glamorous.
Sadhana once told me, "R K Nayyar (the director of her debut Love In Simla), and later my husband said they loved my nose --- one could land a helicopter on it!" She added with characteristic candour, "I was attractive, but never beautiful."
10 Famous Songs Picturised on Sadhana
Song
Film
Singer
O Sajna, Barkha Bahar Aayee
Parakh
Lata Mangeshkar
Abhi Na Jaao Chhodkar, Ke Dil Abhi Bhara Nahin
Hum Dono
Lata-Mohammed Rafi
Aap Yunhi Agar Humse Milte Rahe
Ek Musafir Ek Hasina
Asha Bhosle-Rafi
Mere Mehboob Tujhe Neri Mohabbat Ki Kasam
Mere Mehboob
Lata
Naina Barse, Rimjhim Rimjhim
Woh Kaun Thi
Lata
Aaja Aayee Bahar, Dil Hai Bekaraar
Rajkumar
Lata
Kaise Rahoon Chup Ki Maine Pee Hi Kya Hai
Intequam
Lata
Ajee Rooth Kar Ab Kahan Jaaiyega
Arzoo
Lata
Tu Jahan Jahan Chalega, Mera Saaya Saath Hoga
Mera Saaya
Lata
Jhumka Gira Re
Mera Saaya
Asha Bhosle
Lyricists begged to differ. As the burkha-clad beauty Husna in Mere Mehboob, she inspired Shakeel Badayuni to compose Mere Mehboob Tujhe Meri Mohabbat Ki Kasam/ Phir Mujhe Un Nargisi Aankhon Ka Sahara De De. Hasrat Jaipuri showered epithets like Nargis-e-Mastaana and Phoolon Ki Rani, Baharon Ki Malika on her in Arzoo.
Sadhana Shivdasani's trek to stardom began when her family fled Karachi during the post-Partition riots and set up residence in the barracks near Sion, north-east Bombay. The Shivdasanis saw difficult times but indulged Sadhana, named after the famed actress Sadhana Bose, in her choice pastimes --- eating golas and watching films, especially those starring her favourites, Dev Anand and Nutan.
Thanks to actor-cousin brother Hari Shivdasani (actress Babita's father), Sadhana too was drawn to the profession. A teenaged Sadhana faced the camera as a chorus girl in Raj Kapoor's Shri 420 (1955).
An Arts undergraduate at Jai Hind college, Sadhana was approached to play second lead to heroine Sheila Ramani in the first Sindhi film, Abana (1958).
Sadhana's big break came when an advertisement for Abana caught movie biggie Sashadhar Mukherjee's eye. He enrolled Sadhana at his acting school, where Asha Parekh occasionally frequented. He gave Nasir Hussain the choice of either Asha Parekh or Sadhana. Nasir chose Asha.
But Mukherjee wanted to start another film, too, for which debut-making director R K Nayyar, who had assisted Raj Kapoor, chose Sadhana. He teamed her with Mukherjee's son Joy and cooked up a light, sweet confection, Love In Simla (1960).
Nayyar and Sadhana fell in love during the making of this film; the audience fell in love with Sadhana after the film was released. In this Cinderella rework, plain Jane (Sadhana) transforms into a svelte swan to compete with her conventionally pretty cousin (Azra) and vie for Joy Mukherjee's affections. Sadhana was a scene-stealer with her near-naturalness before the camera and became the darling of the teen set.
The craze for her Audrey Hepburn-inspired 'Sadhana fringe' (suggested by Nayyar to conceal her broad forehead) spread, making her the fashion icon of her age.
Three months later, Sadhana's second film, Bimal Roy's Parakh, showed her as the soul of unaffected simplicity. Roy cast her in his next directorial venture, Prem Patra, too.
Bound by a three-year contract with Mukherjee's banner, Filmalaya, she starred in Filmalaya's musical, Ek Musafir Ek Haseena, one of the earliest road stories with lilting songs.
Sadhana tranformed from popular ingenue to huge star with the success of the Muslim social, Mere Mehboob (1963).
Sadhana did more than set fashion trends. Inspired by her seductive smile, evocative eyes and her will-o'-the-wisp voice (Rekha once told me she adored Sadhana's voice), Raj Khosla helmed a one-of-its-kind trilogy of heroine-oriented mystery thrillers for Sadhana -- Woh Kaun Thi (1964),Mera Saaya (1966) and Anita (1967). Madan Mohan's melodies for Woh Kaun Thi and Mera Saaya were an integral part of Lata Mangeshkar's stage repertoire.
Among all her successful heroine-oriented films, Mera Saaya was her tour de force. In a well-delineated double role, Sadhana portrayed the identity crises dogging the lives of twin sisters.
The mischief in her eyes as one sister is carefully contrasted with the other sister's desperate anguish as a wife whose husband refuses to believe her.
Incidentally, her mother strongly disapproved of Sadhana's boyfriend Nayyar, often asking her daughter to marry "someone like Rajendra Kumar." But in 1966, aided by her father, Sadhana tied the knot with R K Nayyar.
It was the best of times. It was the worst of times. A lingering thyroid problem aggravated, even affected, those much-admired eyes. Filmmakers turned their eyes toward fresher pastures.
H S Rawail, who had once waited for months to ensure that Sadhana was part of Mere Mehboob, replaced her with Vyjayanthimala Bali in Sunghursh (opposite Dilip Kumar), while producer Pacchi chose budding star Rajshree to play Sadhana's role in Around The World (opposite Raj Kapoor).
Reluctant to essay character roles -- Raj Kapoor is said to have offered her the role of Rishi Kapoor's mother in Bobby -- Sadhana finally accepted the transient nature of stardom gracefully.
After two decades of a tempestuous marriage that settled down to an even keel, husband R K Nayyar succumbed to an asthma attack. Sadhana, who had no children, was left alone. She keeps herself busy playing cards with friends at Mumbai's Otters Club, watching television and gardening. In keeping with her enigmatic image, she adamantly refuses to let herself be photographed in public.
Sadhana's Landmark Films
Year
Film
Hero
Director
1960
Love In Simla
Joy Mukherjee
R K Nayyar
1960
Parakh
Vasant Chowdhary
Bimal Roy
1961
Hum Dono
Dev Anand
Amarjeet
1962
Ek Musafir Ek Haseena
Joy Mukherjee
Raj Khosla
1963
Mere Mehboob
Rajendra Kumar
H S Rawail
1964
Woh Kaun Thi
Manoj Kumar
Raj Khosla
1964
Raaj Kumar
Shammi Kapoor
K Shankar
1965
Waqt
Raaj Kumar, Sunil Dutt
Yash Chopra
1965
Arzoo
Rajendra Kumar
Ramanand Sagar
1966
Mera Saaya
Sunil Dutt
Raj Khosla
1969
Intequam
Sanjay Khan
R K Nayyar
1969
Ek Phool Do Mali
Sanjay Khan
Devendra Goel
1974
Geeta Mera Naam
Feroz Khan
R K Nayyar
This feature was first posted on Rediff.com in February 2002.