Satyajit Ray would have been 97 today, May 2.
Soumendu Roy, who worked with the legendary director for many years, looks back on the Genius that was Manikda, as the Master was known to family, friends and admirers.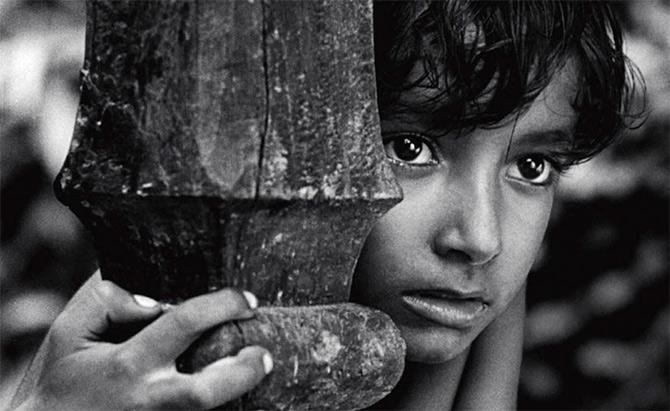 In 1954, when Satyajit Ray started filming Pather Panchali again after lack of funds had stopped production for an extended period, Soumendu Roy had just joined the Technicians Studio.
It was then that Ray hired a Mitchell camera from the studio to shoot his film.
Dinen Gupta would go to the Pather Panchali shooting as the caretaker of the camera, and Roy requested Dinen Gupta to take him along, to learn about outdoor camerawork.
Gupta got the necessary permission from Anil Choudhury, Ray's production controller, and started visiting the shooting location in Boral.
Roy had no idea what kind of film Pather Panchali was before he went to its shooting, and it was only after he had heard Kanu Banerjee (Harihar in Pather Panchali) tell others that the film was going to be very different from the usual staple of films that his curiosity was sufficiently aroused.
It was going to prove to be a life-changing experience for Roy.
It was also Roy's first-ever experience of outdoor shooting.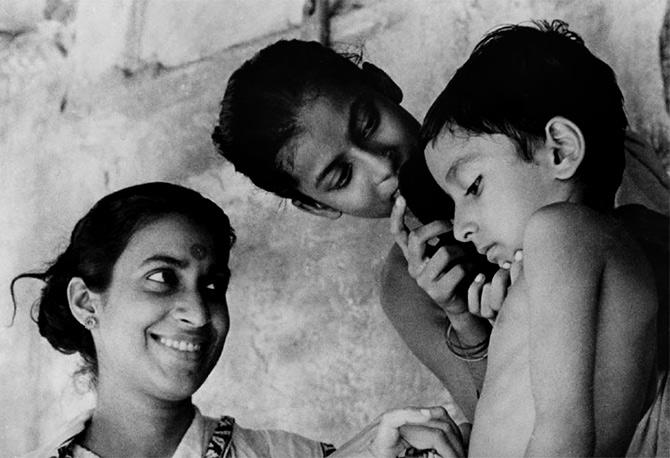 "Most of the scenes of Pather Panchali was shot in Boral, but the scenes with the kaash were shot in the village called Palshiteh. They were shot just before Durga Puja."
"I recall an incident from back then. The shooting location was in the interiors and quite far from the main road. There was no electricity there then. There, the Mitchell camera was operated with the help of a 12-volt battery."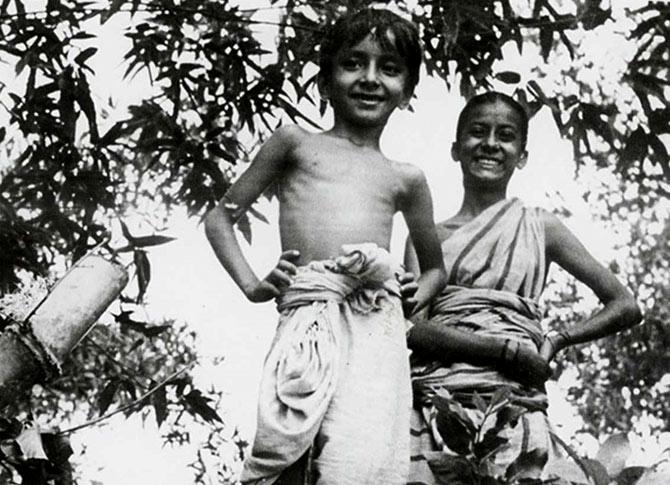 For the train scene, he says, everybody had to run alongside the train, to capture it on celluloid.
While Agnu ran with the Mitchell camera, Roy ran with the 12-volt battery atop his head.
Nobody had time to eat, but Ray generously treated them all to langcha (a Bengali sweet usually fried in ghee) in Shaktigarh after the successful completion of the shooting.
As the shooting of Pather Panchali progressed, Roy took charge as the caretaker of the Mitchell camera, since Dinen Gupta had graduated to a full-fledged cameraman and left. Roy would assist Agnu in carrying the camera and setting it up.
He also had to maintain a kind of khata, a notebook, which would record the shot number, the lens used for each shot, the length of exposed film, the filter used for each shot and other details.
After the day's shooting, Roy had to get Satyajit Ray to sign the khata.
He says, "As the days went by, I came to know Subrata Mitra (Ray's cinematographer) closely; very soon I began to assist him, too. This is also how I became close to Bansi Chandragupta."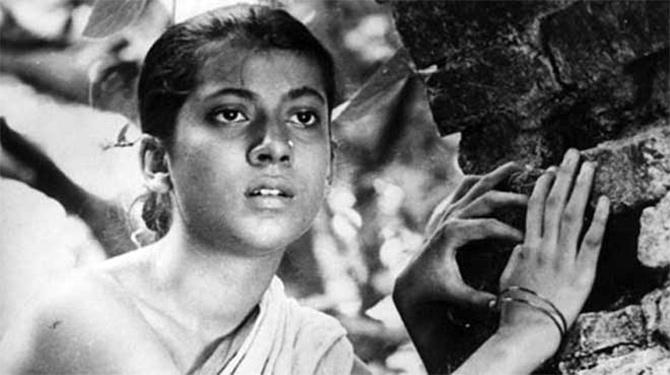 Soumendu Roy's association with Subrata Mitra was to help him in his work as a cinematographer in the long run.
There would be lessons learnt on that first shoot, and it would stay with him all his life.
Roy would be amazed by the deftness with which Mitra handled the Mitchell, especially since he had heard that Mitra had never seen the Mitchell before, let alone operate it.
"A Mitchell camera is very difficult to operate without proper training. Actually in the beginning, it was Nemai Ghosh of the Chinnamul fame who was to be Pather Panchali's cameraman. Subrata babu would have been Nemai Ghosh's assistant in that case."
"Since Ghosh left for Madras, Mitra took over, and we got an extraordinary cinematographer in the bargain."
Alongside the camerawork, Roy also learnt about life in Ray's unit after the shooting hours. Roy says they were like a huge family out picnicking.
It was vastly different from Roy's earlier experiences of indoor shooting during which the hero and heroine, with their grossly painted faces and costumes would behave high-handedly.
It was impossible to approach them.
In other shoots, he had noticed a difference between the food served to the artists and that which was served to the technicians.
In Satyajit Ray's unit, he was amazed to see that the boy who served tea ate the same food as Ray did.
Apart from seasoned actors like Kanu Banerjee, Chunibala Devi, Nibhanoni Devi, Tulsi Chakraborty, Reba Devi and Aparna Devi, everyone else was practically new.
So it was easier for everyone to mix with each other.
Roy thus grew to love his work and cherished his association with Ray and his unit members, especially Subrata Mitra and Bansi Chandragupta.
Pather Panchali was vastly different in its making and casting too.
In time Satyajit Ray's method was going to be a breakthrough in film-making in India.
On his set in Pather Panchali the actors practically wore no make-up, making them more realistic, and locals were used in various roles, with even the village washerman getting a chance to act in the film. It was simply unheard of in film circles.
Other film directors mostly shot in studios, with harsh lighting and heavily made-up professional artists.
For the famous scene in which young Apu and Durga get wet in the rain, Pather Panchali created history by actually shooting on a cloudy, rainy day -- that is, shooting in low light and in actual rain!
Roy says everyone waited for the rains for three days so that the shot could be taken.
On the fourth day, the much-awaited rains arrived. After Ray had explained the shot sequence, he asked the camera to 'roll'.
But the camera refused.
The film had jammed, and a new film would have to be loaded -- but that would take another half-hour.
'Imagine our situation. We had been waiting for the rains for three days. It was going to be a splendid shot, and now this! Thankfully, the rains continued, and we were able to take the shot. The result is for all to see.'
The next shot, asserts Roy, was slightly more difficult. Durga is to start sneezing to depict the fact that she had caught a cold after having got wet in the rain.
The actress playing Durga failed to execute this, she just couldn't manage to sneeze.
However, the day was saved by Satyajit Ray's first assistant, Shanti Chatterjee, who miraculously produced some snuff and stuffed it into Durga's nose.
Thus, Durga was able to erupt into sneeze after sneeze for Ray's camera that day.
Excerpted from Through the Eyes of a Cinematographer: A Biography of Soumendu Roy by Devapriya Sanyal, published by HarperCollins India with the publisher's permission.