Kangana Ranaut, the fiery movie star, continues to be in the news for all the wrong reasons, notes Sukanya Verma.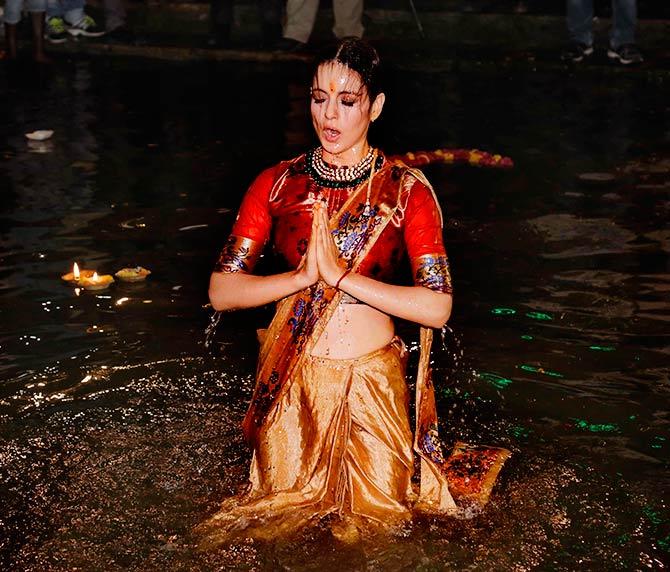 IMAGE: Kangana Ranaut at the launch of her film, Manikarnika: The Queen of Jhansi.
Life is a challenge for those who want to live on their own terms.
It's doubly tough when you're an actor and a woman in Bollywood.
Ask Kangana Ranaut, the fiery movie star who continues to be in the news for all the wrong reasons.
Just a few days after launching her ambitious new project, Manikarnika: The Queen of Jhansi amidst a lot of fanfare in Varanasi, she received a legal notice from filmmaker Ketan Mehta for 'hijacking' his film, she was originally supposed to star in.
'Since 2015, we have been talking about the project. We have shared various versions of the script, research material, and books with her. We were planning it as an international co-production so that we could reach out to the global audience. She had said she was excited about the film,' Mehta said.
Meanwhile, Kangana denies any contractual agreement or similarity between the two scripts.
While the dispute grows, here's looking at the five major controversies the actress has been in a decade old career.
Aditya Pancholi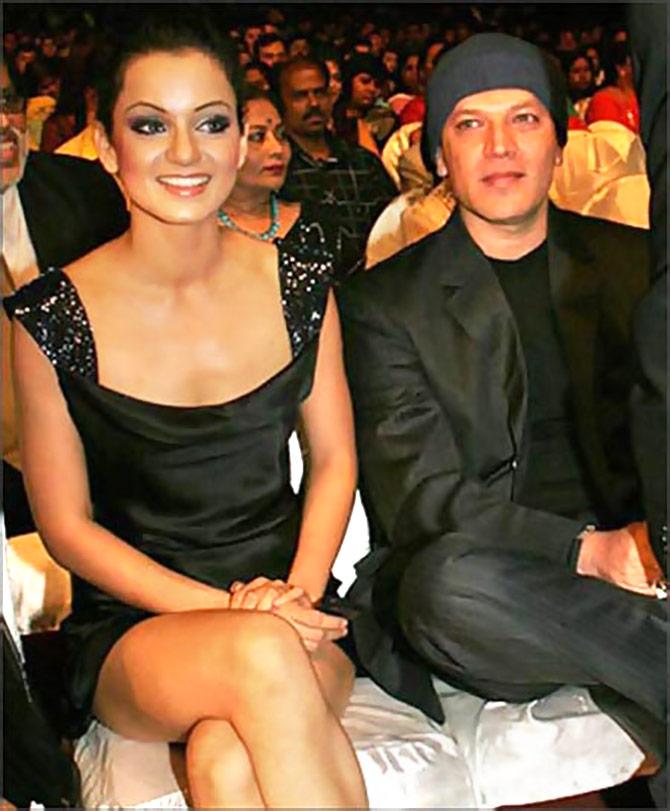 IMAGE: Kangana Ranaut and Aditya Pancholi. Photograph: Pradeep Bandekar
Back when Kangana was still a struggler, she got involved with the much older and much married Aditya Pancholi.
Their stormy affair ended five years later on a publically ugly note after he physically assaulted the actress in an autorickshaw alleging infidelity and manipulation.
Kangana filed a police complaint against him for the same even as Pancholi got back with wife Zarina Wahab.
Later in a tell-all interview to a publication, he claimed, 'Kangana didn't have a penny when I met her. I saw her the first time on the road. She was on the verge of a nervous breakdown.'
Hrithik Roshan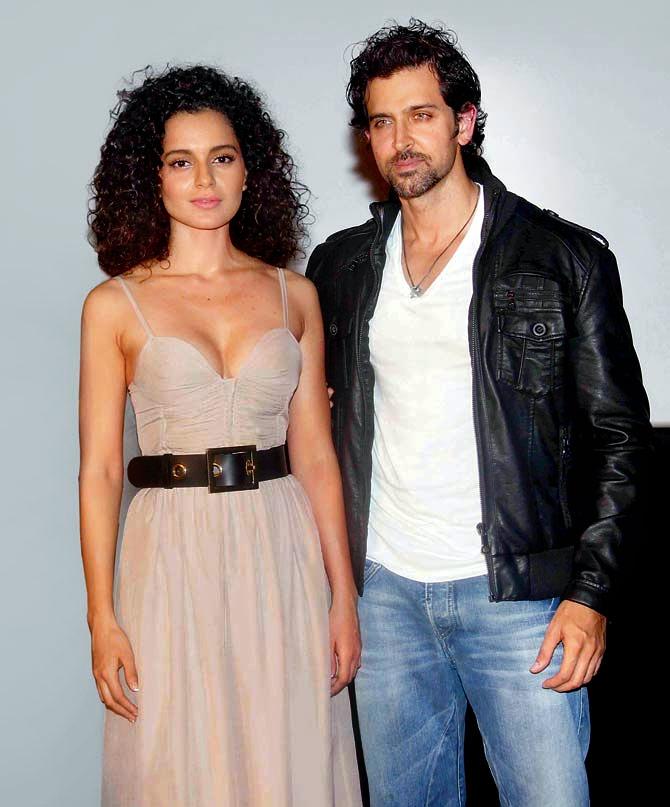 IMAGE: Kangana Ranaut and Hrithik Roshan. Photograph: Pradeep Bandekar
Nobody had any inkling of the trouble (or togetherness) brewing between the co-stars of Kites and Krrish 3 until Hrithik Roshan slapped a legal notice on Kangana demanding an apology over her 'silly ex' comment in an interview.
Hrithik denied any romance tweeting how his chances of having affair with the Pope are much more than with the women the media has been linking him with.
He accused her of Asperger's Syndrome and even got ex-wife Susanne to question the credibility of a picture of them at a party.
Funnily, Kangana hadn't taken any names to warrant such a strong reaction from the Kaabil star.
Not one to take things lying down, the Queen reacted with a legal notice for intimidation.
As the lawsuit progressed, email correspondence between the two became available for public consumption.
'I felt extremely naked in front of the world. I cried for nights in my room and the worse is the most of it was not even the genuine stuff,' Kangana said about the episode.
Adhyayan Suman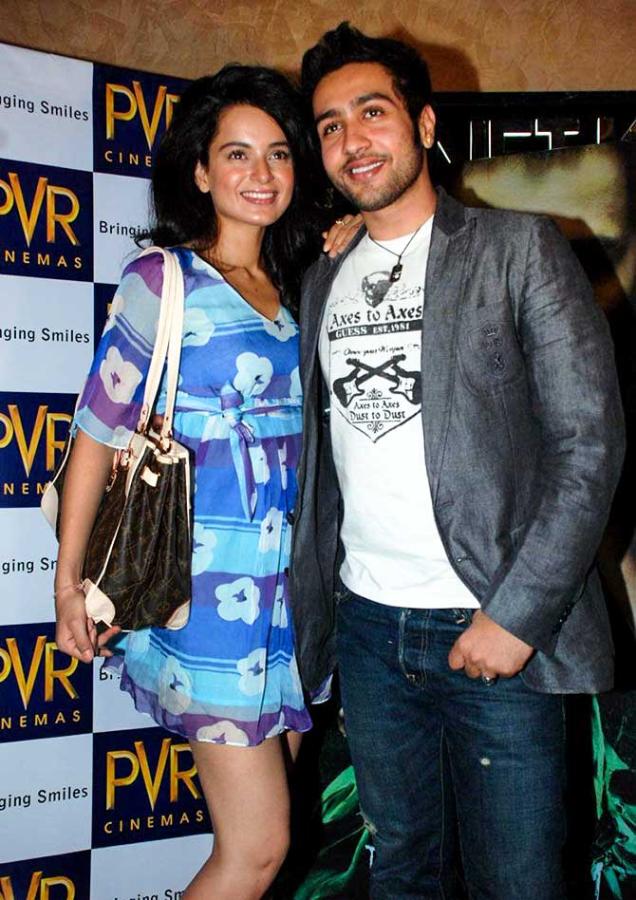 IMAGE: Kangana Ranaut and Adhyayan Suman. Photograph: Pradeep Bandekar
Shekhar Suman's son began dating Kangana on the sets of their film, Raaz: The Mystery Continues.
The relationship didn't last long. But it was much later, in the wake of her legal feud with Hrithik Roshan, Adhyayan decided to call the press and make some shocking revelations.
As per Adhyayan, Kangana abused him and his father, took drugs, practiced black magic, stalked Hrithik and was one of the reasons for his career not taking off.
Kangana shot back joking, 'What is wrong with witchcraft? Don't we like Harry Potter?'
Karan Johar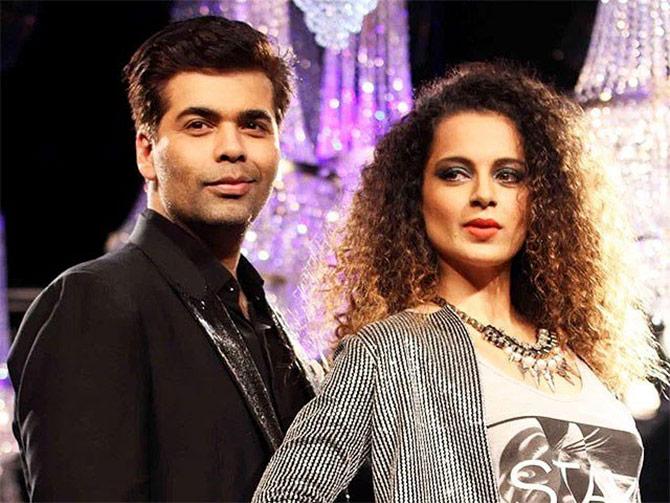 IMAGE: Kangana Ranaut and Karan Johar. Photograph: Pradeep Bandekar
It all began after Rangoon stars Kangana and Saif Ali Khan appeared as guests during an episode on Koffee With Karan.
Kangana called out its gossipy host's alleged 'nepotism' and tendency to put words in a star's mouth to create friction.
'In my biopic, if ever it's made, you will play the stereotypical Bollywood biggie, who is snooty and completely intolerant to outsiders. A flag bearer of nepotism. The movie mafi,' Kanagna told KJo.
Johar was sporting about her jibes during his show, but later remarked how he's fed up of the Tanu Weds Manu star playing the woman/victim card all the time.
'You cannot be this victim every time and have a sad story to tell about how you've been terrorised by the bad world of the industry -- leave it,' Johar said.
His words have since sparked a debate about how easy star kids have it while outsiders have to work doubly hard to get a second chance.
Kangana emerged the fight favourite on this one after she responded, 'The industry belongs to every Indian and is highly recommended for outsiders like me whose parents were too poor to give me a formal training. I learnt on the job and got paid for it, using the money to educate myself in New York.'
'He is nobody to tell me to leave it. I'm definitely not going anywhere, Mr Johar.'
Apurva Asrani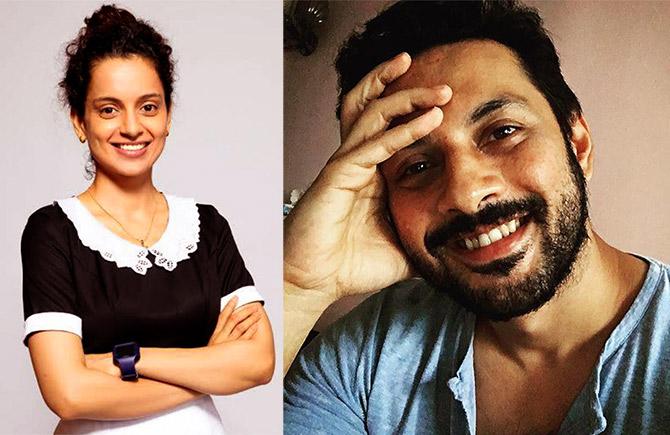 IMAGE: Kangana Ranaut in Simran. Apurva Asrani. Photograph: Kind courtesy Apurva Asrani/Facebook
When the first poster of Hansal Mehta's Simran came out, it had additional writer Kangana's credits above its main writer Apurva Asrani.
The producers maintained it was an honest printing mistake, one that they plan to fix immediately.
But before that the editor-turned-writer of Mehta's previous films Shahid and Aligarh took to Facebook to accuse Kangana of discrediting his contribution to the project by stealing writing credits.
'I am at a loss to understand why Kangana would snatch the hard earned work of a writer. I wish she had been graceful about this and acknowledged what I brought to this film,' Asrani posted.
Apparently Asrani's work wasn't good enough leading to multiple drafts and the need for Kangana to step in, the actress said when asked to tell her side of the story.
In an interview to Huffington Post, she revealed, 'When I started collaborating with Apurva, I realised this isn't a writer who matches my expectations. And when I enquired about his previous writing work, I realised he hadn't done them.'
Asrani's response was to lash at her as a 'mix of insecurity, desperation and most of all nepotism!'
Something tells us we haven't heard the last of it.