'Every time I step on stage, I feel like I'm performing the play for the first time,' Manoj Joshi tells Sadiya Updade.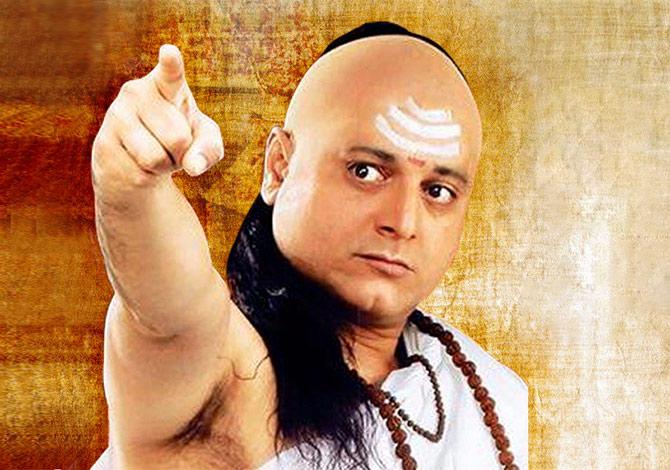 IMAGE: Manoj Joshi in and as Chanakya in the play. Photograph: Kind courtesy Manoj Joshi/Twitter
Why did India give the cold shoulder to Canadian Prime Minister Justin Trudeau?
As diplomatic visits go, it was not been a happy one. But then, as journalist Seema Sirohi writes in her review of Aparna Pande's From Chanakya to Modi, 'Different prime ministers have pursued different iterations of non-alignment over time, sometimes riding the waves and sometimes drowning in pointless diatribes.'
There's no question that Chanakya's Arthashastra, the ancient treatise on Statecraft and economic policy, continues to inspire even today, with precise rules laid out for both domestic and foreign affairs.
Shyam Saran's How India Sees the World further reveals how the country's foreign policy is firmly grounded in the Kautilyan paradigm.
It's not surprising then that Chanakya, a play on the master strategist, has been drawing masses for the last 28 years. And the man who has been enacting that character incessantly over all these years says he has not once gotten tired of it.
"There's so much to Chanakya niti (policy), so many facets to explore," says Manoj Joshi, the 52-year-old theatre, film and television actor, who was recently awarded the Padma Shri.
"That's probably why every time I step on the stage, I feel like I'm performing the play for the first time."
Two copies of Kautiliya lie on his desk in his office at Vile Parle, north west Mumbai. One of them is a gift from Balbir Singh Sihag, the author of Kautilya: The True Founder of Economics.
A discussion is on about the play's set.
"We first performed the play in 1990 in Gujarati," says Joshi. "I told (writer) Mihir Bhuta I wanted to do a play on Chanakya," he recalls. "We were both excited by the idea."
Bhuta would come to Joshi's house, they would board the Mumbai local and ride the train to and fro while discussing the contours of the play. It would take Bhuta three years to finalise the play.
The two wanted to stage it at the Abhiyan Natya Spardha, an annual competition for Gujarati plays in Mumbai. But they needed a producer.
Between them, the duo did not have enough money to even enter the competition, let alone put the play together.
"Luckily, we found (writer-director) Jaysukh Ravrani, but he was reluctant (to back it financially). We had to assure him we would pay him back from our own pockets if we didn't win the competition," Joshi reminisces.
While Ravrani produced the play, Dinkar Jani came on board as its director.
Chanakya ended up bagging awards for best play, best actor and best writer.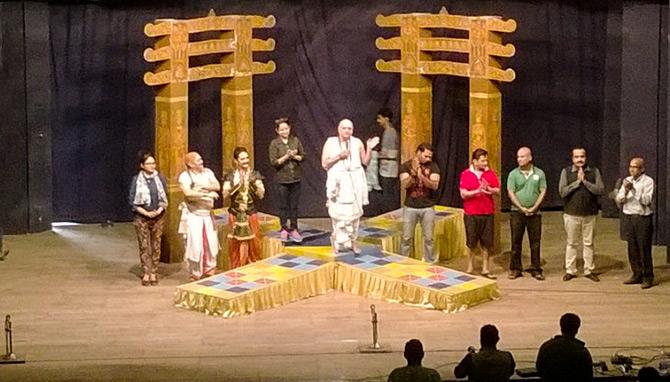 IMAGE: Manoj Joshi and his team during the performance of Chanakya in Ahmedabad. Photograph: Kind courtesy Manoj Joshi/Twitter
Over the years, the cast and production teams changed, but never the actor who plays the statesman.
With 1,039 performances of Chanakya, Joshi has become synonymous with the scholar-strategist who dared to dream of an integrated India -- the one who created a political storm in Magadh (now Bihar) with his will, wisdom and words.
Theatre was never Joshi's first choice though.
"I wanted to become an artist," he says.
When he didn't get into the Sir J J School of Art in Mumbai, he joined the Mithibai College of Arts for six months. This is where he met Bhuta.
"I was fascinated by portraits, but my father didn't think it made financial sense. He wanted me to work, and learn art on the side."
So Joshi joined hobby classes at the J J School of Art for three years. The rest of the day was spent at the Jehangir Art Gallery.
"In a sense, I was groomed on the J J campus and at the art gallery. The observation skills I developed during those days helped in character building later (in theatre)."
With no luck finding a job, Joshi became part of the J J college's theatre circle and started participating in inter-collegiate plays. This shifted the goal post. He now wanted to become an actor.
Money was still elusive, so Joshi got a diploma in commercial art.
His first job was as a layout artist in a Gujarati magazine.
"I would go on to work in several magazines, including Janmabhoomi and Gentleman. It didn't matter much though. I would simply quit when a play came along and join back when it was done," he laughs.
His longest stint, he says, was at the Economic and Political Weekly, but he gave that up too after he won the best actor award for Chanakya.
Theatre became a passion.
"I knew this was the only time I could live my dreams," he says.
Alongside Chanakya, Joshi started working with other theatre groups, such as Shafi Inamdar's group, Satyadev Dubey, Bhakti Barve and others.
"It was Inamdar, who told me to stage Chanakya in Hindi. I conveyed this to Bhuta and we began performing in Hindi in 1995-1996," he says.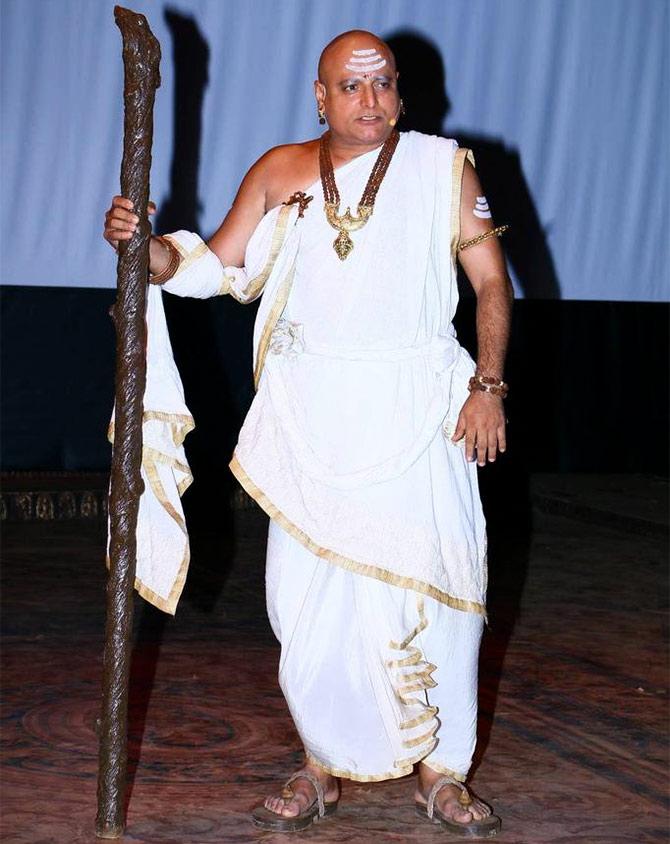 IMAGE: Manoj Joshi as Chanayaka in the television series Chakravartin Ashoka Samrat. Photograph: Kind courtesy Manoj Joshi/Twitter
Joshi's multi-lingual background helped cement his position as a versatile actor.
In college, he wrote a Marathi play titled Karma. Later, he translated Vijay Tendulkar's Ghashiram Kotwal into Gujarati. Performances in plays such as Gandhi Virudh Gandhi and Rangeela Re followed.
A fan of Mahesh Elkunchwar, P L Deshpande and Madhu Rye, Joshi says his intention was to stick to theatre. He even started his own group, Dharmagunj, to focus on plays.
The 1990s, however, brought along a clutch of opportunities.
"I did my first film, Hun Hunshi Hunshilal (a Gujarati musical political satire), with the NFDC (National Film Development Corporation). The television landscape also completely changed," he says.
A spate of private channels appeared on the horizon.
Joshi now started appearing in soap operas, a decision that he says was borne out of monetary concerns.
He also worked in historical series such as Chanakya and Chakravartin Ashoka Samrat.
With Sarfarosh, his film journey started. He would go on to act in over 100 films, including Devdas and Hungama.
The state awards that line the walls of his office speak of the accolades that have come his way.
In 2014, Prime Minister Narendra D Modi presented him with the Sabarkantha Ratna Puraskar. (Joshi was born in the Sabarkantha district of Gujarat.)
In a speech, Modi claimed to have been present for Chanakya's first and 1,000th show. A year later, Joshi won the national award for best supporting actor for the Marathi film Dashkriya.
Joshi has made a mark playing a political character.
On the personal front, he, too, is a political actor.
In the 2017 Gujarat assembly elections, he campaigned for the Bharatiya Janata Party. Earlier, he described Uttar Pradesh Chief Minister Yogi Adityanath as the Chanakya of politics.
He is now working on a play about Swami Vivekananda and his thoughts on India, religion and the youth.
"But no matter what I do, Chanakya will always remain close to my heart. That play has been running purely on passion," he says.
The only region where Chanakya has not been staged so far is Kashmir. That, too, will change this month.
The secret behind Chanakya's longevity, says Joshi, is its universal appeal.
"That man laid the foundation for everything -- bureaucracy, the passport system, taxation, trade, war strategies, diplomacy, defence, administration... you name it. That's why he is relevant even today," says the actor.
"This play has found an audience because Chanakya is immortal and eternal."
German philosopher Max Weber would agree. Compared to Chanakya's Arthashastra, he once called Niccolò Machiavelli's The Prince 'harmless'.