PostcardS from Panaji: Radhika Sharma/PTI catches up with Varun Dhawan at the Goa film festival.
Please click on the photo postcard to reveal more
'Working with papa was the toughest'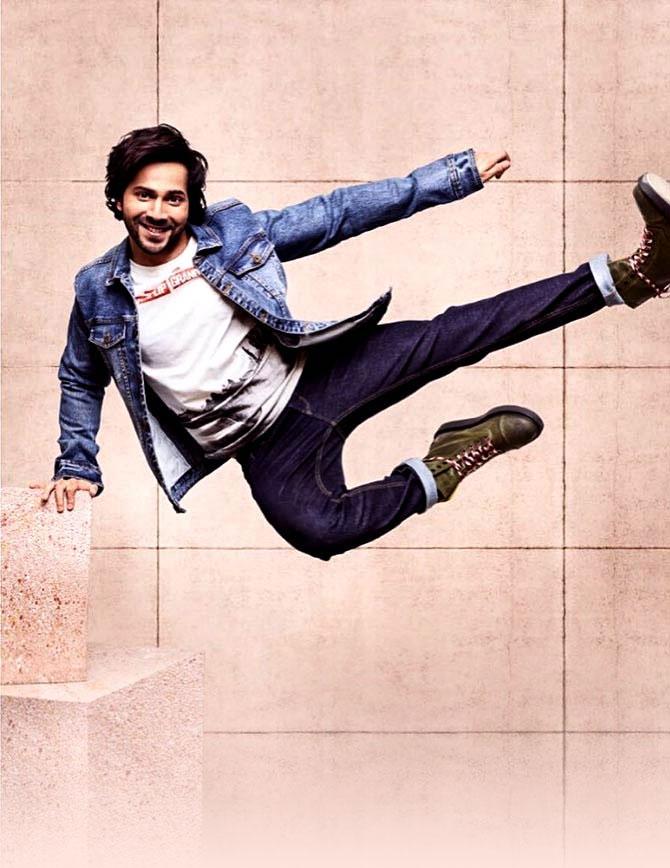 Varun Dhawan said there was a time when he was leaning towards gritty cinema and would have done anything to get launched by Anurag Kashyap.
The actor was speaking at the Dha-One session, moderated by writer Rumi Jaffery, with his father, film-maker David Dhawan, at the International Film Festival of India in Panaji.
His Badlapur director Sriram Raghavan and IFFI Indian Panorama Chairperson Rahul Rawail were a part of the audience.
"I had loved Black Friday, Sriram's films... I was leaning there. I would have probably given my right hand at that time to be launched by Anurag Kashyap," Varun said.
To this, David quipped, "Thank God".
Varun said when he told David that he was doing Badlapur, his dad received the news negatively.
David said, "I saw he had grown a beard for the character, he didn't laugh, didn't talk for 20 days. I asked my wife when he would shave. I didn't know what he was doing, but thought, 'Chalo, achhi hi banegi'."
"I saw the film and I loved it. I said, 'It's a revenge story, it's a Hindustani film'."
Varun revealed he visited a psychiatrist for a couple of sessions after working on the emotionally disturbing Badlapur.
"There's nothing wrong about speaking your mind," the actor added. "They didn't say, 'There's something... don't get scared'. The doctor said, 'If you stay in an intense environment for a long time, it happens'."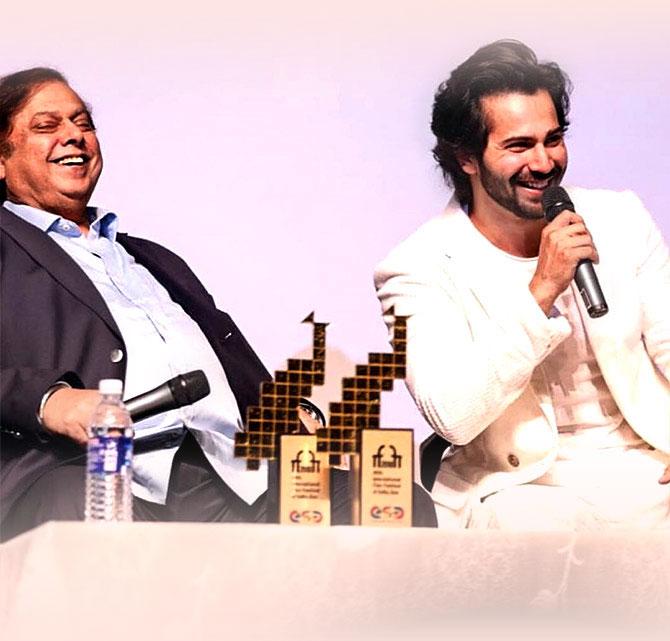 Varun shared his childhood dream where he wanted to own a television channel and host a stand-up comedy show.
"I was obsessed with Jim Carrey, Robin Williams, Eddie Murphy, Govinda and Mehmood, people who did improv comedy. I used to think these people are so talented. I tried to find such characters in real life too."
"There was always a person in the group who would be the 'jaan' of the group, and he did the comedy. I wanted to be that person," he said.
The actor, whose last release was the sleeper hit Sui Dhaga, said he also tried doing a day job at CitiBank.
Later, he auditioned for Kiran Rao's Dhobi Ghat, and his father got upset after he learnt about it.
David recalled saying, "I said, 'You are mad or what, doing this Dhobi Ghat?' I told his mother that if he wants to do films, he should do it properly. He can't start a career with this kind of film."
David was relieved when Karan Johar told him that Varun would star in Student Of The Year.
"When Karan said he was directing the film, I said (to Varun), 'Now you just put your feet on his shoulders and jump'," he said.
Varun said he was not scared about his debut as he thought if it went south, "bill to Karan Johar pe phatega" ("failure will be on Karan's head)."
He admitted being stressed while shooting for his father's Main Tera Hero.
"Working with papa was the toughest," Varun said. "I used to be bullied. He treated me very badly on the sets. I even cried on day two in my van."
"My brother (Director Rohit Dhawan) came and laughed at me. He said, 'Papa has worked with tough actors like Sanjay Dutt, Salman Khan and Ajay Devgn. Don't think he'll treat you any different'."
After the 'bright and happy' Main Tera Hero, Varun said working in the dark thriller Badlapur was a major shift for him.
"When I left the sets of Main Tera Hero, directors asked me to take it easy. Sriram asked me to calm down as I had really overdone the film's death scene at the hospital," he said.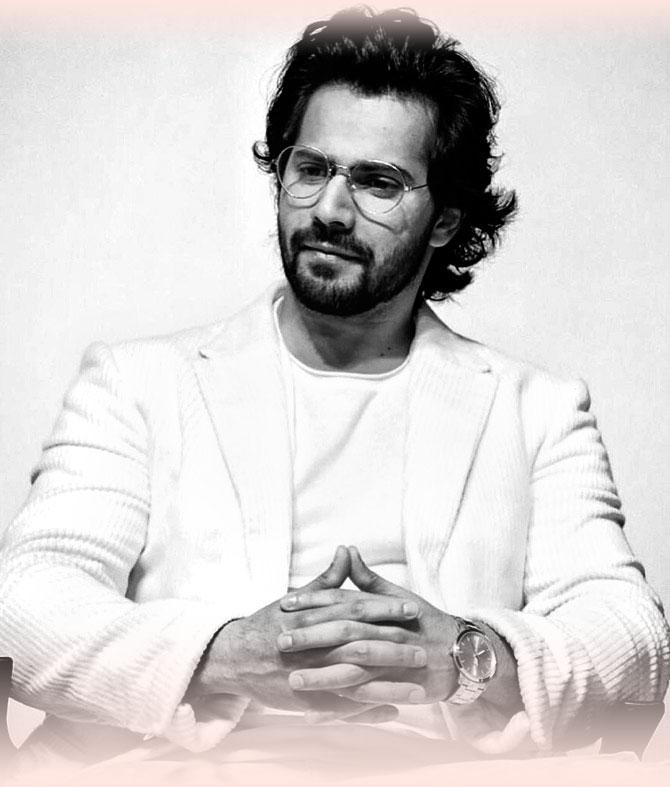 The actor, whose will be seen next in Kalank, said every film is a 'make or break' opportunity for him.
"I want to do all kinds of cinema. I always function in extremes -- either happy or sad. So as I have done mostly happy films recently, I would want to do one in the other space," he said, looking at Sriram Raghavan in the audience.
Varun added that he wore spectacles to the Goa event to inspire the director to imagine a character for him once again, probably, a negative one.
When asked which actor he wants to emulate, he replied, "I want to be Varun Dhawan."
Mind your language, please!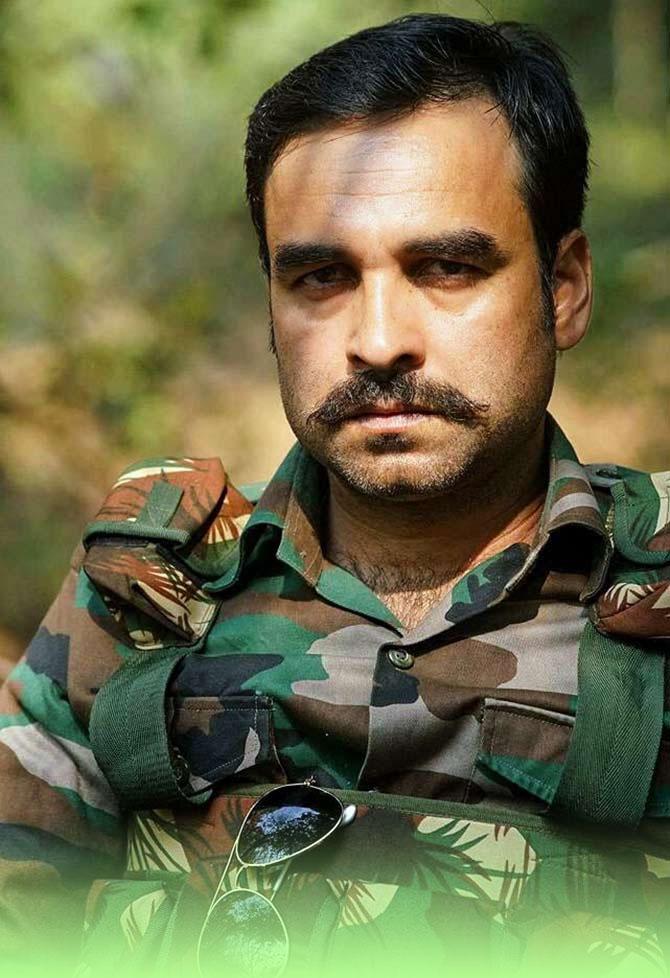 Day Three of the movie gala saw an unusual debate.
And it had nothing to do with the movies!
The bone of contention was that since people and delegates from different countries had come to attend the 'international' festival, it was logical that English be used to express one's ideas, instead of Hindi.
At IFFI 2018's 'Redefining Stories' session, one audience member objected to the moderator, cinematographer Aseem Bajaj, using Hindi as the medium of speech.
To that, actor Pankaj Tripathi, who was a part of the panel, quickly interjected in Hindi, "Uska kya jisko English nahin aati?"
Fellow panelist Rahul Bose made light of the discussion and said, "I can speak in English, Bengali, Punjabi, Marathi and Hindi. We can take a vote."
This was followed by an audience member saying: "You are known by Hindi films, please talk in Hindi."
The audience member, who strongly reacted to Tripathi earlier, dug his heels harder with continuous "Nos."
Bajaj asked the man in question if he understood Hindi, to which the person said "Not so well".
Soon, another audience member got hold of the microphone and she said, "I am from Korea, please speak in English."
Then, Bajaj declared that the panel would talk in English to make things 'easy'.
"If I speak in Hindi," Tripathi said, "someone please translate for those who can't understand."
When he got his chance to speak, the actor admitted to the man in question that he was unable to speak in English.
The audience member then said, "You are wearing jeans and all, you should be knowing English."
To this, Tripathi replied, "The age in which we learn a language, I was not that privileged to be able to wear jeans then."
His honest answer won many hearts.
"Main yahan baitha hoon apni story suna ne 'Redefining Stories' mein."
"Ye apne aap mein redefining hai ki main baitha hoon aur aap sun rahe hain," the actor said.
Language is not an issue, Tripathi said, and in his inimitable style translated the bit in a mix of Hindi and English.
"Gaur se, look into my eyes, and you will know the story," he said to resounding applause and laughter from the audience.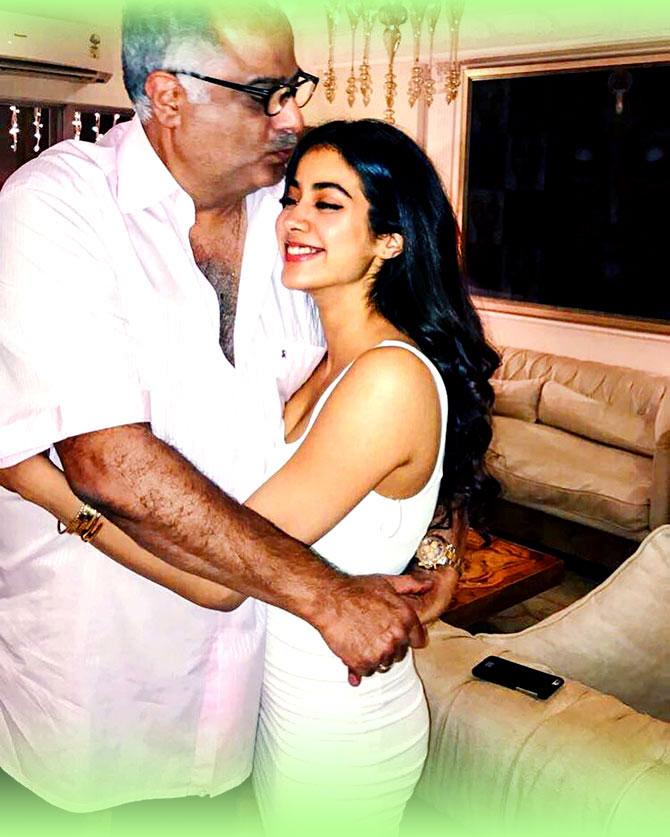 The language skirmish continued in the Conversation with The Kapoors session with Boney and Janhvi Kapoor, moderated by writer Rumi Jaffery.
An audience member objected to Jaffery speaking in Hindi.
To that, Jaffery said sternly, "Hindi is our rashtra bhasha and I will speak in it."
No one, however, dared to correct Jaffery that India does not have a national language.
Amid a lot of questions and interruptions, Boney Kapoor tried to assuage the angry crowd, saying "I will speak in Hindi and translate in English."
The producer then spoke about his son Arjun Kapoor's absence. Arjun was scheduled to attend the session.
Arjun is currently working on his look for Ashutosh Gowariker's period drama Panipat and the film's team wants to keep it under wraps, Boney said in Hindi.
He then translated the sentence in English.
But he could not fully honour his promise as the session moved ahead.
Jaffery too continued posing questions, mostly in Hindi, with a sprinkling of English and Urdu.
The scales of the entire conversation ended up tilting in Hindi's favour.
At NFDC's Film Bazaar, Knowledge Series Badlands & the Gender, however, the conversation ran seamlessly.
Director Vishal Bhardwaj was in conversation with London-based documentary film-maker Nasreen Munni Kabir.
Kabir asked questions in English and Bhardwaj answered in the same language.
In the session, when two members of the audience posed questions in Hindi, the director chose to answer in English.
Earlier, when some glimpses of Bhardwaj's films were shown, the director appealed to the organisers to arrange clips with subtitles (in English) so that people from other parts of the country and world do not get lost in translation.
Design: Ashish Narsale/Rediff.com