'I want my fans to remember me as the Sadhana of Love In Simla, Mere Mehboob, Woh Kaun Thi and Arzoo,' the Bollywood legend, who passed into the ages on Christmas Day, told Dinesh Raheja.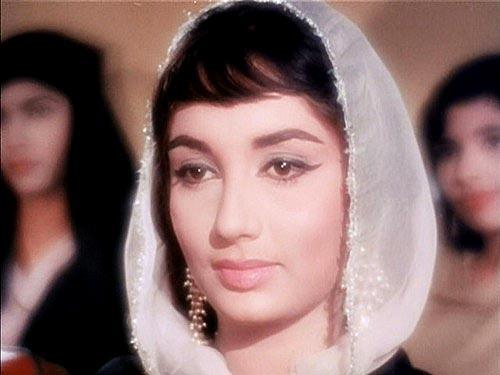 IMAGE: Sadhana in Mere Mehboob.
Each time I meet up with veteran actress Sadhana, we chat so exhaustively about her halcyon days during the height of the gilded era that I come back feeling there will be nothing new to talk to her or discover about her the next time around. Yet, whenever I talk with the actress again, I discover a new facet of her personality, an untold incident from her rich past.
Sadhana may seem reclusive, but from the time I first met her in the mid-1980s at her residence in Mumbai's suburban Bandra (Landmark apartment, the sea-facing building in which Meena Kumari too once lived) till now, we have had several insightful as well as casual conversations, both professional and personal. No Holi, Diwali, New Year goes by without the exchange of warm greetings and I always remember her birthday (September 2) though she never remembers mine. My wife and I have been invited for a couple of sumptuous dinners at her house too.
It feels strange to refer her as a veteran actress -- for me she will always be my first-ever and longest-running screen favourite.
In the 1960s, not only was Sadhana a talisman for many of these 60s bits of ephemera (Love In Simla, Ek Musafir Ek Haseena, Arzoo) but what gave her the edge was her gift for understatement and her knack for making transparent her innermost feelings even while playing a typical 'O Daddy' heroine in a Kashmir confection.
'I was a tomboy'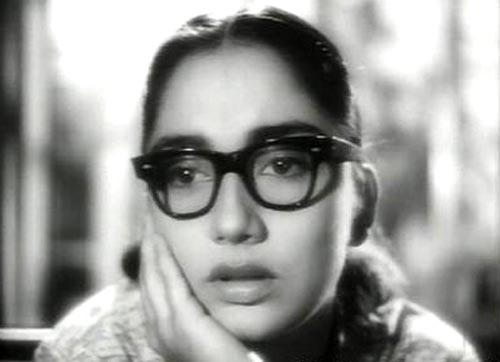 IMAGE: Sadhana in Love in Shimla.
Sadhana Shivdasani was born in Karachi in 1941, and was named by her father after the famous 1940s actress, Sadhana Bose.
Sadhana once told me, "After the India-Pakistan Partition in 1947, my family (including parents and elder sister Sarla) came to India. I was only six years old. We moved from Delhi to Benaras to Calcutta before settling down in Mumbai in 1950."
Sadhana recalled, "Now, I can't imagine living without the Mumbai sea. In Mumbai, people give you space and yet rally around in your hour of need. Besides, it's the only place where, even in the '60s I could announce that I wanted a whiskey with coke without raising eyebrows."
Her dad was a prosperous zamindar in Karachi but they moved to India with just a bag of clothes and moved into one of the many houses built specially for refugees.
Sadhana took great pride in recounting, "Main apne mohalle ki dada hua karti thi (I was a bully in my neighbourhood). I was a tomboy. I made the best maanja and I would fly kites while a chamcha (aide) of mine would hold the firki. I still remember how I would purchase a pav (soft bread) in six paise, slice it and stuff it with aloo tikki (potato patties) and channa (chickpeas in gravy)."
Her parents enrolled her in the fifth standard at Auxillium convent, Wadala. She divulged, "Did you know, I had never been to school before this? My mother had done a course as a Montessori teacher, so she taught me at home. However, since I spoke Sindhi at home, I found it difficult to communicate with other kids though I could read and write beautifully in English."
A conscientious girl, she knew from childhood that she had to support her family as she was born to her parents at a late age. She attended morning college so that she could work in the second half of the day.
'R K Nayyar was the first man I kissed'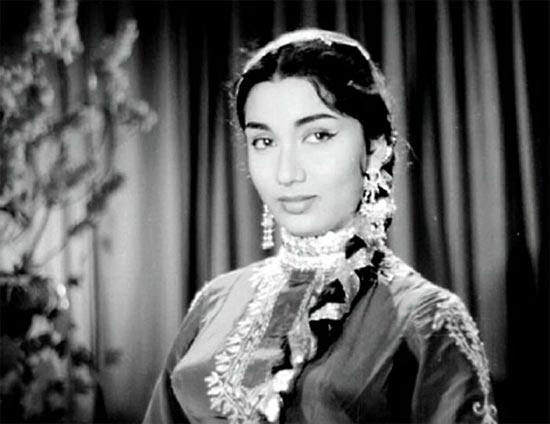 IMAGE: Sadhana in Abana.
While doing a play in Jai Hind College, Sadhana landed the role of the second lead to Sheila Ramani in a Sindhi film Abana (1958). When Sadhana asked Sheila for an autograph, the Taxi Driver seductress scribbled, 'One day, I will come and ask you for your autograph.' Sheila Ramani was the first to recognise the future trajectory of Sadhana's career.
An advertisement for Abana in Screen newspaper caught the eye of movie mogul Sashadar Mukherjee (the force behind Filmalaya) and he enrolled Sadhana at his acting school, which Asha Parekh occasionally frequented.
Debut-making director R K Nayyar, who had assisted Raj Kapoor, teamed Sadhana with Mukherjee's son Joy and cooked up a light, sweet confection, Love In Simla (1960). In this reworking of the Cinderella tale, a plain Jane (Sadhana) transforms into a svelte swan to compete with her conventionally pretty cousin (Azra) and vie for Joy Mukherjee's affections. Sadhana was a scene-stealer with her near-naturalness and gamine charm.
Nayyar and Sadhana fell in love during the making of this film ("He was the first man I kissed") while the audience fell in love with Sadhana after the film was released. The craze for her Audrey Hepburn-inspired 'Sadhana fringe' (suggested by Nayyar to conceal her broad forehead) spread, making her the instant fashion icon of the nascent decade.
'I was paid Rs 750 a month for the first year in Filmalaya'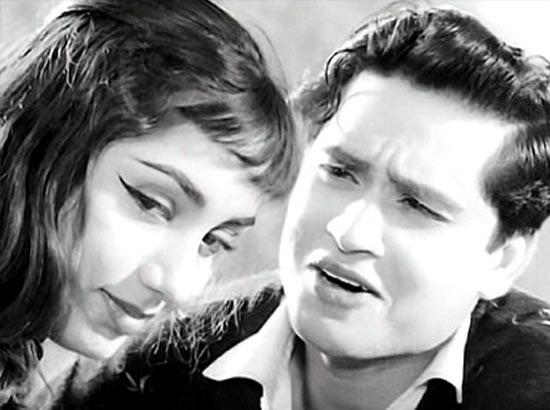 IMAGE: Sadhana and Joy Mukherjee in Ek Musafir Ek Haseena.
Only three months after Love In Simla, Sadhana's second film, Bimal Roy's Parakh, presented her as a village girl, the soul of unaffected simplicity.
Bound by a three-year contract with Mukherjee's banner, Filmalaya ("I was paid Rs 750 a month for the first year, Rs 1,500 a month for the second year and Rs 3,000 a month for the third year"), Sadhana starred in Filmalaya's musical, Ek Musafir Ek Haseena, one of the earliest road stories which was studded with several lilting O P Nayyar-composed songs.
From popular ingenue to huge star, Sadhana's transformation took place with the success of the Muslim social, Mere Mehboob (1963).
On the first day of shooting, director H S Rawail insisted that she keep her famous fringe as part of her get-up. His foresight paid off.
Sadhana divulged, "They waited for eight months for my dates and in the meantime, they shot with Ashok Kumar, Nimmi, Rajendra Kumar... everything except my portions."
'After I signed Sunghursh, my thyroid problem cropped up'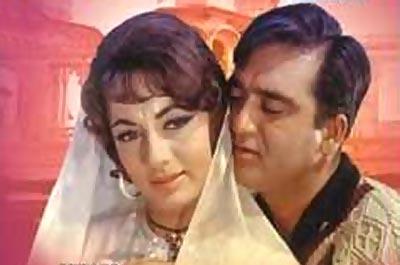 IMAGE: Sadhana and Sunil Dutt in Mera Saaya.
In her first colour film, Mere Mehboob, Sadhana looked like a dream under G Singh's soft-focus cinematography. Actor Danny Denzongpa once described the visage of Sadhana in a burkha with just her eyes visible in Mere Mehboob as "unforgettable."
For a short but memorable period after Mere Mehboob, Sadhana enjoyed the view from the top.
In the 1960s, she had only 19 releases, but an astonishing 11 of which were hits!
In 1964, she struck gold with Rajkumar and Woh Kaun Thi. Two years later, she did another Ms Mystery act in Mera Saaya, in which Sadhana illuminated her twin characters' recklessness as well as the inner turmoil.
Her breakdown scene in the courtroom --- she pretends to shoot all the lawyers, but refuses to gun Sunil Dutt down, pleading, "Inhe mat maro, inhe mat maro, yeh beqasoor hai (Do not shoot him, he is innocent)."
Both her 1965 releases were blockbusters -- Ramanand Sagar's Arzoo re-teamed her with Rajendra Kumar while Yash Chopra's Waqt had Raaj Kumar and Sunil Dutt vying for Sadhana's affections. In Waqt, she successfully pioneered the tight churidar-kurta.
Mere Mehboob was to be followed by the same filmmaker's Sunghursh in which Rawail cast Sadhana opposite Dilip Kumar for the first time. But destiny and Rawail decreed otherwise.
In a voice still laden with disappointment, Sadhana revealed three decades later, "After I signed Sunghursh, my thyroid problem cropped up. So I called Mr Rawail and told him to sign another heroine. Mr Rawail dismissed it with "If I could wait so long for you for Mere Mehboob, I can wait for Sunghursh too."
"However, five days later, I read a huge ad in Screen newspaper declaring Vyjayanthimala as the heroine of the film. It hurt. I didn't talk to Mr H S Rawail thereafter."
'Raj Khosla's dream was to pit Nutan against me in a film'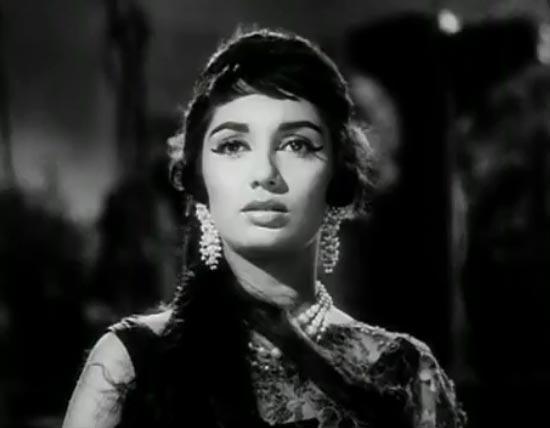 IMAGE: Sadhana in Woh Kaun Thi
Her thyroid problems also caused Sadhana to be unceremoniously dropped from the Raj Kapoor starrer, Around The World.
But there were several filmmakers who stood steadfastly by Sadhana through thick and thin. She heartily agreed that Raj Khosla brought out the best in her, whether it was in Ek Musafir Ek Haseena, Woh Kaun Thi, Mera Saaya or Anita.
"I lent Raj Khosla my wedding pictures for a scene in Mera Saaya in which Sunil Dutt is flicking through his marriage photographs. Later, Raj Khosla's dream was to pit Nutan against me in a film. It didn't happen and years later, the film was finally made as Basera with Raakhee and Rekha," she said.
When I conveyed to Sadhana that both Rekha and Raakhee find her voice captivating, she had laughed like a little girl, and admitted, "Nayyarsaab (her husband whom she sometimes affectionately referred to as Rummy) told me, 'You have three voices. One is your natural every day voice, another voice that you use to scream at me, and the third is the voice you have cultivated for the screen'."
When Sadhana's thyroid problem got aggravated, it even affected those much-admired eyes. A spunky Sadhana underwent a prolonged treatment at the Leigh clinic in Boston. She returned and threw a party for the Who's Who of the industry to announce that all was well with her.
For a while, it looked like she could pull it off.
In 1969, two of her silver jubilee films, Intequam and Ek Phool Do Mali, were released within a month of each other. Both were fuelled by Sadhana's star power.
'I have very few regrets -- losing my baby was one of them'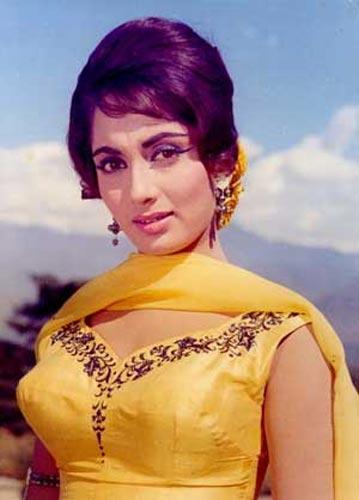 IMAGE: Sadhana in Waqt.
Offers gradually diminished in the 1970s. Reluctant to essay character roles, Sadhana finally accepted the transient nature of stardom gracefully and eased out after Geeta Mera Naam (1974).
Sadhana didn't hold any rancour. She wistfully confided in me: "I have very few regrets -- losing my baby was one of them."
She quickly regained her composure and with her enigmatic smile, said, "I am the kind of person who loves being by herself. I regularly go to Otter's club (in Bandra, northwest Mumbai) to play cards but if the need arises, I can do without going out of my house for weeks on end... watering my plants in the morning (she now stays in a suburban bungalow), reading and watching television."
Sadhana continues to hold a deep abiding attachment with her late husband, despite their tempestuous marriage.
"Nayyar and I fell in love during the making of Love in Simla. In those days, we wouldn't meet so often unless at the studios, so most of the wooing was done over the phone. After five years of estrangement, because my parents objected strongly, my family finally realised that we were serious about each other and conceded. We had the best ever attended engagement."
This was in the mid-60s when Sadhana's career was at its zenith courtesy several hits, but she insisted: "It never occurred to me that I should keep my marriage a secret. In those days, one's attitude was 'Chalo ab paanch-chhe saal kaam kar liya, ab ghar basa lo, bachhe karo (work for five-six years, get married and have children),' have a family life."
'I don't hanker for the spotlight'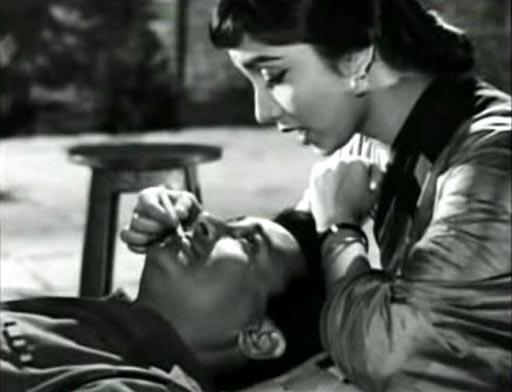 IMAGE: Sadhana and Dev Anand in Hum Dono.
Today, Sadhana leads a reclusive but happy life.
Her only connection to films are the monthly lunches she goes for with her group of 60s actresses (comprising Waheeda Rehman, Nanda, Asha Parekh and Helen).
"I don't hanker for the spotlight," she emphasised. "I want my fans to remember me as the Sadhana of Love In Simla, Mere Mehboob, Woh Kaun Thi and Arzoo."
This feature was first published on Rediff.com in December 2012.