Putting together a play about the Father of the Nation is no easy task.
But when that play is a musical, the challenges increase.
Rediff.com's Savera R Someshwar (text), Rajesh Karkera (video) and Hitesh Harisinghani (photographs) take a look.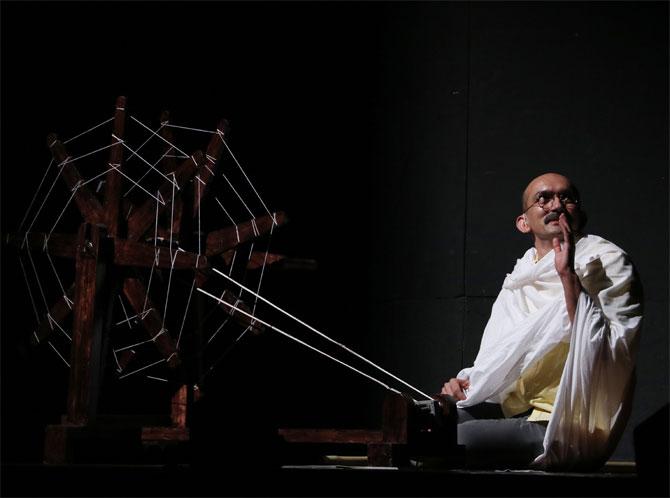 REHEARSAL: Chirag Vora, who plays the older Gandhi, takes his position by the charkha.
"On the stage! NOW!" roared Danesh Khambatta, his voice many octaves higher than normal as he rat-a-tatted closed doors and poked his head into rooms that were half open. "Didn't you hear the call?"
As the actors, singers and dancers -- make-up incomplete, costumes partly donned -- rushed out, and the man ironing the costumes flattened himself against the wall in the narrow aisle, Danesh, the 30-year-old writer-director of Gandhi: The Musical, turned and gave us a highly stressed grin, "And that's how I shout."
A little while earlier, he was laughing as told us, "Do I lose it? Ya, ya, multiple times. And I really shout. But the next minute -- the next second in fact -- I will always say sorry and that's what they make fun of me for."
GLIMPSES: The chaos, backstage.
Silly Point Productions, the theatre company of which he is part, has always wanted to do a musical, he says, but they never thought they would end up doing one on the Father of the Nation.
Season one had 16 songs, 2 adaptations and 12 choreographed dances; season two, which played at Mumbai's National Centre for the Performing Arts, is a trimmer version.
Danesh, the currently bleary-eyed man behind it -- he confesses he hasn't slept for two-and-a-half days -- is pretty pleased with the end result.
Why Mahatma Gandhi, though, for a musical?
Especially since Danesh confesses that he fell asleep when he was reading Gandhi's autobiography, The Story Of My Experiments With Truth, for the first time two years ago?
WATCH: The actors, on and off stage.
"I'll be very honest with you. I've never been interested in Gandhi. But he mentioned stuff that you'll never mention in your autobiography. That's what floored me. I respect him for that."
Danesh started doing his research, putting together a tale for the stage, deciding which elements to keep and which to avoid.
"His anecdotes interested me. He was a very, very witty man. He was very dynamic. That's why he could lead. That's why he could orate."
"Unfortunately," says Danesh, "Gandhi's image has become his greatest foe. Everyone sees him as this idealistic preacher which is not the case. He never wanted to be called the Mahatma; he called himself a proud son of the nation and that's what we show in our play."
GLIMPSES: The manic madness of the rehearsals.
Putting Gandhi: The Musical together was a complicated effort, involving music (Danesh's brother Nariman and his partner Rahul Pais), songs, vocal arrangements (Dawn Cordo), choreography (Bertwin Ravi D'Souza), lighting and other technical details (Meherzad Yazdi Patel, who usually writes and directs plays for Silly Point), sets, costumes and a crew of nearly 60 actors, singers and dancers.
Then there was the challenge of how the British administration ought to be portrayed. Danesh already had a huge cast in place and balked at the idea of increasing numbers.
"We didn't have the money for a lot of actors and costumes. Besides," says Danesh, "Gandhi was never against a person, he was against the system."
So the British actually became a system, a projection voiced by Boman Irani.
"Boman Uncle" has been part of Danesh's life since his school days, when the former came to watch him a school play. "He been a guiding force through this musical."
WATCH: A tale of two Gandhis.
The most important aspect for Danesh was getting the right actors to play his Gandhis.
Abhishek Krishnan -- the 25 year old has films like Oscar-winning director Claude Leouch's Un Plus Une; Sudarshan Shetty's Shunya Ghar; Shoojit Sircar's MTV film, Stupid Cupid and the Sony Liv Web series, Tanlines, under his belt -- almost didn't become the younger Gandhi.
He couldn't make it for the first audition call; he was shooting. By the time he returned, the play had been cast. Offered the role of a dancer -- he is a trained actor, singer, dancer -- Abhishek declined.
A couple of months later, he got a call again. And, a couple of auditions later, he was the younger Gandhi.
As for the older Gandhi, his looks and experience -- Chirag, 42, is a veteran stage actor with more than 20 plays, including Paresh Rawal's Kishen Vs Kanhaiya, the Gujarati musical Master Phoolani and Sunil Shanbag's Maru Piyu Gayu Rangoon -- sealed the deal for Chirag Vora.
Everyone enjoyed the challenge of being involved, as Chirag says, in such a "massively mounted production."
GLIMPSES: The play.
Danesh drove his team hard.
"Louder... louder... more aggressive... more aggressive," Danesh would tell Francois Castelino, a 45-year-old theatre veteran who "got into theatre way back in 1988 with a musical for the late Pearl Padamsee."
Generally a soft spoken person, Francois' character as the judge in South Africa, who humiliates Gandhi for not removing his turban in court, requires him to be bombastic, rude and in-your-face.
Then, as the instigator in the Chauri Chaura sequence -- where angry protestors burn down a police station -- his body language, and song, had to be both forceful and angry.
But the role that Francois probably enjoyed the most -- and the one that has won him the most accolades -- is that of Rustomjee Jiwanji Ghorkhodu, a Parsi leader, who was, along with Gandhi, one of the co-founders of the Natal Indian Congress in South Africa.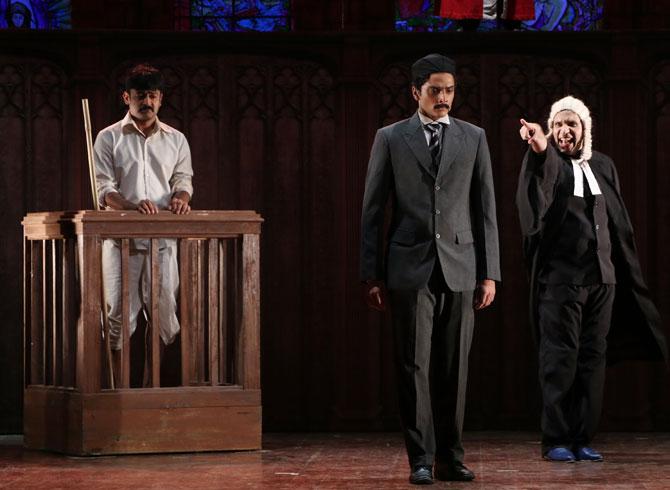 IMAGE: Gandhi is humiliated for refused to take off his turban in a South African court.
Like Francois, most of the actors play multiple roles.
Darius Shroff, a practising senior advocate at the Bombay high court, plays Seth Abdullah, another co-founder of the Natal Indian Congress.
"Seth Abdullah," says Darius, "is fighting a case that requires a lot of Gujarati papers to be read, understood and explained to the court in South Africa, so he asks his family in Gujarat to send over a lawyer who would be able to do that."
That lawyer was Mahatma Gandhi.
In the second half, the 65 year old becomes Jawharlal Nehru and he declaims his favourite scene in the play, "the Tryst With Destiny" speech.
"Theatre wise," says Darius, "the moment that resonates most with me is the moment when the young Gandhi transforms into the older Gandhi. Emotion wise, Harilal's emotional song to his father and his mother... that's a very emotional moment."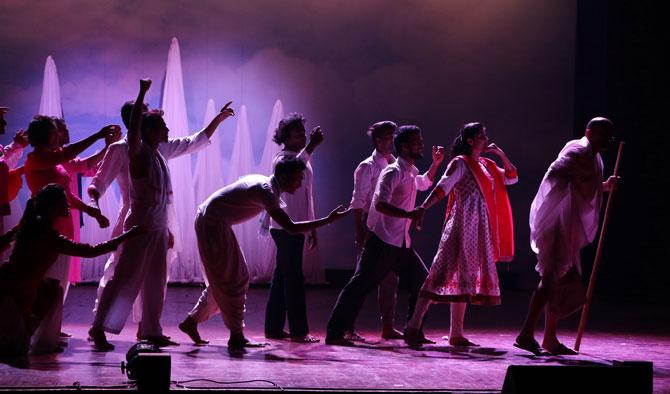 IMAGE: The Dandi March.
Little Kunal Parikh -- who plays the young Harilal, Gandhi's eldest son who later became estranged from his father -- didn't know much about Gandhi.
"We haven't started learning history in school as yet," says the 10 year old, who, in his spare time, learns the piano, chess, Kathak and plots his future as a scientist heading a research institute. He has "only missed one day of school" to act in the play.
"My father has told me a few stories about him, what he's done, how great he was. But since I joined this play and have watched it so many times, I have learnt a lot about Swadeshi and the Dandi March."
Kunal is rather glad, he says, that his father is not like Gandhi. "The positive part is that Gandhiji is the father of the nation and the negative part is that he does not get much time with his children. If Bapu was my father, he would not spend any time with me; he'll be too busy doing the other things he has to do."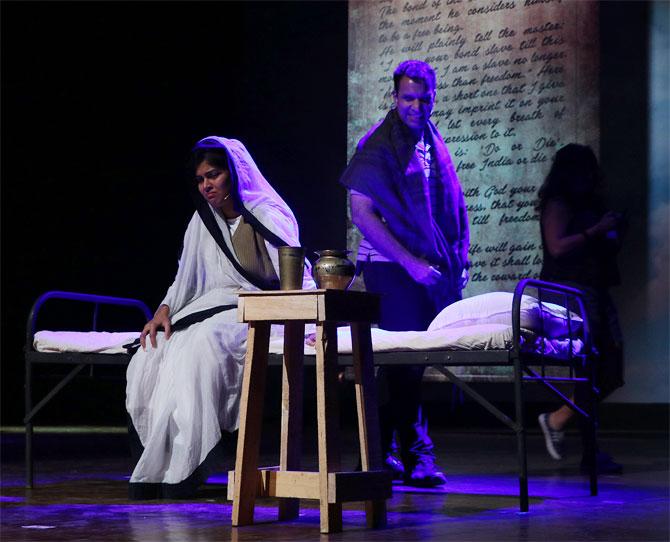 IMAGE: Harilal bares his aching heart to his mother Kasturba.
Harssh A Singh plays the older Harilal -- you may have spotted him as Nawazuddin Siddiqui's boss in Bajrangi Bhaijaan and as the cop assisting Vicky Kaushal in Raman Raghav 2.0.
Like most of the actors in the play, he has multiple roles that require him to sing, dance and orate -- he also plays the lawyer who ridicules Gandhi in a South African court and Mir Alam, a Pathan who attacks Gandhi because the latter signs the Transvaal Asiatic Registration Act, which became infamous as the Black Act, but later becomes one of Gandhi's staunchest followers.
It was the terrible humiliation heaped on the Indian community by the Black Act that inspired Gandhi to first try out Satyagraha, his infallible, non-violent weapon against any kind of injustice.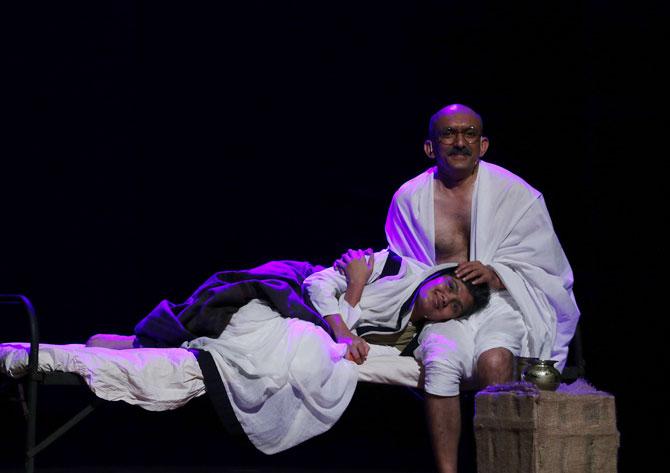 IMAGE: 'If there was no Ba, there would never have been a Bapu.'
Everyone involved has their favourite moment in the play.
If Darius and Abhishek like the moment when the younger Gandhi transitions into the older one, Chirag and Danesh get emotional about Kasturba's death scene where Gandhi says, 'Let the world know, if there was no Ba, there would never have been a Bapu.'
Harsh and Kunal -- the older and younger Harlilals -- have a soft corner for the Swadeshi scene, while Vivek Tandon, who plays Jinnah, and Francois love the drama of the courtroom scene in South Africa.
All of them, without exception, say they have learnt quite a bit more about Bapu and he is now a bigger part of their lives.
"Gandhi has always been a major part of life in my pocket, in my wallet," deadpans Crystal Sequeria who plays Sarojini Naidu, before breaking out into a big grin. "Just kidding."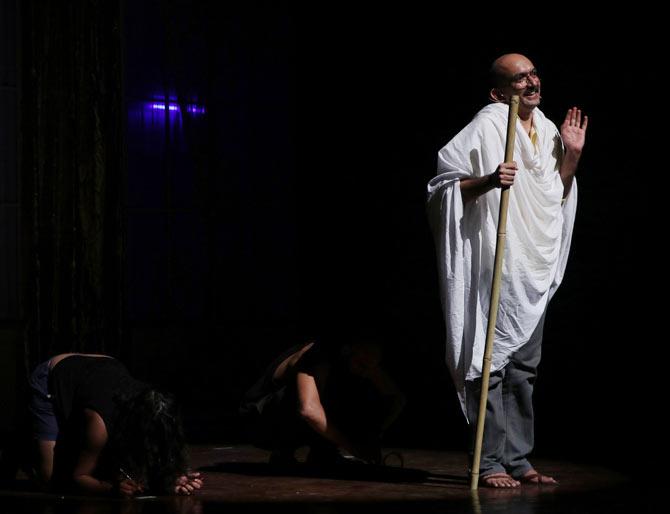 IMAGE: 'Your promises are like post-dated cheques that cannot be cashed,' Gandhi tells the British at the Round Table Conference in London.
Like the others, Crystal -- whose favourite subject was "not history" -- has learnt much more about Gandhi in the course of preparing for the play.
The 27 year old, who sings a beautiful version of Vaishnava Jan Tho, one of Gandhi's favourite bhajans, in the play, says, "Look at what a simple man, wearing just a loin cloth, has managed to achieve. He has a powerful message for anyone who is dealing with a situation where they don't know if they can speak up. And this is happening across India (today), where we don't know if we have the right to speak. This man had all the power and gave it to the people who don't have it."