Hrishida's Abhimaan captured the real life pair Jaya and Amitabh Bachchan's dazzling chemistry in the many stages of the husband-wife relationship, observes Sukanya Verma.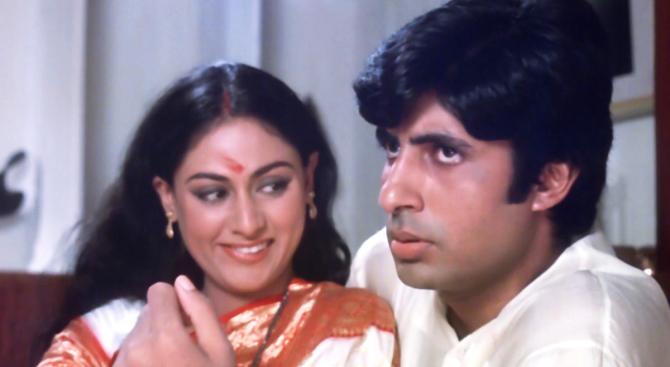 'Kala main jo baat keh di jaati hai woh itni badi nahi hoti jitni woh baat jo nahi kahi jaati.'
Who knows this better than Hrishikesh Mukherjee? His mastery in subtlety contributes to Abhimaan's enduring success even 50 years later.
1973 holds a special spot for its leading duo.
It's the year Amitabh Bachchan and Jaya Bhaduri got married and teamed up on two milestone movies of their career, Zanjeer and Abhimaan.
If Prakash Mehra's Zanjeer kickstarted the Angry Young Man phenomenon, Hrishida's Abhimaan, produced by the couple's short-lived Amiya (an amalgamation of Amitabh and Jaya) banner captured the real life pair's dazzling chemistry in myriad stages of the husband-wife relationship.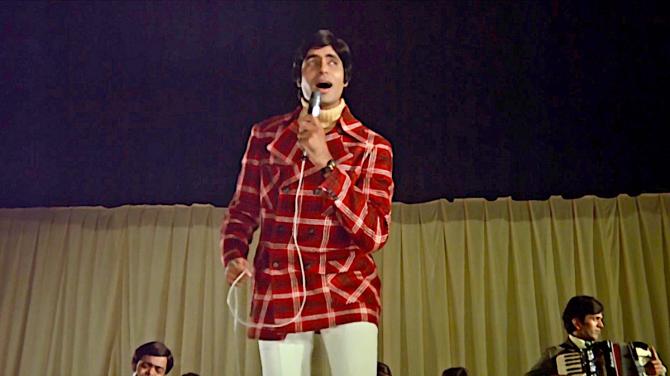 Released on July 27, 1973, the acclaimed classic looks at the nature of male ego through the marriage between two singers.
As it so happens, the wife is more gifted than the husband. But the real problem arises when her stature grows in popularity too.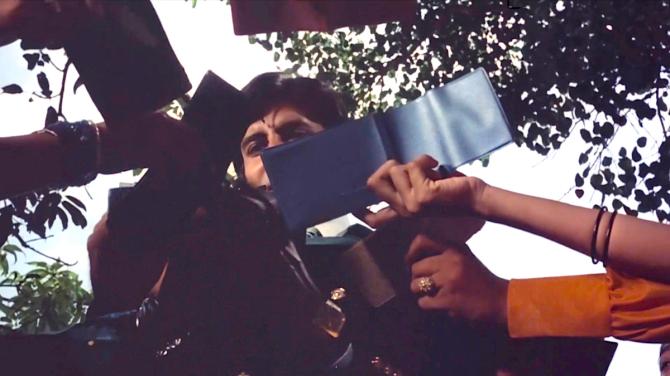 When we first meet Amitabh Bachchan's Subir in Abhimaan -- which opens and ends on a stage encompassing a solo's journey into a duet -- he's a singing sensation caught in the highs and lows of heady fame, crying Meet Na Mila Re Mann Ka in Kishore Kumar's cheerful voice.
Donning a plaid jacket, turtle neck and bell bottoms, AB cuts a dapper picture displaying the fashion trends of the early 1970s while bulky gizmo imagery of record players, dial phones and typewriters round up a technology that's an alien sight for today's wi-fi, wireless age.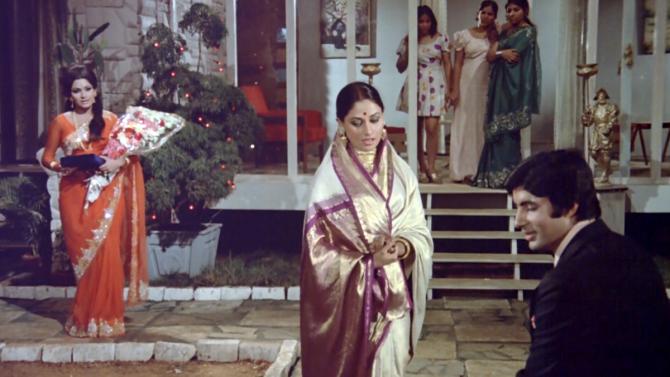 Life in the fast lane is lovely but lonely -- Subir's nagging insomnia and growing dependency on alcohol, cigarettes and Chandru (Asrani), his friend-cum-secretary reveal the reality behind his smug, satisfied exterior.
Whatever potential for romance a wealthy socialite called Chitra (Bindu) holds, Chandru nips it in the bud.
Reasoning that a modern, liberal woman will spell doom for his pal Subir, he recommends, is better off marrying someone whose keywords are simple and 'seva'.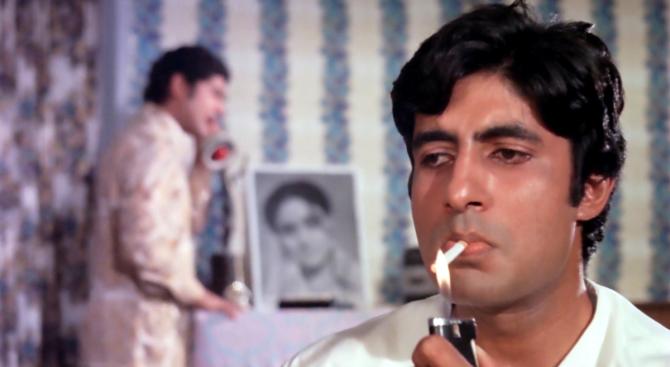 Needless to say, Chandru's stereotypical mindset about women or assessment of Chitra's character haven't aged well. Nor has Chitra selling herself short to justify Subir's friend-zoning.
Best known for her vampy avatars, Bindu earned laurels for playing against type as Subir's modern-day Chandramukhi.
Ditto for Asrani in the role of a loud, outspoken Sindhi secretary unafraid to call out his friend's insecurity when he doesn't get paid as much as his wife, and yet is so accustomed to his job he almost reaches out to answer the phone immediately after calling it quits.
It's these little human, correction, Hrishida touches that lend Abhimaan a gentle emotionality perfectly embodied in Jaya's instinctive portrayal as Uma.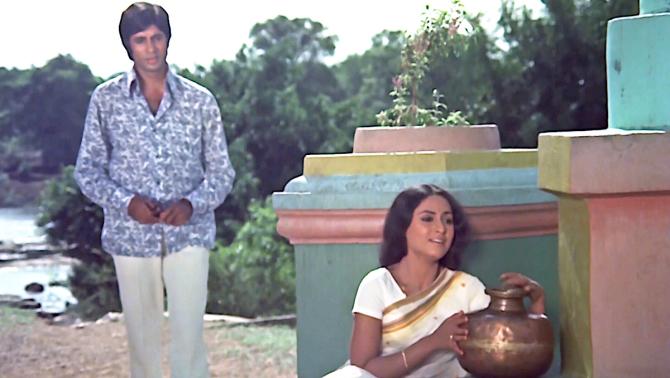 During a trip to see his mother figure (Durga Khote) and gobble on his favourite menu of baingan ka bharta, kamal kakdi ke bade and besan ki roti (yeh moti moti!), Subir comes across Uma's soulful singing (a Shiva stuti performed by a young Anuradha Paudwal) and falls hook, line and sinker for her.
Her striking simplicity and unadorned views soothe his inner chaos and offer a welcome change from the constant clamour of fawning, flattering fans.
Deeply influenced by her learned father's philosophy, Uma's insights on music (Pitaji kehte hain jab geet swayam ke liye gaya jaata hai toh sangeet ho jaata hai) and faith (Pitaji kehte hain vishwas main hi sab kuch hai, bahes main kuch nahi) are telling of her values and personality.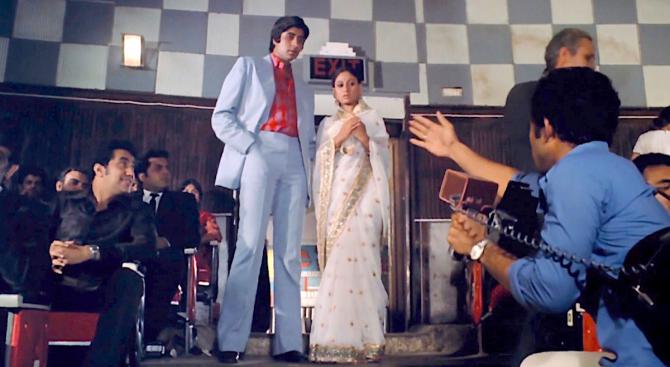 Subir and Uma's marital and musical journey starts off on a harmonious note until stardom's fickle nature kicks in and seeds of jealousy bear fruit.
Jaywant Pathare's astute camerawork is quick to capture this change of status quo in frames packed with symbolism and nuance. Like how the picture on their bedroom wall changes from Subir's to Subir and Uma to only Uma's.
We know exactly how Subir feels as Bachchan does a damn good job of letting us know.
But how I wish Abhimaan would tell us a bit of Uma's side of the story as well.
Why does she feel guilty about outshining her husband?
How does she feel about her celebrity?
Was she savouring it?
It's almost as if she's oblivious to its existence.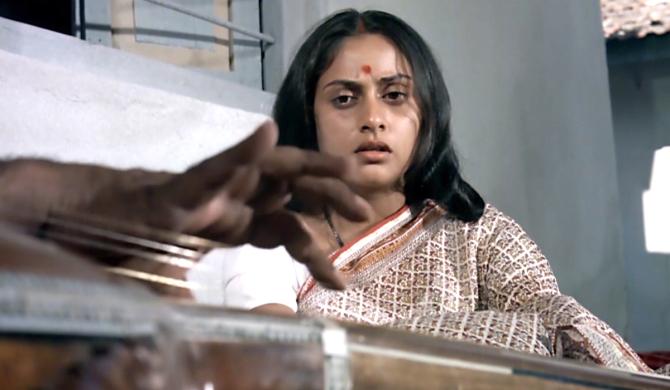 Despite these ambiguities, Jaya Bachchan makes Uma entirely hers.
In an interview to Rediff.com, the actress credited the film-maker for showing her how, 'He had this peculiar knack of spotting a mannerism that was typically yours. He would point it out to you, and say, 'This is yours, patent it.' With me, it was my laugh or the way I wrinkled my nose.'
Her smile, her silence, her saris, her grace, her tragedy, her torment -- there's not an iota of artifice or labour about Jayaji's being or expressions.
She exudes staggering vulnerability following Uma's miscarriage translating in complete aversion to music even as Abhimaan chooses to be ambiguous about her feelings on fame or her husband's displeasure over it.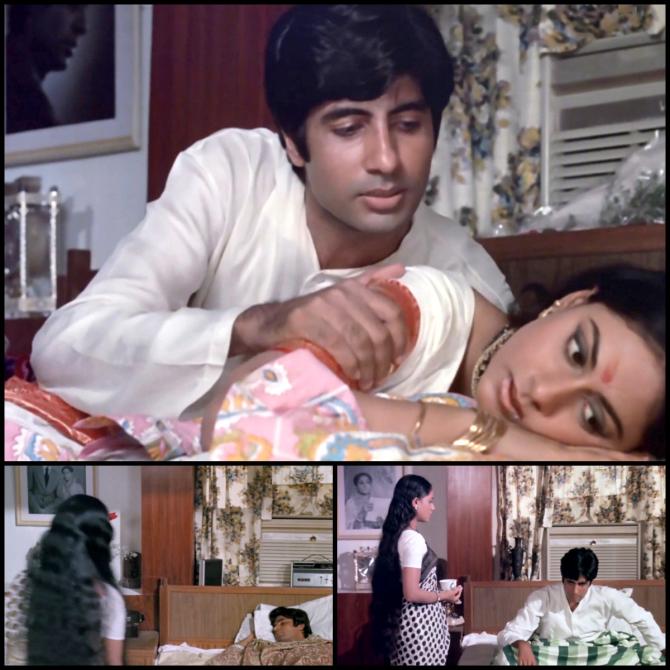 There are no ugly confrontations, slanging matches or blame games.
We feel the pinch of their estrangement all the more only because of how loving and encouraging things used to be -- of morning rituals, kiss codes, in-jokes and dreams dressed up as duets.
It's Subir's insistence on making Uma a part of his professional world -- Tumhare gaane ka matlab hai main gaana ga raha hoon, mere gaane ka matlab hai tum gaana ga rahi ho -- that throws her in the limelight in the first place.
Perhaps if Subir could recall his own spellbound response to her singing, he could reconcile to everyone else feeling the same.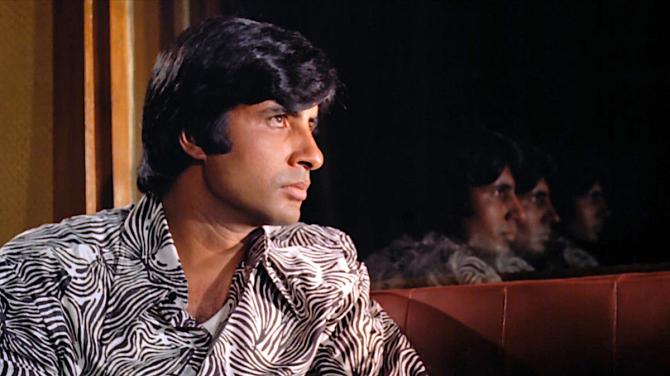 Hope and happiness are trademarks of Hrishida's cinema.
But in Abhimaan, his eternal optimist is prudent in its presence and depicts Subir in a suitably unflattering light after his ingrained superiority complex clouds his ability to reason or see the inconsequentiality of his behaviour.
Something Chitra's foresighted father and a revered figure in classical music (Hrishida regular David) predicted all along.
Though when his aide dismisses his concerns about Uma outshining Subir believing 'saara sangeet rasoi-ghar aur bache paalne mein chala jayega,' he fittingly retorts 'Yeh toh aur bhi bura hoga.'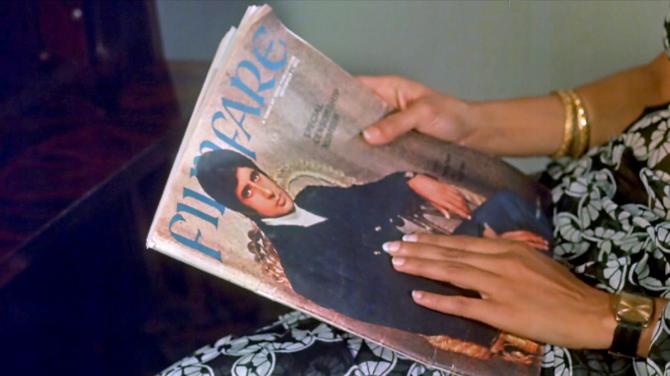 Abhimaan is as much about marital discord as it is about how wobbly the foundation of male security is when it comes to a woman's talent and success.
Rajendra Singh Bedi's powerful dialogues as well as Amitabh Bachchan's complex performance bring out this intricacy to the fore.
The changing colour of the Big B's moods, as the poison of resentment gains control, plays out stunningly over the course of Sachin Dev Burman's brooding melody, Ab Toh Hai Tumse and its pensive guitar riff.
Music forms the bulk of Abhimaan's narrative.
A magnificent blend of SD's poignant tunes and Majrooh Sultanpuri's intense thoughts mirror the inner turmoil and despair of its characters in Lata Mangeshkar's dulcet expressions.
You gladly overlook a gaping glitch when Bachchan's singing voice keeps shifting from Kishore Kumar's to Mohammad Rafi's to Manhar Udhas.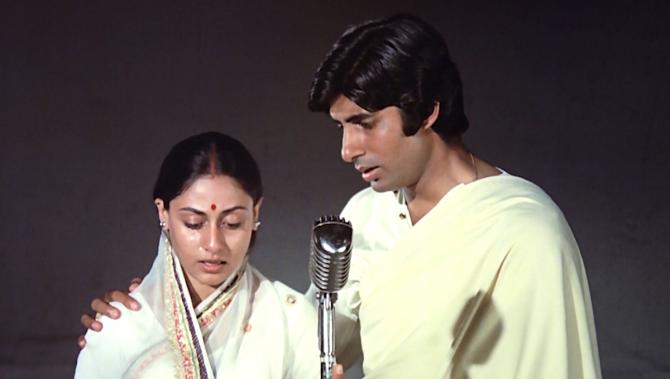 It's a soundtrack of enormous significance, of which Tera Mere Milan Ki Yeh Raina is the eternal heartbeat, a throbbing life force, a rare melody that comes from a place of pure love and intimacy featured twice in the movie, once as a fond glimpse into the future and again in the end, as a catharsis for Subir's regret and Uma's sorrow.
Fifty years later, their tearful reunion is as moving as ever and worth its weight in gold.