Years ago, she danced her way into our hearts. Years later, the lady is still dancing. This time to make a comeback.
Say cheers to Madhuri Dixit. After a five year sabbatical from films, the super-actress re-acquaints herself with the silver screen for cinematographer-turned-director Anil Mehta's debut, Aaja Nachle under the Yash Raj Films banner.
Co-starring the Laaga Chunari Mein Daag jodi -- Kunal Kapoor and Konkona Sen Sharma -- the musical is said to revolve around life in the theatre.  
The album, scored by the Kaal duo -- Salim-Sulaiman against Jaideep Sahni, Piyush Mishra and Asif Ali Beg's lyricmanship,  kickstarts with the swinging of shehnais and dholaks in the upbeat rhythm of Aaja nachle. Going by the promos, Madhuri is going to be a glittering dream to behold. The song, however, helmed in Sunidhi Chauhan's animated voice, is not exactly knockout material. The trite pattern of its tune and arrangement doesn't really compel the listener to reach out for the repeat button.
The pastel hued melodies of Ishq hua's breezy romance more or less compensate for the title ditty's disappointing show.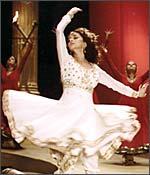 The composer duo fuse elements of folk, qawaali and pop to generate the vibrant and voluble Show me your jalwa. Combined with the husky talents of Richa Sharma, Kailash Kher and Salim Merchant, this number lives up to the spirit of its peppery lyrics.
He strikes gold with his winning deliveries each and every time. Rahat Fateh Ali Khan, inarguably, is the man. After resonating performances like Jiya dhadak (Kalyug), Naina (Omkara), Main jahan rahoon, (Namaste London) and Bol na halke (Jhoom Barabar Jhoom), the man regales with the Sufi ballad O re piya. His glorious rendition of this expressive track rates as one of the best in this album.
Madhuri Dixit, along with Sukhwinder Singh and Sunidhi Chauhan, hoists the flag of youth in the bouncy beats of Soniye mil ja. Regardless of its apparent enthusiasm for Mathura's pedas and Bikaneri's chunaris, Soniye is more of visual delight and less of a musical wonder.
The Rahmanesque appeal to Is pal is too obvious to overlook. Even so, the slender designs of its composition and Sonu Nigam and Shreya Ghosal's fine rendition are easy on the senses.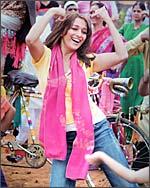 Laila Majnu's Koi patthar se na maare is recycled in new skin, colour and tone by Salim-Sulaiman here. The intensity is hard-hitting but misplaced resulting in Koi sounding more of a patriotic tribute instead of a lover's heartbreaking lament.  
A poor version of Madonna and Whitney Houston anyone? Check out Sonia Saigal taking on the dance floor with Dance with me. Tacky and passé, this English ditty is an embarrassing reminder of the 1980s brand of music.    
The verdict on Aaja Nachle is uncomplicated. When someone as special as Madhuri Dixit makes a comeback, you expect nothing short of extraordinary. The soundtrack of Yash Raj's latest musical is fairly decent. Still, extraordinary, it's not.
Rediff Rating: