Sooni Taraporewala makes us root for her young characters even if we aren't entirely sure about the depth of their feelings, feels Sukanya Verma.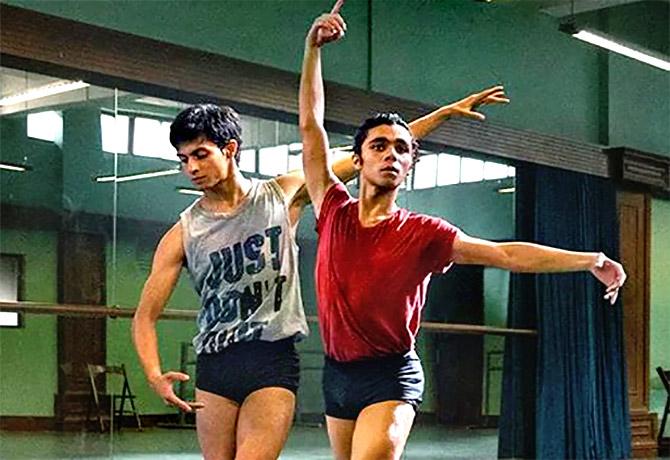 Yeh Ballet opens with an aerial view of Mumbai's seafront vista gliding past the tall skyscrapers to zoom in on the ant-sized inhabitants occupying its vast slums.
At the end, the camera soars above and away from this very imagery in pursuit of dizzying heights and dazzling prospects.
Bookended between these two vivid stages of promise and perfection lies a fairy tale of two male ballet dancers and a city known to make dreams come true.
Inspired by the true story of Manish Chauhan and Amiruddin Jallaludin Shah and their Israeli ballet instructor Yehuda Maor, writer-director Sooni Taraporevala adapts her 2017 VR documentary of the same name into a Netflix original movie.
Though set around a rarely explored dance form, more than the craft it is the struggle of economically challenged hopefuls to keep their dreams alive that gives Yeh Ballet its emotional, narrative edge.
There's a predictability to underdog tales, highlighted all the more in Taraporevala's vehemence to package multiple Mumbai clichés in one go.
From the city's raging monsoon and pulsating festivals to its extreme poverty and casual snobbery, Yeh Ballet doesn't miss a beat.
Throw in a temperamental teacher plagued by a close one's estrangement, disapproving parents, financial woes, hoity toity rivals, deceased friend, ailing sister, class and religious barriers to its pile of clichés and no new ground is broken.
What Yeh Ballet lacks in distinction it makes up in spontaneity and gusto.
As the action shifts between colourful painted ghettoes (Worli's Koliwada and Bandra's Jafar Baba Colony) and overbooked dance studios, stuffy apartments and dingy basements, a dance enthusiast Nishu (Manish Chauhan reprising his reality's fictionalised avatar) and a naturally talented slacker Asif (Achintya Bose) discover their calling in ballet under American instructor Saul's (Julian Sands) intense supervision.
Jim Sarbh pitches in an extended but impactful cameo as the business-minded power running the establishment.
Nishu's dad is a cabbie (Vijay Maurya) while mom (Kalyanee Mulay) takes tailoring jobs to make ends meet and pay their daughter's medical bills. Averse to Nishu's dancing ambitions, they'd rather have him lend a helping hand or focus on his studies.
On the other hand, an overbearing patriarchal figure warns Asif's unassertive father (Danish Hussain) against his pursuit of ballet, calling it anti-Muslim. They're essentially decent people, too bogged down by penury to entertain ambition or desire.
If Nishu is the mild-mannered, hardworking soul, Asif is all fire and cheek, taking his gift for granted until he knows better.
Together with Saul, they develop a deeper understanding of what it means to work for an opportunity and rise above one's circumstances.
Meanwhile, Asif's flirtations with a hip-hop aficionado and Nishu's camaraderie with his well-heeled ballet classmate are solely there to make them (and us) conscious of their religion and class.
If the milieu evokes Gully Boy, let us not forget its precursor Salaam Bombay had Taraporevala as its a co-writing force.
While she enlists Maurya's assistance (also behind the crusty lines of Gully Boy) for its Hindi dialogues, the film-maker's comfort and familiarity in this space is evident in how she retains the imperfections and resists glamorising Nishu and Asif's individual trajectory.
Despite the challenges its protagonists face, Yeh Ballet is far more cheerful than Salaam Bombay.
Scenes of the duo blending ballet techniques in everyday life are a nice touch if not too different from movies that liken cooking to combat.
But you never get a real sense of their inner struggle or education.
The ardour, anger and dejection are rather cursory.
Any attempt to document how they arrive at a point of excellence or even form a close friendship is so tactic, it robs their triumph the afterglow of a full-fledged struggle.
What I truly appreciated though is their moment of reckoning doesn't revolve around a contest, but something as realistic and famously daunting as a US visa.
Taraporevala captures moments in the most banal of scenes and makes us root for her young characters even if we aren't entirely sure about the depth of their feelings.
Giving her able support is a cast of newbies and veterans.
If the charisma and persuasive angst of Achintya Bose's fervour drips in magnetism, Manish Chauhan's sweet aura channels his good guy to the hilt.
Julian Sands never gets a characterisation worth the complexity he is s meant to possess, but uses his own hunch to appear mercurial in the absence of mystery.
Yeh Ballet streams on Netflix.
Rediff Rating: