'There's no real rebellion, just a consuming love for fashion and faux feminism where every zinger flying out of their mouth sounds like something you've heard on a sitcom or favourited on your Pinterest wall,' notes Sukanya Verma.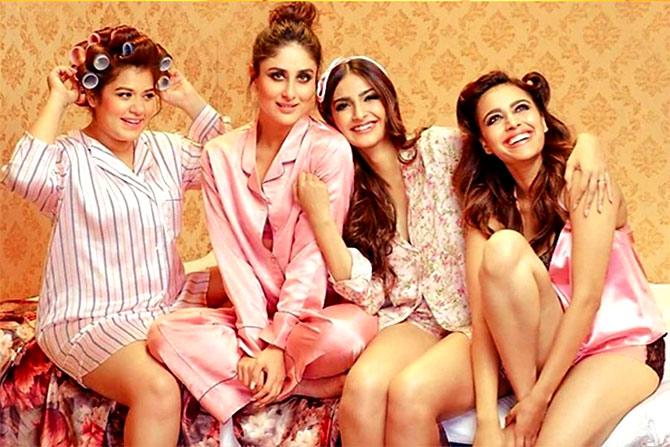 Veere Di Wedding is about four girlfriends, one wedding and an A-certificate.
It's almost as if a gorgeous box of bonbons stumbled upon a mountain of bullets. But the only rounds fired are the expletives shooting off its four female protagonists' mouth.
The girls drink, smoke, cuss and party in picture perfect dollhouses wearing picture perfect make-up.
It's as though brochure after brochure fell inside Carrie Bradshaw's drunken diary. Every single frame of its product placement state of being is costumed and prettified to Instagram perfection.
Veere Di Wedding wears its superficiality and sass with such barefaced gusto; you'll wonder if this is a parody.
In a better-written film (Mehul Suri, Nidhi Mehra), it would be and still not conform to the traditions it thinks it so cleverly over-rides.
Shashanka Ghosh's latest trifling aims for a Sex and the City brand of female friendships and freewheeling candour around a quartet of bum chums hailing from South Delhi, also the centre for overbearing, overzealous Punjabi aunty politics.
This time there's West Delhi doing its tacky bit to take some heat off GK's incessant snobs.
Before they dive into Delhi's overdone stereotypes, a clumsy prelude of their younger selves serves to establish the endurance of their bond as well as one character's aversion for commitment.
Not so surprisingly, Veere Di Wedding kicks off with the news of this very person's engagement (Kareena Kapoor Khan) to a guy (Sumeet Vyas) she looks at with more pity than pyaar.
It's a standard issue among filmi brides. They insist they don't believe in marriage, but agree to go ahead with it anyway only to mid-way develop second thoughts and then indulge in a tiring game of will she-or-won't she make it to the altar.
We already know. There's not much by way of plot anyway. Most of it is just jamboree stuffed with noisy caricatures and cosmetic bonhomie of four mildly frustrated friends.
And so Kareena scratches her throat and regularly rolls her eyes at mum-in-law's ridiculous demands and suggestions of wearing hideous Fairy Princess gown.
Sonam Kapoor's divorce lawyer is a simpering, starry-eyed, fool seeking romance and surviving her opinionated mother's (Neena Gupta) obnoxious commentary -- "Must you wear pants? You look like a lesbo." "Freeze your eggs."
Shikha Talsania is an exhausted product of marriage and motherhood, but retains her sense of humour especially when bragging of her Caucasian conquest, "John ke john ke saath kaun khush nahi reh sakta?"
Swara Bhasker could leave sailors and Devdas behind at the cursing/drinking game. Her irreverence may or may not stem from the fact she got divorced few months after an exorbitant destination wedding.
Between fancy shopping sprees and glittering pre-wedding rituals, the narrative just drifts away to accommodate sub-plots involving humourless parents, homosexual uncles, cackling stepmothers, overexcited in-laws and nondescript beaus.
But a movie cannot rest on weddings and gaalis alone, so while the writers sit and break their heads over how to wrap this meandering mess, the Veeres take off to Phuket and toss still more gloss and glamour in our direction.
What ensues is an unexpected shift of tone when the focus moves from friends to family.
Its jarring sentimentality once again reiterates this ridiculous notion of grown-up women having to seek validation from their folks.
Veere Di Wedding doesn't go overboard bashing the opposite sex besides hiring the blandest possible men for the women to romance and reject.
What's silly though is how coy the film remains despite its aggressive display of irreverence. There are zero instances of intimacy where even the boldest scene is restricted to self-pleasure.
All four friends are distinguished by their appearances and roles, but they are essentially the same person -- conventional to the core.
There's no real rebellion, just a consuming love for fashion and faux feminism where every zinger flying out of their mouth sounds like something you've heard on a sitcom or favourited on your Pinterest wall.
For a while though, the unapologetic tone of its 'Baahar se sati andar se slutty' shallowness actually works. A lot of that has to do with the easy whimsy the supporting characters intentionally (Manoj Pahwa) or accidentally (Anjum Rajabali) supply and how authentic the sisterhood feels.
Kareena's restraint around the wedding hysteria bubbling around her, Sonam's airheaded optimism, Swara's crackling profanity and comfort for innuendoes and Shikha's talent for naughty wit comes together to say it's not a big deal for women to talk and do as they please.
If only Veere Di Wedding actually believed it too.
Rediff Rating: