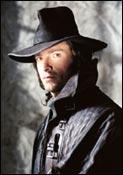 The first behemoth among summer releases, Van Helsing, is a giddy entertainer with eye-popping special effects and spectacular chase scenes. But after about 30 minutes you feel you are visiting the same overblown and emotionally blank film again and again.
The film, which opens in America and 40 other countries today, could draw plenty of box-office blood and grab over $150 million in the first week. But given its lack of emotional feel and strongly etched characters, it is not a movie that can create legends.
A week later, Warner Bros will unleash Troy, which is reportedly more exciting. The $180-200 million film could eat into the profits of the $160 million Van Helsing. But the Universal monster saga is still expected to emerge as one of the biggest hits of the year.
The idea of bringing together three of Universal's fabled horror stars — Frankenstein's Monster, Dracula and The Wolf Man — and connect their stories in one film seems interesting. But Van Helsing needed a better script to make these characters more interesting and scary.
This is not a film for those who adore old-fashioned black-and-white movie classics about monstrous characters that were filled with awesome tension and pulse-quickening drama.
But those who love fast-paced, non-stop action and special effects will love Van Helsing.
Among the film's highlights are some spectacular chase scenes. The misadventures of Dracula's wives, who fly like bats and create plenty of havoc, also adds to the film's thrills. These morphing monsters that assume bat bodies with strong wings are the result of a wonderful blend of digital work and human forms.
| | |
| --- | --- |
| | More on Rediff: |
| | |
The spectacular opening sequence in which a frenzied, torch-lit mob surges toward Dr Frankenstein's castle against a night sky is among the film's best shot and edited sequences.

Writer-director Stephen Sommers (The Mummy and its sequel that earned about $1.4 billion in theatres and DVD sales), has turned Van Helsing, not a big character in Bram Stoker's novel, into a 19th century monster hunter.

He takes his orders from a secret organisation that wants him to get rid of the nightmarish creatures. But he is not sure why he has been chosen for the task. He has no memory. Only towards the end of the film do we come to know his past. The secret is not terribly exciting, but it offers some relief from the relentless assault on our senses by the special effects department.

Van Helsing is sent to Transylvania to confront 400 year-old Count Dracula (Richard Roxburgh). Helsing, who is often misunderstood by the people around him as a cold-blooded killer, has to work hard to convince Anna Valerious (Kate Beckinsale), the last of a royal family line nearly eliminated by Dracula, that he is a genuine monster hunter.

Anna's brother Velkan (Will Kemp) has already been bitten by a werewolf. And even as it looks like he is fated at the next full moon to turn into the Wolf Man and destroy his own sister, he is struggling to save her.

Meanwhile, Dracula and his three vampire brides (Elena Anaya, Silvia Colloca and Josie Maran) need Frankenstein's Monster (Shuler Hensley) to bring to life thousands of vampire children they had sired.

As we see the softer side of the Monster, Van Helsing and Anna rescue him, leading to a grandly visualised chase scene involving horse coaches.

The monster hunters almost succeed  in their mission to trap Dracula when they crash into an amazingly designed All Hallow's Eve vampire costume ball with jugglers, flame throwers, and circus performers.

As Anna fights the three vampire brides, Van Helsing confronts Dracula. And while undergoing a frightening physical transformation, he also learns of his own past.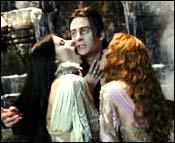 Hugh Jackman, who plays the title character, is certainly watchable in his first solo lead and has done far better work than many other stars in similar big-budget adventure films, including Harrison Ford in Indiana Jones. But Jackman's performance would have stood out better in a film with an excellent script and interesting dialogue.
His brooding presence contrasts well with that of the slightly comic Dracula played with gusto by Roxburg. Beckinsale is not really good at bringing out her emotional anguish and her dilemma over her brother's fate. But she is fun to watch in the action sequences.
Though the film's comic relief seems forced, David Wenham offers some delightful moments as a nervous but lusty friar who accompanies Van Helsing on the momentous mission.
CREDITS
Cast: Hugh Jackman, Kate Beckinsale, Richard Roxburgh, David Wenham, Shuler Hensley, Will Kemp and Kevin J O'Connnor
Writer-Director: Stephen Sommers
Running time: 2 hours, 30 minutes
Rating: PG-13 for violence and sensuality
Studio: Universal Pictures